This article contains information about a

canceled object

.
As a result, the content of the article may have been canceled or replaced by another subject.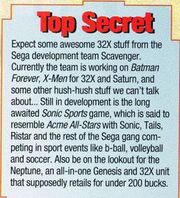 Sonic Sports
is a game that was said to be in development for the
Sega 32X
in 1995.
Description
The March 1995 issue of Game Players described the game as being similar to Acme All-Stars but using Sega characters instead. These characters included Sonic, Tails and Ristar. Games hinted at being available included basketball, volleyball and soccer.  

Ad blocker interference detected!
Wikia is a free-to-use site that makes money from advertising. We have a modified experience for viewers using ad blockers

Wikia is not accessible if you've made further modifications. Remove the custom ad blocker rule(s) and the page will load as expected.