Sonic the Fighters
Talk

19
8,727pages on
this wiki
Sonic the Fighters

The US logo of Sonic the Fighters
Developer(s)

Sega-AM2

Publishers(s)
Designer(s)

Yu Suzuki (Producer)
Hiroshi Kataoka (Director)


Release date(s)

Arcade
JP June 1996
NA July 1996
EU August 1996

Xbox 360


INT 28 November 2012

PlayStation 3


INT 27 November 2012


Genre(s)

Fighting

Mode(s)

Single player, multiplayer

Platform(s)

Arcade, Nintendo GameCube, PlayStation 2, Xbox 360, PlayStation 3

Media

GameCube: GC Optical Disc
PlayStation 2: DVD-ROM
Xbox 360/PlayStation 3: Digital download

System requirements

Joystick

Input

Arcade stick, game controller
Sonic the Fighters (ソニック・ザ・ファイターズ, Sonikku za Faitāzu?), also called Sonic Championship on Western cabinet artwork, is a fighting game in the Sonic the Hedgehog series. The game's original title is used in North American and European releases of Sonic Gems Collection, as well as its HD release.
Story
Doctor Ivo "Eggman" Robotnik has released the Death Egg II, and now Sonic the Hedgehog and Miles "Tails" Prower must stop him. However, their new airship, the Lunar Fox only supports one passenger and to defeat Eggman, they need eight of the Chaos Emeralds). The eight wielders of the Chaos Emeralds, including Sonic and Tails themselves, then must take part in a hand-to-hand fighting tournament, with the winner taking all the Chaos Emeralds. The participants, in order of combat, are:
Whichever character the player is controlling is cloned by Eggman during their battle (presumably by copying their DNA), so that the player fights all eight of them. For instance, if the player controls Sonic, then in the eighth battle, Eggman will create a colorless clone of Sonic.
After arriving at the Death Egg II, the heroes get a surprise visit from Metal Sonic. After defeating him, the Death Egg II begins to fall apart as Dr. Eggman in his mech suit challenges the victor (the round must be finished to complete the story). Unlike other battles in the game, the player only gets one shot to take down Eggman and also has fifteen seconds to defeat him.
The victor escapes the Death Egg II before it explodes, however, the post credits scene shows Eggman and Metal Sonic also escaped the explosion and head back to Earth.
Characters
Sonic can also become Super Sonic in story mode. Without losing a life since the first fight, the player enters Hyper Mode in the second Round against Metal Sonic.
Added in HD Release
Hacked Characters
Unused and scrapped characters can become playable via hacking.
Arenas
Development
Masahiro Sugiyama, a character designer at AM2, added Sonic and Tails into the fighting game Fighting Vipers as a way to cure his boredom. Yu Suzuki saw this and decided to present the idea of a 3D Sonic fighting game to Hiroshi Kataoka. Suzuki then presented the idea to Yuji Naka.[1] At first, Kataoka was worried because of the concept of Sonic characters beating each other up, and feared Yuji Naka would not approve. However, Naka was actually very receptive to the concept, commenting, "I couldn't think of Sonic as a fighting game and was worried whether he could really fight with his short hands and big head. But Mr. Yu encouraged me."[2] At that point nobody had yet attempted to present Sonic in 3D, so Sonic the Fighters was Sonic's 3D debut and had Naka's full support. Developers were worried about rendering Sonic in 3D at first, so Naka gave the team a Sonic figure to work off of. The game was released in Japanese arcades in May 1996, running on Sega Model 2 hardware.[3]
Sega Saturn version
There was a planned Sega Saturn version to the game, but it was cancelled for unknown reasons, one possible reason however the game was thought to have given Sonic a violent image as it is a fighting game, so promoting such a game in retail stores was thought to have hindered Sonic's image even more so.
Adaptations
Bark and Bean were introduced into the Archie Comics series in Issue #160, and were later revealed to have participated in underground fighting tournaments. What appeared to be a full Sonic the Fighters adaptation was later started in Issue #268, introducing Honey into the comics along with Breezie the Hedgehog. However, this adapt only involved one Chaos Emerald.
Trivia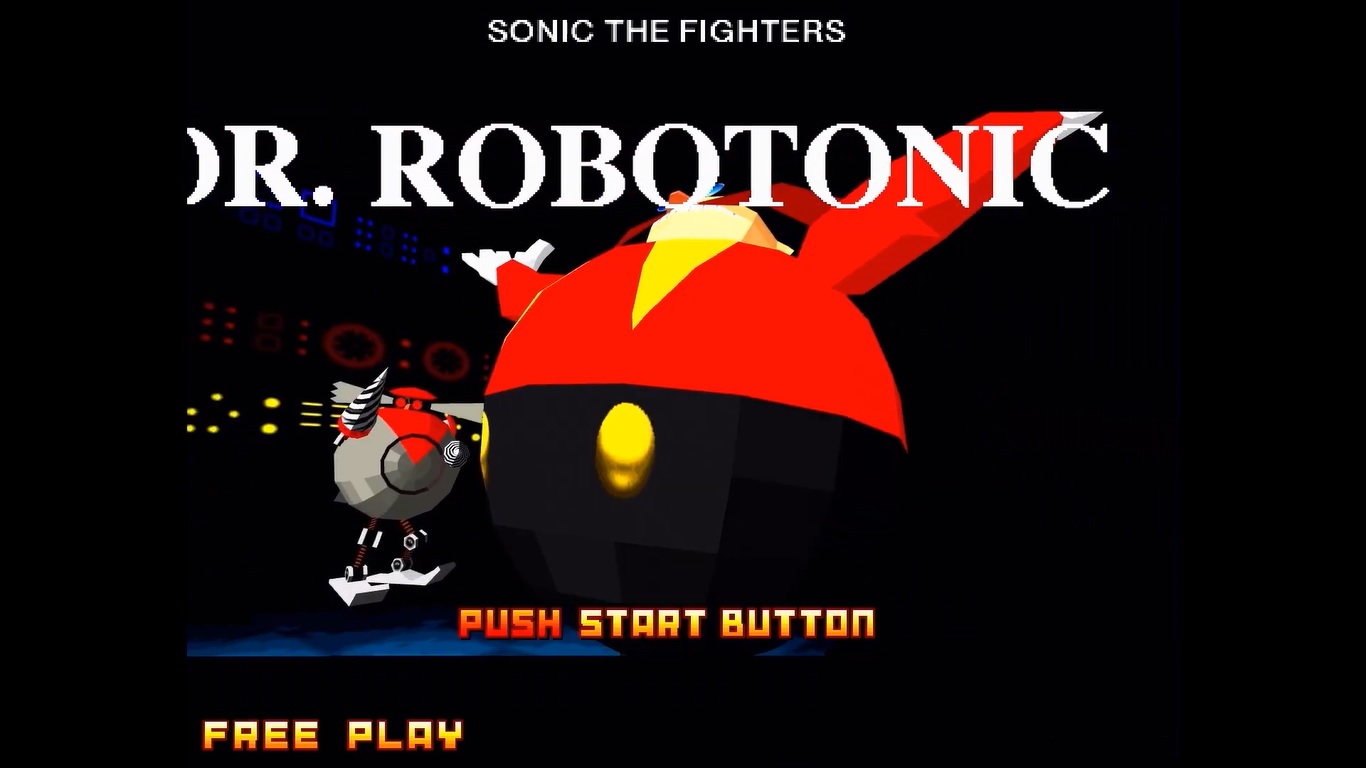 Gallery
References
External links