Sonic the Hedgehog: The Complete Sonic Comic Encyclopedia is a reference guide to the Sonic the Hedgehog comic continuity published by Archie Comics. It was released on 30 October 2012.
Official solicitation
For the Sonic fan on the go and those who want to know it like the pros, this is the long-anticipated official source for Sonic the Hedgehog comic info! Includes new, exclusive information not yet revealed in the comic itself and packed with entertaining character and location listings that definitively explain Sonic's world, Mobius. It's a big place that has been featured in hundreds of issues of stories-the longest running video-game inspired hit comic ever!
Data files and pages
"Sonic and the Freedom Fighters"
"Knuckles and the Chaotix"
"Royalty and Government"
"Friends and Family"
"Knuckles Legacy"
"Gods of Mobius"
"Shadow and G.U.N"
"Freedom Fighters of the World"
"The Eggman Empire"
"The Wicked Echidnas"
"Villains of Planet Mobius"
"Other Worlds"
"Magical Talismans"
"Mobian Technology"
"The World of Mobius Prime"
"Mobius Timeline"
"The Future?..."
Production background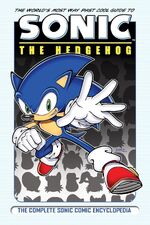 Ian Flynn had planned to produce a definitive Sonic the Hedgehog encyclopedia for Archie for several years in various forms. In 2010, the book was announced for pre-order as The Complete Sonic Comic Encyclopedia, along with a mock cover and a blurb announcing that it would touch on almost everything in the Sonic series, and would include "an extensive world map of Mobius and a timeline that sheds new light on past events."[1]
The name was subsequently changed to Sonic the Hedgehog Who's Who, and was intended to be released in multiple volumes. The cover was updated to reflect the new title, but the cover's design was largely unchanged (see left). In October 2011, Archie editor Paul Kaminski said that Who's Who (then due to be released in 2012) would include complete character histories, brand new art, and never-before-revealed secrets.[2]
In June 2012, the book's final title (reverted to The Complete Sonic Comic Encyclopedia), cover, contributors and release date were announced in Archie's solicitations for September 2012.[3]
References
| | |
| --- | --- |
| Sonic the Hedgehog | 1 | 2 | 3 | 4 | 5 | 6 | 7 | 8 | 9 | 10 | 11 | 12 | 13 | 14 | 15 | 16 | 17 | 18 | 19 | 20 | 21 | 22 | 23 | 24 | 25 | 26 | 27 | 28 | 29 | 30 | 31 | 32 | 33 | 34 | 35 | 36 | 37 | 38 | 39 | 40 | 41 | 42 | 43 | 44 | 45 | 46 | 47 | 48 | 49 | 50 | 51 | 52 | 53 | 54 | 55 | 56 | 57 | 58 | 59 | 60 | 61 | 62 | 63 | 64 | 65 | 66 | 67 | 68 | 69 | 70 | 71 | 72 | 73 | 74 | 75 | 76 | 77 | 78 | 79 | 80 | 81 | 82 | 83 | 84 | 85 | 86 | 87 | 88 | 89 | 90 | 91 | 92 | 93 | 94 | 95 | 96 | 97 | 98 | 99 | 100 | 101 | 102 | 103 | 104 | 105 | 106 | 107 | 108 | 109 | 110 | 111 | 112 | 113 | 114 | 115 | 116 | 117 | 118 | 119 | 120 | 121 | 122 | 123 | 124 | 125 | 126 | 127 | 128 | 129 | 130 | 131 | 132 | 133 | 134 | 135 | 136 | 137 | 138 | 139 | 140 | 141 | 142 | 143 | 144 | 145 | 146 | 147 | 148 | 149 | 150 | 151 | 152 | 153 | 154 | 155 | 156 | 157 | 158 | 159 | 160 | 161 | 162 | 163 | 164 | 165 | 166 | 167 | 168 | 169 | 170 | 171 | 172 | 173 | 174 | 175 | 176 | 177 | 178 | 179 | 180 | 181 | 182 | 183 | 184 | 185 | 186 | 187 | 188 | 189 | 190 | 191 | 192 | 193 | 194 | 195 | 196 | 197 | 198 | 199 | 200 | 201 | 202 | 203 | 204 | 205 | 206 | 207 | 208 | 209 | 210 | 211 | 212 | 213 | 214 | 215 | 216 | 217 | 218 | 219 | 220 | 221 | 222 | 223 | 224 | 225 | 226 | 227 | 228 | 229 | 230 | 231 | 232 | 233 | 234 | 235 | 236 | 237 | 238 | 239 | 240 | 241 | 242 | 243 | 244 | 245 | 246 | 247 | 248 | 249 | 250 | 251 | 252 | 253 | 254 | 255 | 256 | 257 | 258 | 259 | 260 | 261 | 262 | 263 | 264 | 265 | 266 | 267 | 268 | 269 | 270 | 271 | 272 | 273 | 274 | 275 | 276 | 277 | 278 | 279 | 280 | 281 | 282 | 283 | 284 | 285 | 286 | 287 | 288 | 289 | 290 | 291 | 292 | 293 | 294 |
| Miniseries | Sonic the Hedgehog (0, 1, 2, 3) | Princess Sally (1, 2, 3) | Sonic the Hedgehog's Buddy: Tails (1, 2, 3) | Sonic's Friendly Nemesis: Knuckles (1, 2, 3) | Sonic Quest (1, 2, 3) |
| Knuckles the Echidna | 1 | 2 | 3 | 4 | 5 | 6 | 7 | 8 | 9 | 10 | 11 | 12 | 13 | 14 | 15 | 16 | 17 | 18 | 19 | 20 | 21 | 22 | 23 | 24 | 25 | 26 | 27 | 28 | 29 | 30 | 31 | 32 |
| Sonic Super Specials | 1: Battle Royal | 2: Brave New World | 3: Sonic Firsts | 4: Return of the King | 5: Sonic Kids | 6: Sonic #50: Director's Cut | 7: Sonic/Image Crossover | 8: Sally Moon | 9: Sonic Kids 2 | 10: Crossover Chaos | 11: Girls Rule! | 12: Turnabout Heroes | 13: Sonic Adventure | 14: Sonic Stew | 15: Naugus Games |
| 48-Page Specials | Sonic: in Your Face! | Sonic & Knuckles | Sonic Triple Trouble | Knuckles' Chaotix | Super Sonic vs. Hyper Knuckles | Mecha Madness | Sonic Live! | Sonic Blast |
| Sonic X | 1 | 2 | 3 | 4 | 5 | 6 | 7 | 8 | 9 | 10 | 11 | 12 | 13 | 14 | 15 | 16 | 17 | 18 | 19 | 20 | 21 | 22 | 23 | 24 | 25 | 26 | 27 | 28 | 29 | 30 | 31 | 32 | 33 | 34 | 35 | 36 | 37 | 38 | 39 | 40 |
| Sonic Universe | 1 | 2 | 3 | 4 | 5 | 6 | 7 | 8 | 9 | 10 | 11 | 12 | 13 | 14 | 15 | 16 | 17 | 18 | 19 | 20 | 21 | 22 | 23 | 24 | 25 | 26 | 27 | 28 | 29 | 30 | 31 | 32 | 33 | 34 | 35 | 36 | 37 | 38 | 39 | 40 | 41 | 42 | 43 | 44 | 45 | 46 | 47 | 48 | 49 | 50 | 51 | 52 | 53 | 54 | 55 | 56 | 57 | 58 | 59 | 60 | 61 | 62 | 63 | 64 | 65 | 66 | 67 | 68 | 69 | 70 | 71 | 72 | 73 | 74 | 75 | 76 | 77 | 78 | 79 | 80 | 81 | 82 | 83 | 84 | 85 | 86 | 87 | 88 | 89 | 90 | 91 | 92 | 93 | 94 | 95 | 96 | 97 |
| Sonic Boom | 1 | 2 | 3 | 4 | 5 | 6 | 7 | 8 | 9 | 10 | 11 |
| Free Comic Book Day Issues | Sonic FCBD 07 | Sonic FCBD 08 | Sonic FCBD 09 | Sonic FCBD 10 | Sonic FCBD 11 | Sonic FCBD 12 | Sonic FCBD 13 | Sonic FCBD 14 | Sonic FCBD 15 | Sonic FCBD 16 | Sonic FCBD 17 |
| Other | Sonic the Hedgehog Issue ¼ | Dark Mobius - Knuckles' Descent | Complete Sonic Comic Encyclopedia | Sonic the Hedgehog: Worlds Unite Battles #1 | Mega Man: Worlds Unite Battles #1 | Sonic Halloween Comic Fest | Sonic: Mega Drive | Sonic: Mega Drive - The Next Level | Sonic: Mega Drive - Overdrive |