Sonic the Hedgehog (Adventures of Sonic the Hedgehog)
Talk

4
6,677pages on
this wiki
This character exists primarily within the Adventures of Sonic the Hedgehog continuity.
Information in this article may not be canonical to the storyline of the games or any other Sonic continuity.

When fast thinking is of the essence, I'm the essence of fast thinking.

— AoStH ep. "Best Hedgehog"
Sonic the Hedgehog
Voice actor(s)
English
voice actor(s)
Japanese
voice actor(s)
Biographical overview
Family

Tails (adoptive younger brother), Masonic (ancestor), Penelope (ancestor)

Physical description
Color scheme

Blue

Eyes

Black

Alignment and character traits
Alignment

Good

Favorite Food
Likes

Chili dogs, "babes"[1]

Dislikes

Dr. Robotnik, Scratch, Grounder, Coconuts, Music Destroyer, Special Sonic Searching Smash Squad

Skills, abilities and powers
Skills

Super Speed
Sonic the Hedgehog is a young blue hedgehog and the main character of the TV series Adventures of Sonic the Hedgehog.
Personality
Edit
Sonic is not just quick on his feet but quick witted. Coming up with plans and disguises on the spot, Sonic uses his smarts and impressive speed to trip up the devious Dr. Robotnik.
While Sonic enjoys helping people out, he can get annoyed if someone tries to help him out. He feels that this will land them both in danger, and his temper can get the better of him (like with Captain Rescue). Sonic usually apologizes later though, showing that he doesn't mean to get angry.
Sonic is very overprotective of his young charge, Tails, in this continuity. Tails is quite young so Sonic is the role of big brother and parental figure to him. He does what he can to keep the fox safe and has some rules in place to keep Tails away from his dealings with Scratch and Grounder. He is shown to become angry with Tails when he disobeys these rules and puts himself in danger, indicating how important Tails is to him.
Despite the mischievious attitude he is given in the main show, during the Sonic Sez segments he is illustrated as a responsible role model for the innocent Tails, often dealing advice to the fox when he gets into a difficult situation.
In this series, Sonic has been depicted as being quite the casanova (as referenced through his many love interests listed below).
Abilities
Edit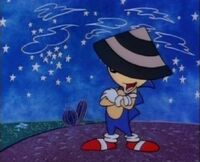 Sonic can run at extremely fast speeds, assuming he is wearing his specially designed Hi-tops, which he uses to his advantage when fighting Robotnik and his forces. He is also capable of curling into a ball and performing a buzzsaw attack which can cut through most objects (similar to the spin dash), though Robotnik has used various materials such as nuclear forged steel and diamondium laced metal in near-successful attempts to counter this ability.
Additionally, in this universe Sonic is a master of disguise (in a similar manner to Bugs Bunny) and often uses a variety of costumes to foil Robotnik's schemes; his disguises are made all the more effective thanks to the extreme gullibility and stupidity of Robotnik's minions.
Catchphrases
Edit
Sonic has a handful of sayings that he is sure to use each episode.
Relationships
Edit
Friends/Allies
Edit
Love Interests
Edit
Appearance
Edit
Like in the original Sonic the Hedgehog Mega Drive games that lead to the creation of AoStH, Sonic is a blue, anthropomorphic hedgehog with a light yellow muzzle and belly. His head and back are covered in quills, which are instrumental in his buzz saw attack. He always wears the same red and white pair of shoes, which are heat-resistant and necessary for his incredible running ability. He also wears gloves and seems to have conjoined eyeballs.
Also, in "Magnificent Sonic", mostly while Sonic was sheriff, his shoes were miscolored and his quills were missing.
References
Edit
↑ Episode 52 "Baby-Sitter Jitters"