This article contains information about or related to an upcoming product scheduled for a future release.

The content of the article may change dramatically as more information becomes available. Any information added to the article without a reliable source may be deleted without warning.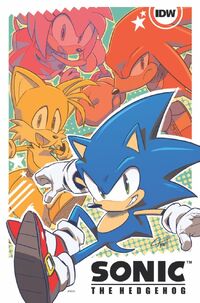 Sonic the Hedgehog is an upcoming American comic book series based on Sega's Sonic the Hedgehog video game franchise and the successor of the Archie's Sonic the Hedgehog. It is set to be distributed by IDW Publishing beginning on 4 April 2018.[1][2]
The comic series will begin with the first four issues being released each week in April, followed by a monthly release of subsequent issues starting in May 2018.[3]
Staff
Tyson Hesse has also been confirmed to contribute to the comic series in some capacity.[5]
Development
The Sonic the Hedgehog IDW series was first announced on 21 July 2017 when the official Sonic Twitter revealed that Sega and IDW Publishing would be collaborating together to create a new Sonic comic following the cancellation of the Archie Sonic the Hedgehog comic.[6] The first official creative summit was conducted on 3 August 2017.[7]
During the New York Comic Con 2017 event, more information regarding IDW's Sonic comic was revealed on promotional flyers (drawn by Tyson Hesse, known for his work on the Archie Sonic comics and Sonic Mania), where it was revealed that the comic will contain characters old and new, and feature brand new stories.[1] Following this, Ian Flynn, former writer of the Archie Sonic comics, was confirmed to be the lead writer for the IDW Sonic comics.[3] On December 28, 2017 though, Flynn revealed that none of the characters he created for Archie Comics will appear in the IDW Sonic comics.[8]
On 11 January 2018, IDW opened an official family-friendly IDW Sonic Facebook group, called "IDW Sonic Comics Squad". This page will feature updates, art reveals, link to the IDW editorials and more related to the IDW Sonic series.[9] A few days later, on 16 January 2018, it was revealed that Tracy Yardley, a long-time Sonic artist at Archie Comics, would be joining the IDW Sonic team as well.[4]
Trivia
On October 9, 2017, Flynn stated on Bumbleking that there could be a chance that the Pre-Super Genesis Wave continuity from the Archie comics could be concluded in the IDW comics along with the Post-Super Genesis Wave continuity, as he also said that IDW is famous for bringing back and completing older runs of fan-favorite franchise comics when they can.[10]
References
↑ 1.0 1.1 T-Bird (5 October 2017). IDW Sonic Comic Teaser Features Tyson Hesse Artwork. Sonic Stadium. Retrieved on 6 October 2017. "Thank you for joining us for the first ever IDW/Sonic Town Hall! IDW and SEGA are proud to bring you an all-new chapter of Sonic the Hedgehog comics! After more than 25 years, Sonic's adventures have captured the imaginations of countless fans, and have inspired one of the most passionate fan bases in the world. We look forward to bringing you brand-new stories, featuring characters old and new, that continue this proud legacy of the fastest comics around! SPEEDING YOUR WAY APRIL 2018!"
↑ Frank, Allegra (9 October 2017). Sonic the Hedgehog's next comics get a fantastic facelift (correction). Polygon. Retrieved on 25 October 2017.
↑ 3.0 3.1 3.2 IDW Publishing and SEGA® Welcome Veteran Sonic Writer Ian Flynn. IDW Publishing (8 October 2017). Retrieved on 8 October 2017. "A new era of Sonic comics will begin next April with a four-week event. IDW will be moving at Sonic-like speeds to publish the first four issues of the new series in the span of four weeks. Those issues will be written by Flynn with a team of artists joining him to be announced at a later date."
↑ 4.0 4.1 SSF1991 (16 January 2018). Tracy Yardley! Confirmed For IDW Sonic Team, One Of Multiple Covers For Issue #1 Released. TSSZ News. Retrieved on 17 January 2018.
↑ Sonic Official - 24 - Ian Flynn and Joe Hughes from IDW! (50:40). Sonic the Hedgehog (12 October 2017). Retrieved on 13 October 2017. "Aaron Webber: Someone wants to know, Joe, is Tyson Hesse gonna be the main artist for the comics? / Joe Hughes: Tyson Hesse will be involved the comics to some capacity. To what extent, uh, I will tell you later on."
↑ Sonic the Hedgehog on Twitter. Twitter (21 July 2017). Retrieved on 21 July 2017. "Sonic the Hedgehog: SEGA and IDW are thrilled to announce a partnership to bring Sonic Comics to fans new and old. The new series arrives 2018!"
↑ Chris Ryall on Tumblr. Tumblr (3 August 2017). Retrieved on 3 August 2017.
↑ SSF1991 (28 December 2017). Ian Flynn Confirms That IDW Sonic Comics Will Not Have Archie Sonic Characters He Created. TSSZ News. Retrieved on 28 December 2017.
↑ SSF1991 (11 January 2018). Official IDW Sonic Facebook Group Opens. TSSZ News. Retrieved on 11 January 2018.