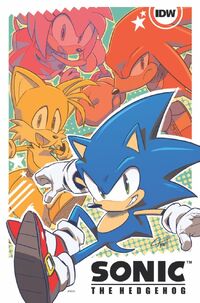 Sonic the Hedgehog is an American comic book series based on Sega's Sonic the Hedgehog video game franchise and the successor of Archie's Sonic the Hedgehog. It is distributed by IDW Publishing and began on 4 April 2018.[1][2]
The comic series began with the first four issues being released each week in April, followed by a monthly release of subsequent issues starting in May 2018.[3]
Staff
Development
The Sonic the Hedgehog IDW series was first announced on 21 July 2017 when the official Sonic Twitter revealed that Sega and IDW Publishing would be collaborating together to create a new Sonic comic following the cancellation of the Archie Sonic the Hedgehog comic two days prior.[9] The first official creative summit was conducted on 3 August 2017.[10]
During the New York Comic Con 2017 event, more information regarding IDW's Sonic comic was revealed on promotional flyers (drawn by Tyson Hesse, known for his work on the Archie Sonic comics and Sonic Mania), where it was revealed that the comic will contain characters old and new, and feature brand new stories.[1] Following this, Ian Flynn, former writer of the Archie Sonic comics, was confirmed to be the lead writer for the IDW Sonic comics.[3] On December 28, 2017 though, Flynn revealed that none of the characters he created for Archie Comics will appear in the IDW Sonic comics.[11]
On 11 January 2018, IDW opened an official family-friendly IDW Sonic Facebook group, called "IDW Sonic Comics Squad". This page will feature updates, art reveals, link to the IDW editorials and more related to the IDW Sonic series.[8] A few days later, on 16 January 2018, it was revealed that Tracy Yardley, a long-time Sonic artist at Archie Comics, would be joining the IDW Sonic team as well.[5] As more information about the first four issues went public, it was revealed that each of the four first issues will feature a different artist, and then rotating art teams would be taking over once the book went monthly.[12]
After its introduction, IDW Sonic Comics Squad revealed that a new character was set be announced on January 24. After five days, this character was revealed to be Tangle the Lemur.[13] On that very same day, the solicitations for the first four issues were revealed.
In an interview with Game Informer, Flynn established that IDW Sonic was a brand new continuity with no connection to the Archie Comics. He further stated that the comics will, at the moment, only draw inspiration from the Sonic game continuity and will go in a fresh new direction not dictated by an already-established canon. Flynn also stated that older elements and fringes of the franchise might be incorporated into the comics at some point, but for the beginning of the series, he wanted to focus on the core style of storytelling for the Sonic series. Flynn also revealed bits of the storyline for the first few issues, which will follow up on Sonic Forces and will deal with the fallout of the War to Take Back the Planet. As for the Sega relationship, it was revealed that they this time around are more directly involved with the stories themselves, namely by offering suggestions here and there on where to tweak things. In return, Flynn makes sure that the comic elements fit into the Sonic universe.[14]
On 21 February 2018, IDW opened its pre-orders for the Sonic the Hedgehog comic series. On the same day, the IDW Sonic Comics Squad surmised the returning Archie Comic artists for the IDW Sonic series, with Matt Herms being among them. It was also revealed that Sega had placed restrictions on the comics (term like "Mobian" or any similar term has been banned, and the only "Mobile" that is allowed is the Eggmobile), that no crossover had been planned, and that the series will be a mix of various genres.[6]
During a Q&A on Facebook, it was revealed that the Sonic the Hedgehog series would be an ongoing title with no end date determined.[6]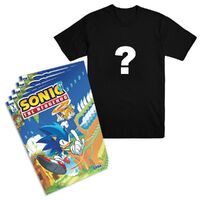 On 16 March 2018, at "Gotta Go Fast: The Official Sonic the Hedgehog Panel", the official Sonic the Hedgehog panel at the 2018 SXSW Gaming convention, Sega announced the "Sonic the Hedgehog IDW Comic Series Exclusive Bundle", which was a limited edition bundle up for pre-order on their online store, SEGA Shop. This bundled included IDW's Sonic the Hedgehog #1-#4, an additional exclusive variant cover of IDW's Sonic the Hedgehog #4, an exclusive mystery t-shirt (both of which were only available on the SEGA Shop), and digital downloads of Sonic the Hedgehog #1-#4 as they were released.[15] The bundle was released on 1 May 2018 and cost $40. It was also possible to select a shirt size from the following options: Small, Medium, Large, X-Large, and 2X-Large.
Storyline
After Sonic the Hedgehog and his allies defeated Dr. Eggman and liberated the world from his Eggman Empire, the evil Doctor went missing. However, his Badniks remained. Initially directionless, these robots eventually began launching coordinated attacks on villages, suggestion someone had taken control of them. Sonic thus begins traveling from town to town to stop the Badniks, receiving help from both old friends and new allies (like Tangle the Lemur) along the way.
Stories and arcs
Fallout! (#1-#4)
The Fate of Dr. Eggman (#5-#6)
Trivia
The comic launched in what would have been the 25th anniversary year of its predecessor.
On 9 October 2017, Flynn stated on Bumbleking that there could be a chance that the Pre-Super Genesis Wave continuity from the Archie comics could be concluded in the IDW comics along with the Post-Super Genesis Wave continuity, as he also said that IDW is famous for bringing back and completing older runs of fan-favorite franchise comics when they can.[16]
See also
References
↑ 1.0 1.1 T-Bird (5 October 2017). IDW Sonic Comic Teaser Features Tyson Hesse Artwork. Sonic Stadium. Retrieved on 6 October 2017. "Thank you for joining us for the first ever IDW/Sonic Town Hall! IDW and SEGA are proud to bring you an all-new chapter of Sonic the Hedgehog comics! After more than 25 years, Sonic's adventures have captured the imaginations of countless fans, and have inspired one of the most passionate fan bases in the world. We look forward to bringing you brand-new stories, featuring characters old and new, that continue this proud legacy of the fastest comics around! SPEEDING YOUR WAY APRIL 2018!"
↑ Frank, Allegra (9 October 2017). Sonic the Hedgehog's next comics get a fantastic facelift (correction). Polygon. Retrieved on 25 October 2017.
↑ 3.0 3.1 3.2 IDW Publishing and SEGA® Welcome Veteran Sonic Writer Ian Flynn. IDW Publishing (8 October 2017). Retrieved on 8 October 2017. "A new era of Sonic comics will begin next April with a four-week event. IDW will be moving at Sonic-like speeds to publish the first four issues of the new series in the span of four weeks. Those issues will be written by Flynn with a team of artists joining him to be announced at a later date."
↑ 4.0 4.1 4.2 4.3 4.4 4.5 4.6 4.7 4.8 Newsarama Staff (24 January 2018). IDW PUBLISHING April 2018 Solicitations. News-a-Rama. Retrieved on 25 January 2018.
↑ 5.0 5.1 SSF1991 (16 January 2018). Tracy Yardley! Confirmed For IDW Sonic Team, One Of Multiple Covers For Issue #1 Released. TSSZ News. Retrieved on 17 January 2018.
↑ 6.0 6.1 6.2 SSF1991 (21 February 2018). IDW Update: "Mobian" Banned Term, Unlimited Story Arcs, How To Pre-Order, & More. TSSZ News. Retrieved on 21 February 2018.
↑ Heather Breckel on Twitter. Twitter (22 March 2018). Retrieved on 23 March 2018. "It's a childhood dream to be working on an issue of the Sonic the Hedgehog comic! I'm the colorist on issue #3 and it's so exciting! :D Sonic was really what got me drawing and what got me really into comics."
↑ 8.0 8.1 SSF1991 (11 January 2018). Official IDW Sonic Facebook Group Opens. TSSZ News. Retrieved on 11 January 2018.
↑ Sonic the Hedgehog on Twitter. Twitter (21 July 2017). Retrieved on 21 July 2017. "Sonic the Hedgehog: SEGA and IDW are thrilled to announce a partnership to bring Sonic Comics to fans new and old. The new series arrives 2018!"
↑ Chris Ryall on Tumblr. Tumblr (3 August 2017). Retrieved on 3 August 2017.
↑ SSF1991 (28 December 2017). Ian Flynn Confirms That IDW Sonic Comics Will Not Have Archie Sonic Characters He Created. TSSZ News. Retrieved on 28 December 2017.
↑ Holub, Christian (22 January 2018). New Sonic the Hedgehog comics coming in April. Entertainment Weekly. Retrieved on 23 January 2018.
↑ Yehl, Joshua (24 January 2018). Sonic the Hedgehog's Newest Ally Is Tangle the Ring-tailed Lemur. IGN. Retrieved on 24 January 2018.
↑ Thurmond, Joey (15 February 2018). Writer Ian Flynn Discusses Giving The Sonic Comic Series A Fresh Start. Gameinformer. Retrieved on 16 February 2018.
↑ SSF1991 (16 March 2018). SEGA Shop Begins Selling Special IDW Comics Bundle. TSSZ News. Retrieved on 21 March 2018.