Sonic the Hedgehog (manga)
Talk

6
8,616pages on
this wiki
This article is about a subject in the real world.
Information in this article is about real-life people, companies and objects, and does not relate to the in-universe Sonic series.
This article is about the 1992 manga series. For other Sonic manga, see manga.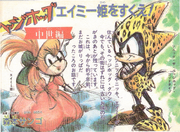 The Sonic the Hedgehog manga series was based off the Sonic the Hedgehog franchise. The series, published in Shogakukan's Shogakukan no Gakushuuzasshi (a series of study books aimed at children of several school grades)[1] was written by Kenji Terada and it was illustrated by Sango Norimoto. There are six editions, each targeting its specific elementary school grade, from grade 1 to 6. Sonic has made an appearance in all of these at some point between 1992-1993. Later on the basic story was used with different plotlines and with differently interpreted characters. The styles are of all kinds: some drawings are in black and white, some other are colored by computer and some present a water-color style.
Plot
The manga, which started in 1992, was about a hedgehog boy named Nikki Parlouzer[citation needed] who can turn into Sonic the Hedgehog. This incarnation of the hero, along with Miles "Tails" Prower and Charmy Bee, arises to challenge Dr. Eggman.
Nikki has several friends in the "real world", including Little Jon, his girlfriend Eimi (a prototype of the more familiar Amy Rose), and Charmy Bee (the first incarnation of this character). Nikki also encounters a lizard bully named Anton Beruka and his little brother, Mad (マッド, Maddo?). Nikki's family at home includes his mother, Burenda, his father, Poly, and his little sister, Anita. Except for Tails, nobody knows that Nikki is actually Sonic the Hedgehog, not even himself.
The plot is quite simple and recurrent in every strip: Nikki is a peaceful boy that likes to spend time with his beloved girlfriend Eimi, his sister Anita and his friend Little Jon; but his peace will be spoiled by one of Dr. Eggman's plans or by the troublemaker Anton Beruka.
In any case Eimi will encourage him to oppose himself at the bad guy, but Nikki, shy and a bit coward, will fail and most of the times Eimi will become captive. But Nikki's desire to save Eimi and be able to win will eventually transform him into the supersonic hero that in no time will save the day.
Few misunderstandings will be made by the figure of the heroic Sonic that succeeds there were Nikki fails, this will bring more than once Eimi to sigh for Sonic than for Nikki, making him jealous of himself; eventually Dr. Eggman and Anton Beruka will start suspecting that Nikki has something to do with Sonic, but Nikki will simply reply that he doesn't even know this blue hedgehog everybody's been talking about.
Characters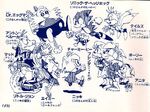 External links
References