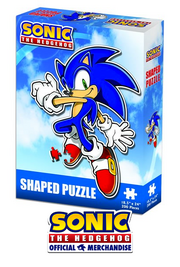 Sonic the Hedgehog-Shaped Puzzle is a puzzle in the form of Sonic the Hedgehog with two hundred pieces cut into lengths of 18.5 by 24 inches.
The puzzle itself is in the full shape of Sonic in Sonic Channel style art. Unlike most puzzles, it has not been cut into a square. The puzzle was announced on October 26, 2012 on the official Sonic Merchandise Facebook page, providing a link to pre-order it at the Sonic Merchandise website.
External links
Ad blocker interference detected!
Wikia is a free-to-use site that makes money from advertising. We have a modified experience for viewers using ad blockers

Wikia is not accessible if you've made further modifications. Remove the custom ad blocker rule(s) and the page will load as expected.