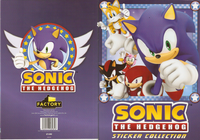 Sonic the Hedgehog Sticker Collection was a Sonic sticker album produced by Factory Entertainment, released in the United Kingdom and Ireland in May 2010.
There were 140 stickers to be collected.
Trivia
Sonic the Hedgehog Sticker Collection was the first Sonic-themed collectible sticker album released for sixteen years following the 1994 Sonic the Hedgehog 3-themed album.
Scans
Ad blocker interference detected!
Wikia is a free-to-use site that makes money from advertising. We have a modified experience for viewers using ad blockers

Wikia is not accessible if you've made further modifications. Remove the custom ad blocker rule(s) and the page will load as expected.