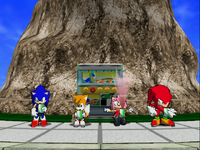 Sonicola (コーラ爆発!, Kōra Bakuhatsu!?, lit. "Cola Explosion!") is a VS 4 mini game that appears in Sonic Shuffle.
Gameplay
This is a purely a game of chance where each player selects one of five cans of soda from a vending machine. One of the five cans was freshly shaken by Eggman and will spray soda into the face of the unfortunate player who picks it. Each player who does not select the shaken can gets 20 Rings. Of course, since there are five cans of soda, there is a chance that not one will lose and the whole thing ends up in a tie.
---
Main article | Gallery | Script | Staff
Characters
Sonic (Super Sonic) | Tails | Knuckles | Amy | Gamma | Big | Chao | Dr. Eggman* | Lumina Flowlight* | Illumina* | Void* | NiGHTS*
Boards
Emerald Coast | Fire Bird | Fourth Dimension Space | Nature Zone | Riot Train
Mini-Games
Vs 4
Egg & the Chicken | Egg in Space | Frosty Rumble | Fun Fun Sonic | Great Escape | Jump the Snake | Over the Bridge | Number Jump | Over the Rainbow | Psychic Sonic | Shadow Tag | Sonic Gun Slinger | Sonic Live | Sonic Tag | Sonic Tank | Sonicola | Stop and Go | Thor's Hammer | Tractor Beam Tag | Twister | Zero G Snap Shot
2 vs 2
Bomb Relay | Bucket-O-Rings | Shoddy Work | Sonic the Thief
1 vs 3
Bungee Jump | Eggbot's Attack! | Gargantua | Manic Maze | Sonic DJ | Sonicooking | Wrong Way Climb
Accidents
Crock-Attack | Final Frontier | Ring Lasso | Ring of Fire | Rapid Climb | Ring Tide | Sky Bridge | Sonic Coast | Thru the Tunnel
Stage Clear
Earth Quake | Sky Diving | Sonic Surf | Stop the Train | Void Battle
Play Order
Sonic Darts | Sonic Hi Lo | Sonic Slot
Techniques/Moves
Spin Dash | Propeller Flying | Climb | Hammer Jump | Hover | Light Speed Dash | Light Speed Attack | Rapid Tails Attack | Maximum Heat Knuckles Attack | Laser Blaster | Lock-On Missile | Power Rod | Revolving Hammer Attack | Lullaby
Other
Card | Forcejewel | Magical Card | Maginaryworld | Maginaryworld Monsters | Mini-Event | Precioustone | Ring | Spaces (Battle Space, Eggman Battle Space, Event Space, Jewel Shop Space, Jump Space, Minus Ring Space, No Entry Space, Plus Ring Space, Precioustone Space, Quest Space, Revolving Space, Void Preciousstone Space) | Sonic Room | Spring | Temple of Light

*Not playable
Ad blocker interference detected!
Wikia is a free-to-use site that makes money from advertising. We have a modified experience for viewers using ad blockers

Wikia is not accessible if you've made further modifications. Remove the custom ad blocker rule(s) and the page will load as expected.