For Special Stages in general, see here.
Special Stages in Sonic Advance are a series of special levels. Much like some of the previous Sonic games, the player is required to collect at least a certain number of Rings to pass through two segments while avoiding bombs which take away the player's rings. The character rides a board through a bottomless hole.
Completing a Special stage will grant the player a Chaos Emerald and if the player has all 7 Chaos Emeralds (by completing all 7 Special Stages), the player will be able to access the game's true final level, Moon Zone, as Sonic after he defeats clears X Zone. Note that the Emeralds are shared, so any character can collect any Chaos Emerald.
Gameplay
For one to access a Special Stage, the player needs to find a Special Spring hidden throughout the following stages. Each of the location's springs will lead to their corresponding Special Stage: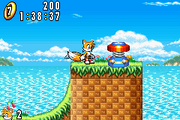 These springs will launch the character up into outer space and rides on a board traversing through a bottomless hole as mentioned earlier. The player can press 
to make the character perform a trick on a board which is essential and helpful to collect Rings or avoid obstacles. There is a giant yellow round void that if the player presses
at the right time, the player will earn additional rings.  
The character will need to collect a certain number of Rings in order to pass through the segments; otherwise the player will fail the opportunity to collect the Emerald. Note that the Special Spring can only be used once per visit to a level, so if the player does fail to get the Chaos Emerald from the Special Stage, he/she won't be able to return back to the Special Stage again in the same visit; The player will spawn next to the spring and can continue from where they left off.
Trivia
The boards the character rides on in the Special Stages somewhat resemble Extreme Gear from the Sonic Riders series games although the said series were released a few years later.
Gallery
---
Main article | Beta elements | Gallery | Staff | Re-releases (SonicN | Android)
| | |
| --- | --- |
| Characters | Sonic | Tails | Knuckles | Amy | Eggman | Chao | Gold Chao | Animals (Deer, Elephant, Kangaroo, Koala, Lion, Mole, Parrot, Penguin, Rabbit, Seal, Sea Otter, Skunk, Swallow) | Flicky | Ricky | Pocky | Picky |
| Zones | Neo Green Hill Zone | Secret Base Zone | Casino Paradise Zone | Ice Mountain Zone | Angel Island Zone | Egg Rocket Zone | Cosmic Angel Zone | X-Zone | The Moon Zone | Special Stage |
| Bosses | Egg Hammer Tank | Egg Press | Egg Ball | Egg Spider | Mecha Knuckles | Egg Snake | Egg Mobile-H | Egg Mobile-D | EGG X | Super Egg Robot |
| Enemies | Buzzer | Drisame | GamiGami | Hanabii | Kero-Kero | Kiki | Kura | Leon | Mirror | Mogu | Oct | Pen | Pierrot | Rhinotank | Senbon | Slot | Tentou | Wamu | Yukimaru |
| Moves/technique | Climb | Glide | Hammer Attack | Hammer Jump | Hammer Whirl | Jump Dash | Giant Steps | Insta-Shield | Jump Attack | Propeller Flying | Skid Attack | Spin Attack | Spin Dash | Super Sonic Boost | Somersault | Tail Swipe |
| Objects | Balloon | Capsule | Conveyor Belt | Dash Panel | Flipper | Goal Plate | Grind Rail | Item Box (Blind, Brake, Confusion, Extra Life, Invincibility, Magnetic Barrier, Power Sneakers, Shield, Super Ring, Transparency, Warp) | Pole | Ring | Special Spring | Spikes | Spring | Star Post |
| Other | Barrel | Bumper wall | Chao Search | Continue | High-speed warp tube | Moon | Pulley | Shuttle loop | Time Attack | Tiny Chao Garden | Time Over | Tornado | Trick Point | Winding Tunnel | Zip Line |