For Special Stages in general, see here.
  Special Stages in Sonic Advance 3 are a series of special levels. Much like from Sonic Advance and from previous Sonic the Hedgehog series video games to an extent, the main objective for the player is to collect at least a certain number of Rings to pass through 2 segments of the stage and when successful, the player is awarded a Chaos Emerald. Once all seven Chaos Emeralds have been obtained (by clearing all 7 of the Special Stages) Sonic is able to progress the story into the extra zone, Nonaggression directly after clearing the final stage Altar Emerald.
Gameplay
Along with the previous Sonic Advance titles, the method to access the Special Stages of Sonic Advance 3 is no easy task. The player first must find all 10 Chao hidden in the entire zone (any act or even in the hub-world). Once the player completes that task, the player then needs to play any stage to find a Special Key. This key can be used to activate a Special Spring (identical to the ones in Sonic Advance) for an attempt to clear the Special Stage which is also found in the hub-world.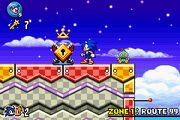 Once entering the Special Stage, the character finds him/herself standing on the wings of the Tornado 2, flying overhead of the Special Stage. As mentioned earlier, the primary objective is to collect enough Rings to pass through 2 segments. The character is able to move freely around the air on the Tornado and jump, reaching out to the Rings that appear. Small, red, spiky mines serve as an obstacle which takes away the player's rings. Enemies here can also attack the character causing the player to lose Rings but when destroyed, they grant additional Rings. There are also peculiar-looking Rings which grants 5 additional Rings. Throughout the stage, there are small, blue glowing orbs for if the character on the Tornado passes through, the Tornado will move quickly and any Rings collected are worth double.
Whether the player passes or fails obtaining the Chaos Emerald, the key is gone (as it serves a cost to use the Special Stage), meaning that the player will need to find another key in any stage to attempt the Special Stage again.   
Special Stage Mode
After the player collects all of the seven Chaos Emeralds and is currently at the main menu, by inputing the following: Up, R, Down, L, Right, Left; a secret small menu appears titled as "Special Stage Mode". In this mode the player plays through all seven Special Stages consecutively as Sonic and the objective is to collect as many Chaos Emeralds (pass through as many the Special Stages as possible). However once the player fails a Special Stage (not collecting enough Rings to pass through a checkpoint), the mode ends there and thus the player can exit back into the main menu or retry the entire mode again from the first Special Stage.
Trivia
Special Stages in Sonic Advance 3 are interestingly similar to some of Special Stages from Sonic the Hedgehog Triple Trouble, where the player controls the playable character on Tornado, who pilots the bi-plane in the sky and tries to collect required amount of rings. Special Stages in Sonic Advance 3 are however more challenging due to having more enemy placements than Sonic Triple Trouble. 
In the early versions of Sonic Advance 3, the stage does not need to be finished; the players can just exit the Special Stage with the key in their possession. However, in the final release of the game, the act must be completed without dying.
Screenshots
---
Main article | Gallery | Staff
Characters
Sonic (Super Sonic) | Tails | Knuckles | Cream | Cheese | Vanilla | Amy | Eggman | Gemerl (Ultimate Gemerl) | Chao | Omochao
Zones
Route 99 | Sunset Hill | Ocean Base | Toy Kingdom | Twinkle Snow | Cyber Track | Chaos Angel | Altar Emerald | Nonaggression | Special Stage
Bosses
Egg Hammer 3 | Egg Ball No.2 | Egg Foot | Egg Cube | Egg Chaser | Egg Pinball | Egg Gravity | Hyper Eggrobo | Ultimate Gemerl
Enemies
Akatento | Ape | Bu-bu | Buzzer | Clam | Condor | Gaogao | Gekogeko | Ginpe | Guards | Guruguru | Hariisen | Jousun | Juggling | Kamaki | Kyacchaa | Marrun | Minimole | Muugaden | Spina | Takkon | Uutsubo | Yadokka | Yukigasen
Moves/
techniques
Regular moves
Amy Dash | Big Hammer Attack | Boost Mode | Bound Attack | Chao Attack | Chao Ball Attack | Chao Spinning Attack | Dash Climb | Double Mid-Air Glide | Double Punch | Drill Claw | Fire Sliding | Flying | Floating Fall | Hammer Attack | Hammer Jump | Hammer Propeller Flying | Head Slide | High Propeller Flying | Hip Drop | Homing Attack | Jump Dash | Leap | Mid-Air Dash Glide | Propeller Flying | Mid-Air Chao Attack | Mid-Air Chao Ball Attack | Mid-Air Chao Spinning Attack | Mid-Air Glide | Mid-Air Hammer Attack | Mid-Air Hammer Jump | Skid Attack | Spin | Spin Dash | Spin Jump | Super Sonic Boost | Spinning Hammer Attack | Spiral Upper | Tag Action | Tail Spin Attack | Tail Swipe | Tornado Attack | Upper Spin | Wall Climb | Wind Attack
Mid-Air Trick Actions
Big Air (Happy Spring, Hop Jump, Petit Step) | Long Wind Jump (Humming Top, Sweet Roll, Window Jump) | Stop 'n' Slam (Bound Attack, Spinning Hammer Attack, Propeller Descent, Hip Drop)
English voice actors
Ryan Drummond (Sonic) | Deem Bristow (Eggman) | William Corkery (Tails) | Scott Dreier (Knuckles) | Jon St. John (Announcer) | Jennifer Douillard (Amy) | Sarah Wulfeck (Cream)
Japanese voice actors
Jun'ichi Kanemaru (Sonic the Hedgehog) | Chikao Ōtsuka (Eggman) | Ryō Hirohashi (Tails) | Nobutoshi Kanna (Knuckles) | Taeko Kawata (Amy) | Sayaka Aoki (Cream)
Other
Act Ring | Angel Island | Aqua Shield | Balloon | Bungee Rope | Chao Playground | Chaos Emerald | Corkscrew loop | Dash Panel | Factory Ring | Fly Type | Flywheel | Freeze | Goal Medal | Grind Rail | Gymnastic Bar | High-speed warp tube | Item Box (Invincibility, Maximum Speed, Ring Magnet, Shield, 1-Up, 5/10/ Random Ring Bonus) | Minecart | Platform-raising Wheel | Pulley | Power Type | Propeller Spring | Ramp | Ring | Seesaw | Shuttle loop | Snowblower | Sonic Factory | Special Key | Special Spring | Speed Type | Switch | Time Attack | Tornado 2
Ad blocker interference detected!
Wikia is a free-to-use site that makes money from advertising. We have a modified experience for viewers using ad blockers

Wikia is not accessible if you've made further modifications. Remove the custom ad blocker rule(s) and the page will load as expected.