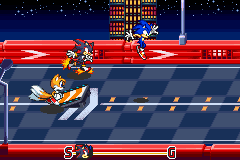 Speed Demon is a mini game that appears in Sonic Battle.
Overview
The player takes control of a character on a stretch of road resembling Radical Highway.
Gameplay
In Speed Demon, the player constantly moves to the right while they attempt to jump over and avoid obstacles. The player can also increase their speed by using the same ramps found in the original Radical Highway.
Characters