Ad blocker interference detected!
Wikia is a free-to-use site that makes money from advertising. We have a modified experience for viewers using ad blockers

Wikia is not accessible if you've made further modifications. Remove the custom ad blocker rule(s) and the page will load as expected.
Spikebonker[1] (ガーディ[2], Gādi?, lit. "Guardy") is an enemy that appears in Sonic & Knuckles. It is a mass-produced Badnik model created by Dr. Robotnik.
Appearance

Resembling cones, the Spikebonkers have an orange top cap with a black cylinder section below. Placed below their orange cap on their black underside are also two glaring eyes. On their bottom, they have a grey drill as well. They also carry an engine pack on their back and have a mace ball orbiting their lower section.
Overview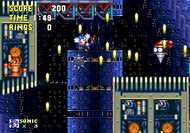 Spikebonkers appear only in Death Egg Zone, where they hover slowly from side-to-side with their mace orbiting them. When the player approaches, the Spikebonkers attack by sending their mace flying towards the playable character in a linear line. However, the mace has a limited range and will return to its Spikebonker like a boomerang. The Spikebonkers will repeat this pattern until they are destroyed or the player gets far enough away.
With the right timing, the player can defeat a Spikebonker with a Spin Jump. However, the player has to take notice of their mace's movements while attacking, as it can easily harm the player upon its return trip.
In other media
Sonic the Comic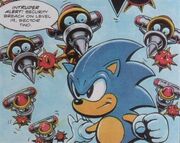 Spikebonkers appeared as the Death Egg II's security system in Sonic the Comic. Sonic battled them when he infiltrated Level 19, Sector 2. He seemed very unimpressed with their design and particularly their ridiculous name.[3] The Spikebonkers did eventually bring Sonic before Robotnik, but Sonic insisted that he hadn't been beaten and that they had merely helped him find Robotnik.[4]
References
Sonic the Hedgehog 3 & Knuckles
---
Main articles (Sonic 3, Sonic & Knuckles, Sonic 3 & Knuckles) | Gallery (Sonic 3, Sonic & Knuckles) | Beta elements | Staff (Sonic 3, Sonic & Knuckles)
Characters
Sonic (Super Sonic, Hyper Sonic) | Tails (Super Tails) | Knuckles (Super Knuckles, Hyper Knuckles) | Dr. Robotnik | Mecha Sonic (Mecha Sonic's Super State) | Animals (Flicky (Flicky's Super State), Pocky, Pecky, Cucky, Ricky, Rocky)
Badniks
Batbot | Blaster | Blastoid (Carnival Night Zone) | Blastoid (Hydrocity Zone) | Bloominator | Bubbles | Bugernaut | Butterdroid | Catakiller, Jr. | Chainspike | Clamer | Cluckoid | Corkey | Dragonfly | EggRobo | Fireworm | Flybot767 | Hyudoro | Iwamodoki | Jawz | Madmole | Mantis | Mega Chopper | Monkey Dude | Mushmeanie | Orbinaut | Penguinator | Pointdexter | RhinoBot | Ribot | Rock'n | Sandworm | Skorp | Snale Blaster | Spikebonker | Spiker | Star Pointer | TechnoSqueek | Toxomister | Turbo Spiker
Zones
Sonic 3
Angel Island Zone | Hydrocity Zone | Marble Garden Zone | Carnival Night Zone | IceCap Zone | Launch Base Zone | Special Stages | Bonus Stages
Sonic & Knuckles
Mushroom Hill Zone | Flying Battery Zone | Sandopolis Zone | Lava Reef Zone | Hidden Palace Zone | Sky Sanctuary Zone | Death Egg Zone | The Doomsday Zone | Special Stages | Bonus Stages
Competition
Azure Lake Zone | Balloon Park Zone | Chrome Gadget Zone | Desert Palace Zone | Endless Mine Zone
Sub-bosses
Doctor Robotnik's Flame Craft (Angel Island Zone Act 1) | Doctor Robotnik's Whirlpool Machine | Tunnelbot | Self D-Struct Machine | Iceball | Swing'm Spikez | Hei Hou | Gapsule | Barrier Eggman | Guardian | Heat Arms | Egg Mobile-H | Flying Eggman | Red Eye | Death Ball
Bosses
Doctor Robotnik's Flame Craft (Angel Island Zone Act 2) | Doctor Robotnik's Waterspout and Depth Charge Machine | Doctor Robotnik's Jet Drill Pod | Doctor Robotnik's Energy Ship | Doctor Robotnik's Freeze-O-Matic | Ball Shooter | Beam Rocket | Big Arm | Jet Mobile | Hang Mobile | Egg Golem | Hot Mobile | Knuckles | Mecha Sonic | Mecha Sonic's Super State | Kyodai Eggman Robo | The Doomsday Zone
Moves/techniques
Bound Jump | Double Jump | Fireball Spin Dash | Glide | Gliding Knuckles Attack | Hyper Flash | Insta-Shield | Propeller Flying | Spin Jump | Spin Dash | Spin Attack | Wall Climb
Items
Air Bubbles | Balloon | Banana | Bomb | Booster | Bumper | Bumper wall | Cannon | Capsule | Change | Chaos Emerald | Cloud | Continue | Fan | Jump Stand | Monitor (Water Shield, Flame Shield, Invincibility, Lightning Shield, Super Ring, Power Sneakers, Extra Life, S, Eggman) | Movable box | Mushroom | Pulley | Ring | Signpost | Self-Propelled Bomb | Slow-Down Shoes | Snowboard | Sphere | Spikes | Spring | Spinning Top | Star Post (Star Circle) | Super Emerald | Switch | Transport | Zip Line
Other
Angel Island | Barrel | Blue Knuckles | Conveyor Belt | Corkscrew loop | Crusher | Debug Mode | Fireball Cannon | Flipper | Flywheel | Freezing Machine | Giant spear | Goal | Gravity Control Switch | Gumball | High-speed elevator | High-speed warp tube | Icicle | Jewel Radar | Perfect Bonus | Platform-raising Wheel | Pole Elevator | Relief | Reverse | Ring Shooter | Seesaw | Shuttle loop | Slot Machine | Sonic & Knuckles • Sonic the Hedgehog 3 | Spiked ball | Strange Relief | Tunnelbot | Warp Point | Winding Tunnel | Wonderman