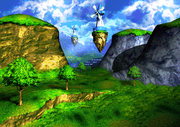 Spring Valley is a recuring location in the Sega Superstars series. It is the signiture levels of NiGHTS and later on Reala. It is a level from the video game NiGHTS into Dreams.
Game appearances
Sonic Adventure
While not a Sega Superstars game, NiGHTS, as well as Spring Valley, makes an appearance in Casinopolis as a part of one of the playable pinball games. NiGHTS' pinball table had cutscenes inspired from dreams seen in NiGHTS into Dreams; when falling down the drain from the Ideya Capture playfield, NiGHTS will show up around a Spring Valley-like room as Sonic spins by. NiGHTS taunting the player from an Ideya Palace show how many Ideya are collected.
Sega Superstars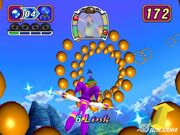 In Sega Superstars, a level similar to Spring Valley appears. Here, NiGHTS is controlled by the players' EyeToy who must hold out their arms and steer NiGHTS by mimicing his movements to fly through rings and collect chips. The game is completed once enough chips to destroy the Ideya Captures have been collected.
Sonic & All-Stars Racing Transformed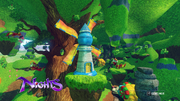 In Sonic & All-Stars Racing Transformed, the first part of the Dream Valley course before entering the Dream Gate, is based on Spring Valley, given its green hills, trees and windmills.
See also
External links