Spring Yard Zone
Talk

0
7,444pages on
this wiki
You may be looking for Spring Stadium Zone from Sonic 3D Blast.
Spring Yard Zone
First appearance
Other appearances
Description

An urban, pinball-like zone

Location
Previous stage
Next stage
Playable characters
(story mode)
Level number

3

Number of acts

3

Enemies
Boss fight
Spring Yard Zone is the third Zone from the original Sonic the Hedgehog game. It follows the Marble Zone and precedes the Labyrinth Zone.
Description
It is an urban level with many springs and bumpers, resembling a pinball machine. There are many secret areas in this zone. Act 2 has two Robotnik signs (goals) and as such, can be ended through two possible routes (one of the only two levels in Sonic history with more than one exit, the other being Collision Chaos Zone 2 in Sonic CD). This second route is accessed by jumping off of the ramp with the trail of rings on it.
Boss
The boss battle takes place at the end of Act 3. Dr. Robotnik attacks with a spike-equipped craft that slowly removes the blocks Sonic stands on.
Screenshots
Music
Video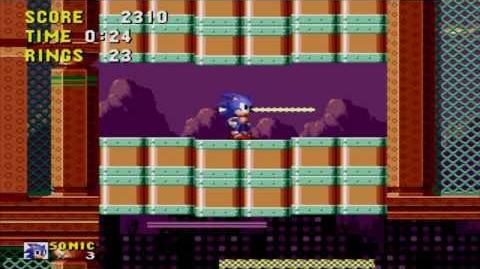 Sonic Drift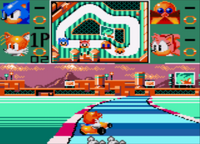 The Spring Yard appears as a track in the game Sonic Drift, alongside other Sonic 1 Zones.
In issues 10 and 11 of the Sonic X comic book, Doctor Eggman trapped Sonic and his friends in a virtual world resembling the original Sonic the Hedgehog game. After making it through the Marble Zone, Sonic and Amy traveled through the Spring Yard Zone, finding Knuckles along the way.

Trivia
Spring Yard Zone was supposed to called Sparkling Zone, and it wasn't an urban city with mountains, it was a luminous place with buildings at night time with neon signs and shiny stars just like a typical casino level that would feature in later Sonic games.

This was originally intended to be the 5th zone of the game.

Spring Yard Zone was the first zone created and finished.
This is the earliest zone by which all six Chaos Emeralds can be obtained in Act 2 of this zone.
Spring Yard Zone has a remake in Sonic Colors in Game Land 4-1.
The theme of Spring Yard Zone sounds similar to Bobby Brown's "Every Little Step".