Star Post
Talk

0
6,661pages on
this wiki
Star Post

A Star Post in Sonic Generations.
First appearance
Purpose

Temporary saves the progress, after losing a life the player starts from the last one which got pass through.
Creating entrance to the Special Stages or Bonus Stages with right amount of rings.
Gives time bonus.
Gives Power Cores depending on team formation.

Description

Single (or two) posts, which has round lamp in top of it.
Star Posts, (再スタート・マーカー Sai Start Marker in Japan) also known as Lampposts, Point Makers (ポイントマーカー) and Check Points, are distinguished markers with stars patterns on them that appear in Sonic the Hedgehog series and make first appearance in original Sonic the Hedgehog in 1991.
They serve as the series' progress markers and are found exclusively in the games zones or Action Stages. Whenever a player passes through a star post, the players' progress up this point in the level will be saved. Should the player then lose a life on the same stage, the player will start over the level and resume their progress from the last checkpoint they passed.
Description
Edit
Star Posts are designed from real-life's street lights, but unlike its real life's variation it doesn't appear to be as tall in games. Star Posts are also no to be confused with street lights which appear levels' backgrounds such as Star Light Zone, Speed Highway or any urban areas which actually has real street lights. The design of Star Posts has been simple and kept in rest of the series, as it has post part, stretch rod and bulb part in the top of it. The way how top of with stretching rod spins has been variable case, but usually in 2D games it rotates 360 degrees twice and after that it goes the same vertical position while bulb part has changes its color or flickers.
While these objects are featured in 3D games, there exist two Star Posts at same time leaving a gap where a player can go through while lamp parts are placed in front of gap. While going through between of them, both lamp parts starts spinning above posts twice until they got the vertical position.
Beside saving a players progress the Star Posts have also served other purposes. In earlier games such as Sonic the Hedgehog 2 the Star Posts also served as an entry point to Special Stages and Bonus Stages in Sonic the Hedgehog 3 and Sonic & Knuckles. It gains time bonus between the earlier and latest Star Posts in 3D games and can leveling up the player in Sonic Heroes.
Game Appearances
Edit
Sonic the Hedgehog (1991)Edit
The first appearance of Star Post is in 16-bit version of Sonic the Hedgehog , where it originally has been called as Lampposts in the american instruction manual of the game. Lampposts have simple design with yellow post, grey stretch rod and a blue bulb on the top. When Sonic touched a lamp post, the bulb changed colors from blue to red. These lamp posts were used as checkpoints, what started as a tradition in the series.
However in 8-bit version of the game with same name Lampposts are replaced with Arrow Monitors which generally also replace Star Posts in Game Gear and Master System titles. By jumping to the monitor with "↓" icon on it, it simply saves the progress.
Sonic the Hedgehog 2Edit
Star Posts make next appearance in Sonic the Hedgehog 2 now with different design. Star Post has yellow shapely post, grey stretch rod and a lamp on the top which has red background, black center with white star in it. Star Posts are also featured at zones of multiplayer.
If the player touches a Star Post and has evenly over 50 gold rings, a lamp starts flashing red and yellow while spinning star circle appears above it. If the player jumps into the ring, he/she is transported to a Special Stage, where the player has to collect amount of rings to get one of Chaos Emeralds. If the player doesn't enter to the star circle it will disappear after while. After Special Stage the player got transported back (with zero rings) to the Star Post where the star circle was located.
Star Post appears in Sonic CD, once again called as Lamppost at instruction manual. Objects also have similar design from original Sonic the Hedgehog with yellow stylistic post, grey stretch rod and a blue bulb on the top. The game also features two different time warp plates, as signs state "Past" and "Future". As the player goes through one of these and gain enough speed for certain time, he transports to the either one of two timelines.
Sonic the Hedgehog 3 & KnucklesEdit
Star Post makes appearance in Sonic the Hedgehog 3 and its add-on continuation Sonic & Knuckles. Star Posts have really similar design from Sonic the Hedgehog 2 except post part is slightly different. The star circle appears too with different methods, as entering to it has now Bonus Stages. If the player collects over 50 rings and enters to the star circle in Sonic the Hedgehog 3, the player be accessed to the Gumball Machine type of Bonus Stage where could collect power-ups such as lives, elemental shields, and rings. Different looking Star Posts are also featured in Competition Mode of Sonic the Hedgehog 3 as starting point and goal.
In Sonic & Knuckles there are two different Bonus Stages. With over 20 rings the player enters to the Slot Machine type of Bonus Stages and with over 50 rings and Rolling Jump type of Bonus Stage. In lock-on version of Sonic the Hedgehog 3 combines all three bonus stages, as with 20-49 rings the player will enter to Slot Machine or Rolling Jump types at random and with over 50 rings to Gumball Machine type Bonus stage.
Sonic Triple TroubleEdit
Game Gear counterpart of Star Posts, Arrow Monitors appear in Sonic Triple Trouble. Like in 8-bit version of Sonic the Hedgehog, braking it saves the progress. Arrow monitors don't appear in act 3 of zones, although one was featured in the third act of last zone, Atomic Destroyer Zone.
Star Posts are replaced by giant rings as check points in Sonic 3D Blast, which are actually used to lead Flickies of the island into it. If the player lose a life, restarting happens from place where giant ring was located.
Sonic BlastEdit
Game Gear counterpart of Star Posts, Arrow monitors appear in Sonic Blast, as destroying arrow monitor will save the game's progress. Arrow Monitors don't appear in third acts of zones, which features bosses.
Sonic AdventureEdit
Star Posts make appearance now renamed Point Makers in Sonic Adventure. Point Makers have red colored posts with blue round centers with yellow star symbols on them, while on top of them is blue bulb and as it gets to the vertical position, it changes color to yellow.
The game introduces to concept of two posts gate at action stages, where the player can go through between of them to save the progress and also gives time bonus between the earlier posts to current ones.
Sonic Pocket AdventureEdit
Eventually Star Posts return to the original design in Sonic Pocket Adventure as saving the progress while touching it. Having the same look from Sonic the Hedgehog 2, it doesn't however activate star circle to enter the Special Stage.
Sonic Adventure 2Edit
Point Makers make another appearance in Sonic Adventure 2, having the same design and methods from Sonic Adventure. Point Makers can also earn items to the player depending how much rings he has during that time. Having more than 20 rings gives 5 rings more, over 40 rings gives 10 rings more and more than 60 gives 20 rings more. With over 80 rings it starts giving speed up immediately and with over 90 rings the player has been awarded with shield.
Sonic Advance gamesEdit
Point Makers make appearance in all Sonic Advance games, as being called as Check Points and having look from Sonic Adventure. In Sonic Advance there are now only 2 check points in each act of zone. In Egg Rocket Zone, there are no check points, but the game save its progress four times at certain sections as the rocket starts out of launch section and removes portions of rocket during the flight until its reaching to end of earth's atmosphere.
Checkpoints in Sonic Advance 2 are different looking, as having post with orange and white stripes and its lamp part is blue while it have rotating "C" on it, which blows to yellow orb as the player goes through it. In the game, there are now more checkpoints than two in each act. Checkpoints also don't appear in boss act of the action stages.
In Sonic Advance 3, Checkpoints return their design from Sonic Advance, but these objects are now also located more than 2 checkpoints per one act. Checkpoints don't appear in third act of Action Stage, which has boss on it.
Sonic HeroesEdit
Check Points make appearance in Sonic Heroes now with complete redesign, as Check Points are plates which have red circles on the ground with a yellow star inside them, surrounded by a blue glow. By going through it saves the progress, while depending on who's the playable from trio, it also gives Power Core to level-up.
Shadow the HedgehogEdit
Checkpoints appear in Shadow the Hedgehog, although having renamed as Save Points. There are no yellow star or blue glow floating above it, but it is place where player save the progress while the player can choose above the save point and warp to another one where has been visited before. This can be very useful if you forget something at another point of the stage.
Sonic Rush gamesEdit
Checkpoints also appear in both Sonic Rush games as saving the game progress and the player can restart from the last checkpoint after losing a life. In Sonic Rush, Checkpoints look closely similar from Sonic Heroes while in Sonic Rush Adventure Checkpoints are different looking and fitting to environment of Sol Dimension. These Checkpoints have spinning ring above the chalice and yellow star at the center of it. As the player goes through, ring disappears, star turns to yellow and starts spinning slowly.
Sonic the Hedgehog (2006)Edit
Point Makers do reappearance in Sonic the Hedgehog (2006), having the same design from Sonic Adventure games. It also has same methods such as saving the progress and giving time bonus.
Sonic Rivals gamesEdit
Although Star Posts don't appear in Sonic Rivals and Sonic Rivals 2, there exist similar kinds of posts that are at start point and as goal sign. Both of posts have round Star sign on top of them.
Sonic UnleashedEdit
Point Makers do next appearance in Sonic Unleashed, once again called as Check Points and saving the game progress after going through of it at action stages. Check Points looked like a gate with lamps hidden; the lamps open up when the player crosses it. The Interval between the posts has been expanded considerably so a player can not miss the Check Point. Also posts have light laser between on them. As PlayStation 2 and Nintendo Wii versions have mission based levels, Check Points don't appear at all.
Sonic the Hedgehog 4Edit
Star Posts make reappearance in both episodes of Sonic the Hedgehog 4, as having the same design from Sonic the Hedgehog 2 and being more detailed in episode II. In both episodes it normally serves as checkpoints and the player can restart from Star Post after losing life.
Sonic ColorsEdit
Checkpoints make another appearance in Sonic Colors, as instead of the lamps hidden like in Sonic Unleashed, they are in the position similarly like in Sonic Adventure. Wii version has Point Makers appearance while Nintendo DS version features design from Sonic Rush. There are no Checkpoints at all in Terminal Velocity.
Sonic GenerationsEdit
Star Post make appearance in Sonic Generations, where objects are nearly the same like in Sonic Colors with exception for having light in the middle instead of light lasers. Star Posts appear in both classic and modern acts, and several challenges.
Other Appearances
Edit
A single Lamppost appears at Sonic World in compilation game Sonic Jam, having the same design from original Sonic the Hedgehog. A lamppost with the design from the original Sonic the Hedgehog appears as a statue in Sonic's Schoolhouse. A single Lamppost appears as part of Green Hill Zone in Super Smash Bros. Brawl. If the player punch it, its lamp-part starts spinning and while spinning lamppost can damage players if it is touched again. Checkpoints also appear in both Sonic Jump and Sonic Jump 2.
Other Variants
Edit
Arrow Monitor
Edit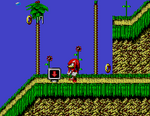 Arrow Monitors (マーカー Marker in Japan) are the replacement of Star Posts in Game Gear and Master System games, as these objects appear in the 8-bit version of Sonic the Hedgehog, Sonic Triple Trouble and Sonic Blast. It is usually a monitor with a red or yellow "↓" icon on it. By breaking the monitor, it will save the player's progress. Arrow monitors don't appear in the 8-bit version of Sonic the Hedgehog 2, although unused in-game graphics are in the game's data.
Bells (ベル) are replacement of Star Posts which only appear in Tails Skypatrol. The yellow bell floats in the air and while the player touch it as Tails, it will normally save the progress. The player also starts from the last bell after losing the life.
Check Point
Edit

Check Points (チェックポイント), also called as Checkpoints or Save Points, are variants of Star Posts that appear in Sonic Heroes, Shadow the Hedgehog, Sonic Rush, Sonic Rush Adventure and Nintendo DS version of Sonic Colors. Check Points are usually plates with red circles on the ground and a yellow star inside them, surrounded by a blue glow. In Sonic Heroes Check Points awards the player with Power Core depending who's the playable while in Shadow the Hedgehog, it can warp the player to other ones where player has visited before.
Appearances in Other Media
Edit
Sonic the ComicEdit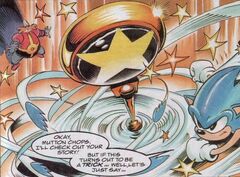 In Sonic the Comic, Star Posts appeared frequently in early issues. Star Posts existed all over planet Mobius. They can be activated by Sonic the Hedgehog when he runs around the post at super speed, which creates an energy field on the bulb through which anyone can jump. In this way, the Star Posts allowed instantaneous travel to any other Star Post, as well as access to the Special Zone (which in the comics was an alternate dimension).
As the most common method of access to the Special Zone, Doctor Robotnik attempted to use the Badnik Sonic to destroy the Special Zone when he set up his Special Zone Egg Fortress, but he was thwarted by Sonic.[1]
Following Robotnik's conquest of Mobius, the Freedom Fighters obtained a Star Post for their own use. It was stored initially in their secret underground base,[2] and later carted around with them while they were on the run disguised as Bob Beaky's Travelling Circus. Robotnik eventually succeeded in destroying all of the Star Posts on Mobius, except for the one carried around by the Freedom Fighters and those on the Floating Island (which were used to transport the rescued Emerald Hill Folk to the Mushroom Hill Zone).[3] The Freedom Fighters' Star Post was also used by the Kintobor Computer to separate Super Sonic's Emerald Energy away from Sonic, which caused Sonic and Super Sonic to split into two distinct individuals.[4]
Later, Captain Plunder also acquired a Star Post, which was affixed to the wheel of his new pirate ship. The pirates used the Star Post to travel to the Special Zone.[5]
Adventures of Sonic the HedgehogEdit
In the Adventures of Sonic the Hedgehog episode "The Mobius 5000", Sonic, Tails and Professor Caninestein use a Star Post to evade heavy traffic and get closer to the finish line via the Special Stage.
Archie ComicsEdit
In Archie's Sonic the Hedgehog comics, there has recently been the introduction of Star Posts. They are a device built by Rotor which allows Sonic and Tails to enter the former Zone of Silence. After the gathering, it has been transformed into a world which resembles both the Special Stages from Sonic 2 and Sonic 3 & Knuckles. It is here that the now seven Chaos Emeralds reside.
Screenshots
Edit
References
Edit