Station Square is an Adventure Field that appears in Sonic Adventure and Sonic Adventure DX: Director's Cut. It takes place within the city of the same name, a heavily populated metropolis famous for its many attractions, a front-row view to the ocean, and train station to some ancient ruins. Station Square can be accessed by boat at the Egg Carrier and the train station in Mystic Ruins. From this Adventure Field, a number of Action Stages and events can be reached.
Station Square eventually became the target of Dr. Eggman, who sought to destroy the city with the power of a deity named Chaos and build Robotnikland on top its ruins. Standing in their way, however, was Sonic and his allies who would duke it out with the villains force the face of the city.
Overview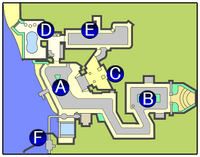 Like the other Adventure Fields in Sonic Adventure, Station Square is comprised of a number of distinct areas and a Chao Garden.
Area A - Central District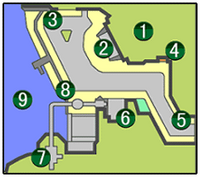 The Central District[1] (also referred to as the Station Area[3]) is a large coastal area in Station Square and a centrepoint for this Adventure Field's areas.
The Central District has several important locations. This include the Hotel which is accessed through the Hotel District Entrance,[2] the Twinkle Park Elevator[2] which leads to Twinkle Park District Entrance,[2] the Skyscraper[2] which is an impressive skyscraper under the ownership of "Cyber-Net Inc.", and a Newsstand.[2]
The Central Station[2]/SS Central Station is accessible from here through the Station District Entrance.[2] There is also a road leading to the City Hall District through the City Hall District Entrance[2] and a docking pier between Twinkle Park and the Hotel with a boat to access the Egg Carrier in the Sea[2] after it falls from the sky.
The Central District holds a couple of Level Up Items. Underneath the Skyscraper is a sewage system (which can be accessed in the back of Twinkle Park) where a Lure can be found, and in a ceiling hole just above it lies the Jet Anklet.
Area B - City Hall District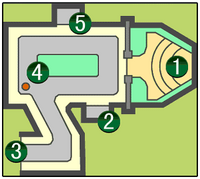 The City Hall District[1] (also known as the City Hall Area[3]) is a downtown area with a small park. The Central District is connected to this area by the Central District Entrance.[4] Locations of interest are the large government building that is City Hall,[4] the Antiques Shop,[4] the Burger Shop,[4] and a Manhole[4] that leads to the Sewer Entrance.[4] In this dirty underground tunnel, the north corridor leads to the Light Speed Shoes and further ahead to the backdoor of the Antiques Shop, while the south corridor leads to an elevator connected to the glass hallway of Twinkle Park.
On a pedestal in the Antiques Shop lies a golden Chao Egg. To get it, the player must switch it out with a rock in the grass near the City Hall, as the shop's exit will instantly seal should the egg's pedestal be without a weight on it.
Area C - Station District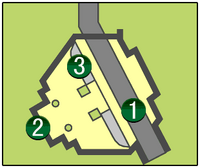 The Station District[1] (also referred to as the Station[3]) is connected to the Central District and the Casino District through the Central District Entrance[5] and Casino District Entrance[5] respectively, albeit the latter and this district are connected without any loading. From here, the player can take the train on the Platform[5] to the Mystic Ruins.
Area D - Hotel District
The Hotel District[1] (also referred to as just the Hotel[3]) consists of a large and extravagant hotel with a penthouse restaurant. This district is connected to the Central District and the Casino District through the Central District Entrance[6] and Casino District Entrance[6] respectively. Despite its medium size, this area contains several important locations such as an outdoor Pool,[6] the Emerald Coast Entrance,[6] and the Station Square Garden's Elevator to Chao Garden.[6] Also, above the Front Desk[6] lies the Crystal Ring.
Area E - Casino District
The Casino District[1] (also known as the Casino Area[3]) is connected to the Hotel District and the Station District through the Hotel District Entrance[7] and Station District Entrance[7] respectively, albeit the latter and this district are connected without any loading. This district contains the Casinopolis Entrance,[7] a Movie Theater,[7] and a Back Alley[7] where the Ice Stone can be found after beating Casinopolis.
Area F - Twinkle Park District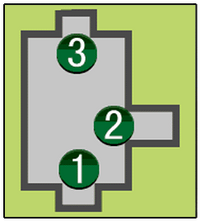 The Twinkle Park District[1] is just a small room that is accessible through the glass hallway at the Twinkle Park Elevator that leads to the Central District Entrance.[8] Inside this area lies the Twinkle Circuit and the Twinkle Park Entrance.[8]
Story
Description
In gameplay, the characters can walk around and enter various Action Stages in Station Square. Station Square contains four Action Stages, three bosses, and a Chao Garden:
Action Stages
Bosses
Miscellaneous
Station Square Garden: A Chao Garden located in the hotel. It is accessed through the Elevator to Chao Garden in the Hotel District.
Twinkle Circuit: A mini-game where the characters race along a race course in outer space using Bumper Cars. It can be access through the door to Twinkle Circuit in the Twinkle Park District. While playable as all playable characters, Tails, Knuckles, and Gamma require a cart pass to access Twinkle Circuit.
Trivia
In Sonic Adventure DX: Director's Cut, the city plays host to a cameo appearance of Cream. She is seen flying around various areas at an unreachable height in Sonic's story. She also appears in other characters' stories such as Tails and Amy (in Amy's story she flies close to the ground and one could make contact with her, however it will not impact the game or Cream herself as she will keep on flying.).
The statue that can be moved outside the Burger Shop is possibly a reference on statues of Colonel Sanders, the founder of KFC. This statue has various glitches like falling through floors or teleporting. A little girl in Station Square is familiar with the statue and tells you never to throw it in the reservoir. This is a reference to the Curse of the Colonel, a Japanese urban legend.
Gallery
Maps
Music
References
External links
---
Main article | Gallery | Beta Elements | Staff | Re-releases (DX | 2010)
Characters
Sonic (Super Sonic) | Tails | Knuckles | Amy | E-102 Gamma | Big | Eggman | Chaos (Chaos 1, Chaos 2, Chaos 4, Chaos 6, Perfect Chaos) | Froggy | Tikal | Pachacamac | Grandma | Metal Sonic* | Cream* | Mr. Know-It-All | Unnamed Sonic robot* | Chao | Flickies | Animals (Deer, Elephant, Gorilla, Kangaroo, Koala, Lion, Mole, Parrot, Peacock, Penguin, Rabbit, Seal, Sea Otter, Skunk, Swallow)
Enemies
Beat | Bladed Spinner | Boa Boa | Buyoon | Cart Kiki | Cop Speeder | Egg Keeper | Electro Spinner | Gola | Ice Ball | Kiki | Leon | mechanical fish | Pirate | Rhinotank | Spiky Spinner | Sweeper
E-100 Series
Beta (Mark II) | Gamma | Delta | Epsilon | ZERO | Zeta
Locations
Adventure Fields
Egg Carrier | Mystic Ruins | Station Square
Chao Gardens
Station Square Garden | Mystic Ruins Garden | Egg Carrier Island
Misc.
Angel Island | Black Market | Chao Stadium | Shrine of Knuckles's race | Tails' Lab
Action Stages
Emerald Coast | Windy Valley | Casinopolis | IceCap | Sky Chase | Twinkle Park | Speed Highway | Red Mountain | Sky Deck | Lost World | Hot Shelter | Sand Hill | Twinkle Circuit | Final Egg
Bosses
Chaos 0 | Chaos 2 | Chaos 4 | Chaos 6 | E-101 Beta | E-101 Mark II | E-102 Gamma | E-103 Delta | E-104 Epsilon | E-105 Zeta | Egg Carrier | Egg Hornet | Egg Viper | Egg Walker | Knuckles the Echidna | Perfect Chaos | Sonic the Hedgehog | ZERO
Moves/techniques
Arm Punch | Bolt of lightning | Bomb Attack | Bomb Gun Attack | Charge | Climb | Dig | Double Punch | Earthquake Attack | Electric Arm | Energy Ball Attack | Flame Thrower Attack | Flight Mode | Glide | Guiding Missiles | Hammer Attack | Hammer Jump | Hover | Homing Attack | Instantaneous Liquefaction | Laser Beam Attack | Homing Missile Launch | Homing Tail Slice | Inhale Attack | Jump Attack | Laser Gun | Light Speed Attack | Light Speed Dash | Lure Attack | Marble Attack | Maximum Heat Knuckles Attack | Phantom Shadow Move | Pick | Propeller Flight | Punch | Punch Attack | Quarter Attack | Rapid Tails Attack | Scorpion Attack | Shockwave Attack (Chaos 6) | Sonic Boom | Spin Attack | Spin Dash | Spin Hammer Attack | Spin Jump | Spinning Spike Attack | Spouting Attack | Squash Roll Attack | Swing Punch | Tails Attack

Level Up Items

Ancient Light | Crystal Ring | Fighting Gloves | Jet Anklet | Jet Booster | Laser Blaster | Life Belt | Light Speed Shoes | Long Hammer | Lure | Power Rod | Rhythm Badge | Shovel Claw | Warrior Feather
English voice actors
Ryan Drummond (Sonic) | Corey Bringas (Tails) | Michael McGaharn (Knuckles) | Deem Bristow (Eggman) | Jennifer Douillard (Amy) | Jon St. John (Big) | Elara Distler (Tikal, Station Square Train Voice, Default Menu Voice) | Steve Broadie (Gamma, Pachacamac, Mystic Ruins Train Voice) | Tomoko Sasaki (Chao)
Japanese voice actors
Jun'ichi Kanemaru (Sonic) | Kazuki Hayashi (Tails) | Nobutoshi Kanna (Knuckles) | Chikao Ōtsuka (Eggman) | Taeko Kawata (Amy) | Shun Yashiro (Big) | Kaori Asō (Tikal) | Jōji Nakata (Gamma) | Tōru Ōkawa (Pachacamac) | Kaho Kōda (Station Square Train Voice) | Nobutoshi Kanna (Mystic Ruins Train Voice) | Elara Distler (Default Menu Voice) | Tomoko Sasaki (Chao)

Original Soundtrack

/

Remix

/

Vocal Mini Album

/

20th Anniversary

/

Passion & Pride

Believe In Myself | It Doesn't Matter | Lazy Days | My Sweet Passion | Open Your Heart | Unknown from M.E.

Other
777 Slots Pinball | Air Bubbles | Auto Running | Bumper | Bumper Car | Cannon | Capsule | Card & Pinball | Cart pass | Chao Egg | Chaos Emerald | Chao in Space | Chao Machine | Chao Search* | Conveyor Belt | Corkscrew loop | Crank | Dash Panel | Dash Ring | Debug Mode | Doll | Drum Can | Egg Carrier | Egg Carrier 2 | Emblem | Emerald Radar | Emerald Shard | Employee ID Card | Fan | Flipper | Fountain | Freeze | Goal Balloon | Hanging Bell | Hedgehog Hammer | Helicopter | Hint Box | Icicle | Item Box (Bomb, Extra Life, Invincibility, Lightning Shield, Power Sneakers, Shield, Super Ring) | Jump Panel | Key Stone (Gold Statue, Ice Stone, Silver Statue, Wind Stone) | Laser Field Block | Life gauge | Lit Panel | Mirror | Mission Mode | Monkey Detonation Switch | Mystic Ruins | Pinball Shooter | Power cube | Ramp | Ring | Rocket | Sandboard | Satellite | Shrine of Knuckles's race | Shuttle loop | Sky Chase Dragon | Slot Machine | Snowboard | Sonic Token | Station Square | Station Square Police Department | Switch | Teleporter | Tornado | Tornado 2 | Transporter Machine | Trick Jump Panel | Wide Spring | Wind Path | Zip Line

*Exclusive to Sonic Adventure DX: Director's Cut.
Ad blocker interference detected!
Wikia is a free-to-use site that makes money from advertising. We have a modified experience for viewers using ad blockers

Wikia is not accessible if you've made further modifications. Remove the custom ad blocker rule(s) and the page will load as expected.