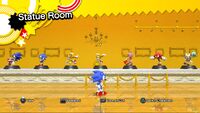 The Statue Room is a secret room that appears in the console/PC version of Sonic Generations. It can be accessed by going to the Collection Room and holding down the "Back" button on the PC/Xbox 360, or "Select" button on the PlayStation 3.
This room holds statues of various characters or items from past games. To unlock them, a special code for each of one of the 55 statues is required.
Codes
Trivia
Most of the character statues' poses (except Badniks and Iblis Minions statues) resemble those from their Sonic Channel 2D artwork. Some of the other character statues also resemble the original artwork from the past games.
The Sonic Generations Statue made from Jazwares has ten codes for some of these statues.
Gallery
3D Models
Screenshots