Stone Guardian
Game
Level

Sandopolis Act 1

Previous boss
Next boss
The Stone Guardian (ガーディアン, Gādian?) is a robotic, rock-like sub-boss that appears in Sandopolis Zone from Sonic & Knuckles. When the pyramid rises at the end of Act 1, it appears out of the door and prepares to battle.
Attack pattern
The Stone Guardian attempts to jump on the player, but is quite slow. The only part of the guardian that is vulnerable is its head. If the head is struck, the Guardian will fall apart and fly backwards, leaving it as just a lump of rock. However, the Guardian soon reforms at full health, and continues its attack. It is impossible to destroy the guardian simply by attacking it. Instead, it can be defeated by causing it to sink into a pit of quicksand on the far left of the boss arena.
The player can either repeatedly attack the Guardian's head from the right, slowly knocking it backwards until it falls in the quicksand, or lure the Guardian to jump into the quicksand itself by keeping on the Guardian's left.
Apperances in other media
Sonic the Comic
The Stone Guardian made a brief appearance in the "Mystery of the Sandopolis Zone" story in Sonic the Comic #48. After Captain Plunder raised the pyramid from the sand, Stone Guardian appeared to prevent anyone from entering. Sonic tried to destroy it with his "Sonic Spin Attack", but, much like the game, he reassembled his body. Knuckles managed to trick the Stone Guardian into walking into quicksand where it was defeated.[1]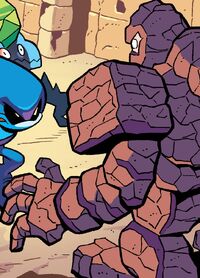 In the Sonic the Hedgehog comic series and its spin-offs published by Archie Comics, the Stone Guardian appeared in Sonic Universe #70, where it challenged Eclipse the Darkling. The outcome of their confrontation is unspecified.[2]
Trivia
The spinning Goal Post does not drop down at the location of the sub-boss when it was defeated (because this would cause the Goal Plate to land in the quicksand pit). Instead, it drops at a set point on solid land (but can still be knocked into the quicksand pit if the player hits it before it lands).

Also, the boss music doesn't end until the Goal Plate lands on the ground and Sonic/Tails/Knuckles perform their victory pose (unlike other bosses whose music ends after dealing the final hit).

Stone Guardian slightly resembles the Egg Golem from Sonic Adventure 2. Coincidentally, the boss of the Sandopolis Zone is also called Egg Golem.
This sub-boss is somewhat similar to other self-defeating bosses in Sonic & Knuckles, such as Gapsule or Barrier Eggman, both of whom appeared in the Flying Battery Zone.
References
Sonic the Hedgehog 3 & Knuckles
---
Main articles (Sonic 3 | Sonic & Knuckles | Sonic 3 & Knuckles) | Sonic 3's Gallery | Beta elements | Sonic & Knuckles' Gallery
Characters
Sonic (Super Sonic, Hyper Sonic) | Tails (Super Tails) | Knuckles (Super Knuckles, Hyper Knuckles) | Dr. Robotnik | Mecha Sonic (Super Mecha Sonic) | Animals (Flicky (Flicky's Super State), Pocky, Pecky, Cucky, Ricky, Rocky)
Badniks
Batbot | Blaster | Blastoid (Carnival Night Zone) | Blastoid (Hydrocity Zone) | Bloominator | Bubbles | Bugernaut | Butterdroid | Catakiller, Jr. | Chainspike | Clamer | Cluckoid | Corkey | Dragonfly | EggRobo | Fireworm | Flybot767 | Hyudoro | Iwamodoki | Jawz | Madmole | Mantis | Mega Chopper | Monkey Dude | Mushmeanie | Orbinaut | Penguinator | Pointdexter | RhinoBot | Ribot | Rock'n | Sandworm | Skorp | Snale Blaster | Spikebonker | Spiker | Star Pointer | TechnoSqueek | Toxomister | Turbo Spiker
Zones
Sonic 3
Angel Island Zone | Hydrocity Zone | Marble Garden Zone | Carnival Night Zone | IceCap Zone | Launch Base Zone | Special Stages | Bonus Stages
Sonic & Knuckles
Mushroom Hill Zone | Flying Battery Zone | Sandopolis Zone | Lava Reef Zone | Hidden Palace Zone | Sky Sanctuary Zone | Death Egg Zone | The Doomsday Zone | Special Stages | Bonus Stages
Competition
Azure Lake Zone | Balloon Park Zone | Chrome Gadget Zone | Desert Palace Zone | Endless Mine Zone
Sub-bosses
Fire Breath | Big Shaker | Tunnelbot | Bowling Spin | Big Icedus | Twin Hammer | Hei Hou | Gapsule | Barrier Eggman | Stone Guardian | Heat Arms | Egg Mobile Hammer Ball | Flying Eggman | Red Eye | Death Ball
Bosses
Flame Mobile | Screw Mobile | Drill Mobile | Graviton Mobile | Freezer Mobile | Ball Shooter | Beam Rocket | Big Arm | Jet Mobile | Hang Mobile | Egg Golem | Hot Mobile | Knuckles | Mecha Sonic | Super Mecha Sonic | Kyodai Eggman Robo | The Doomsday Zone
Moves/techniques
Bounce Attack | Double Jump | Propeller Flying | Glide | Hyper Flash | Insta-Shield | Gliding Knuckles Attack | Spin Jump | Spin Dash | Spin Attack | Wall Climb
Items
Air Bubbles | Balloon | Banana | Bomb | Cannon | Booster | Bumper Bumper wall | | Capsule | Change | Chaos Emerald | Continue | Fan | Jump Stand | Monitor (Water Shield, Flame Shield, Invincibility, Lightning Shield, Super Ring, Power Sneakers, Extra Life, S, Eggman) | Movable Crate | Mushroom | Pulley | Ring | Signpost | Self-Propelled Bomb | Slow-Down Shoes | Snowboard | Sphere | Spikes | Spring | Spinning Top | Star Post | Super Emerald | Switch | Transport | Zip Line
Other
Angel Island | Blue Knuckles | Conveyor Belt | Corkscrew loop | Crusher | Debug Mode | Fireball Cannon | Flipper | Flywheel | Freezing Machine | Goal | Gumball | High-speed elevator | Jewel Radar | Lava Drill | Perfect Bonus | Pole Elevator | Relief | Reverse | Ring Shooter | Seesaw | Shuttle loop | Slot Machine | Sonic & Knuckles • Sonic the Hedgehog 3 | Spear | Spiked Ball | Spinning Wheel | Strange Relief | Warp Point | Winding Tunnel | Wonderman