Super-Speed Stages
Talk

35
9,340pages on
this wiki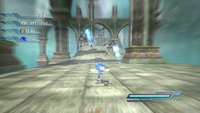 Super-Speed Stages is a game mechanic in Sonic the Hedgehog (2006), which is the game's unique variant of Auto Running. In this mode, he is assumed to be traveling at his top speed. An early variant is found in Sonic Adventure. These stages appear in the following Action Stages: Wave Ocean, Crisis City, Radical Train and Kingdom Valley.
Description
At the end of certain levels, Sonic will suddenly speed up to nearly absurd speeds, perhaps even his true speed. In this mode, the player only controls Sonic by moving left or right, and jumping. Attacks cannot be used. What made these sections difficult was that if Sonic were to touch anything while running, he loses rings or dies, flying a large distance and taking any form of already lacking control from the player. The Light Speed Dash can be utilised, however.
While the Mach-Speed Stages were never used for a while due to being incredibly flawed, similar ideas were used that were basically a modified version of the Mach-Speed's concept. Sonic Unleasheds day stages, Sonic Colors and Sonic Generations Modern stages utilize similar gameplay, though the player is given a lot more control as well as co-exisiting with the tradtiontal 2D platforming.
However, in Sonic Lost World these stages make a return in some stages, however they're a bit different from their original incarnation. Sonic now can be controlled smother, can jump on enemies, and is equipped with the Homing Attack in addition to being more versatile. Other problems in these sections have also been fixed.
Manual
There's no stopping Sonic during these Super-Speed Stages. Guide him left and right through the fast-paced course, jumping over obstacles in his way to reach the goal in as short time as possible, and in one piece. Note that attack moves are not used during these stages.[1]
Trivia
In these sections, Sonic can not access any Gem Powers.
The player cannot destroy any enemies in these sections, as they only damage Sonic.
If the player has purchased the Blue Gem, he/she can achieve Mach Speed, and can use it at will (besides the actual sections), though it only lasts a short time.
In the Tokyo game show trailer, when Sonic wall-jumps in these sections, he would jump, do a spinning motion, then land on his feet. However, in the final release, Sonic would jump and look like he is going to land on his head, but is on his feet a split second later. The animation is probably missing due to the game being rushed.
There seems to be a similar section found in Sonic Adventure, when Sonic is running down the side of a building in the Speed Highway stage, though there are no enemies to be found. However, the helicopters can cause damage if the player runs Sonic into one. Also, when Sonic makes physical contact with something, he merely stumbles for a few seconds, instead of losing rings.
In Sonic Generations, at the end of Crisis City is a section meant to represent the Super-Speed Section from the original, though the section itself is slightly different. There is also no Auto-run, so the player must control Sonic manually. Also, in the original, Sonic runs away from the tornado, while in the redesign, he runs towards the tornado and needs to dodge the cars and rocks thrown at him (the player gets an achievement for not getting hit once during this segment).
Speaking of said achievement, the award is titled "Look Both Ways". This is likely a reference to a line said by Sonic in Sonic the Hedgehog(2006), "That tornado is carrying a car!", which has become an internet meme of it's own.
References
Sonic the Hedgehog (2006)
---
Main article | Gallery
Playable characters
Sonic (Super Sonic) | Tails | Knuckles | Shadow (Super Shadow) | Rouge | Omega | Silver (Super Silver) | Blaze | Amy
Other characters
Accordion Player | Adrianna | Alan | Alessio | Alfano | Anna | Antonio | Aristo | Berruni | Bishop | Claudia | Dante | Dr. Eggman | Duchess of Soleanna | Duke of Soleanna | Elkan | Frances | Francesca | G.U.N. soldier | Galienna | Gina | Hatsun | Herman | Iblis | Ladies-in-waiting | Liza | Lord Regis | Mancini | Mephiles | Mikhail | Monica | Nicolo | Paganini | Parr | Pele | Pietro | Pinto | Porta | Priest | Princess Elise the Third | Prodi | Pucci | Puccini | Renzo | Alberto Robert | Roberta | Rossi | Sabrina | Sandro | Solaris | Soleanna Royal Guards | Solomon | Sonic Man | Sophia | Ken Williams | Zof
Enemies
Egg Armor | Egg Bomber | Egg Buster | Egg Cannon | Egg Chaser | Egg Commander | Egg Flyer | Egg Guardian | Egg Gunner | Egg Hunter | Egg Keeper | Egg Lancer | Egg Liner | Egg Rounder | Egg Searcher | Egg Stinger | Egg Sweeper | Egg Walker | Giant Shadow variant | Iblis Biter | Iblis Golem | Iblis Taker | Iblis Taker counterpart | Iblis Worm | Iblis Worm counterpart | Shadows | Stalker | Titan | Yellow Egg Gunner variant
Action Stages
Wave Ocean | Dusty Desert | White Acropolis | Crisis City | Flame Core | Radical Train | Tropical Jungle | Kingdom Valley | Aquatic Base | End of the World
Town Stages
Castle Town | Forest | New City
Town Missions
Sonic
1 | 2 | 3 | 4 | 5 | 6 | 7 | 8 | 9 | 10 | 11 | 12 | 13 | 14 | 15 | 16 | 17 | 18 | 19 | 20
Shadow
1 | 2 | 3 | 4 | 5 | 6 | 7 | 8 | 9 | 10 | 11 | 12 | 13 | 14 | 15
Silver
1 | 2 | 3 | 4 | 5 | 6 | 7 | 8 | 9 | 10 | 11 | 12 | 13 | 14 | 15 | 16 | 17 | 18
Bosses
Egg-Cerberus | Egg-Genesis | Egg-Wyvern | Iblis | Mephiles | Shadow | Silver | Solaris | Sonic
Moves/techniques
Arrow of Light | Accelerator Tornado | Attack | Blast Jump | Bomb | Bomb Snipe | Bound Jump | Chaos Attack | Chaos Boost (Chaos Blast, Chaos Lance, Chaos Snap) | Chaos Spear | Climb | Custom Actions (Gun Drive, Homing Smash, Mach Speed, Scale, Slow, Thunder Guard, Tornado) | Double Jump | Dummy Ring Blitz | Dummy Ring Bomb | Dummy Ring Snipe | Fire Claw | Fly | Grab All | Ground Shaker | Hammer Attack | Heart Mine | Hold Smash | Hover | Invisibility | Levitate | Light Dash | Lock-On Shot | Omega Launcher | Omega Shot | Psychokinesis | Psycho Shock | Psycho Smash | Punch Attack | Screwdriver | Shield of Light | Sliding Attack | Spear of Light | Spin Dash | Spin Jump | Spin Kick | Spinning Claw | Teleport Dash | Turbo Boost
Items
Chaos Drive | Container (Blue crate, Explosive crate) | Goal Ring | Item Box (Gauge Up, Super Ring, Shield, Invincibility, Extra Life) | Key | Light Core | Mechanical Ring | Medal | Pulley | Rainbow Ring | Ring | Silver Sphere | Spring | Star Post | Snowboard | Switch | Vine | Wide Spring
Level Up Items
Air Chip | Antigravity | Blue Gem | Bounce Bracelet | Gems | Green Gem | Heart of Wind | Light Chip | Memory Shard (black) | Memory Shard (blue) | Memory Shard (red) | Power Bracelet | Purple Gem | Red Gem | Shock Bracelet | Single-Layered Extreme | Sky Gem | White Gem | Yellow Gem
OST
All Hail Shadow | Dreams of an Absolution | His World | My Destiny | Sweet Dreams AKON Mix
English voice actors
Jason Griffith (Sonic, Shadow the Hedgehog) | Pete Capella (Silver the Hedgehog) | Lacey Chabert (Princess Elise) | Mike Pollock (Dr. Eggman, Narrator) | Amy Palant | (Tails, Ladies-in-waiting) | Lisa Ortiz (Amy, Ladies-in-waiting) | Bella Hudson (Blaze) | Dan Green (Knuckles, Mephiles, Solaris Project scientists) | Kathleen Delaney (Rouge) | Maddie Blaustein (Omega) | David Wills (Duke, G.U.N communitcator)
Japanese voice actors
Jun'ichi Kanemaru (Sonic) | Kōji Yusa (Shadow) | Daisuke Ono (Silver) | Maaya Sakamoto (Princess Elise) | Chikao Ōtsuka (Dr. Eggman) Kenji Utsumi (Narrator, Duke) | Ryō Hirohashi (Tails) | Hikari Yono (Ladies-in-waiting) | Nao Takamori (Blaze) | Nobutoshi Kanna (Knuckles) | Takayuki Sakazume (Mephiles) | Keiji Okuda (Solaris Project scientist, G.U.N. communicator) | Yoshikazu Kozuma (Solaris Project scientist) | Rumi Ochiai (Rouge) | Taeko Kawata (Amy) | Taiten Kusunoki (Omega)
Scripts

Sonic Episode | Shadow Episode | Silver Episode | Last Episode

Other
Action Gauge | Auto Running | Bike | Buggy | Case | Chao in Space | Chaos Crush | Conveyor Belt | Custom Shoes | Cylinder | Dr. Eggman's Train | Dummy Ring | Eagle | Elise's Prayer | Eye of Solaris | Explosion Trap | Green Orb | Glider | Hanging Bell | Horizontal Bar | Hover Craft | Havok | Heart Bombs | Hint Ring | Laser Field Block | Lotus | Minecart | Mirror of Soleanna | Orb statue | Orca | PK mark | Purple Orb | Rainbow Gem | Rimlight | Scepter of Darkness | Shop | Soleanna | Solaris Project | Sphere | Spotlight | Super-Speed Stages | Turtle | Wall Jump | Warp Hole