Super Stupendous Tremendous Horrendous Hedgehog-Catching Vanquisher
Talk

0
Share
This object exists primarily within the Adventures of Sonic the Hedgehog continuity.
Information in this article may not be canonical to the storyline of the games or any other Sonic continuity.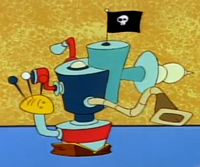 The Super Stupendous Tremendous Horrendous Hedgehog-Catching Vanquisher was a device created by H.D.S.V.A.D.L. that combined the Darkinator, Freeze Banger, Gravity Stopper and De-Atomizer into one machine.
Description
In the Adventures of Sonic the Hedgehog episode "Birth of a Salesman", whilst disguised as a salesman by the name of "Sid Sharkley", Sonic showcased the S.S.T.H.H.C.V. to Dr. Robotnik, freezing him and his Badniks, suspending them in the air, vaporizing them and then re-constructing them with their body parts mixed up and still frozen in blocks of ice. Sonic then left them in that state.
Ad blocker interference detected!
Wikia is a free-to-use site that makes money from advertising. We have a modified experience for viewers using ad blockers

Wikia is not accessible if you've made further modifications. Remove the custom ad blocker rule(s) and the page will load as expected.