This article is about a subject in the real world.
Information in this article is about real-life people, companies, and objects, and does not relate to the in-universe Sonic series.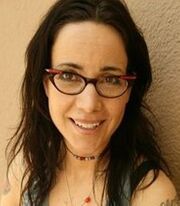 Suzanne Goldish is a 4Kids Entertainment voice actor. She was also an ADR engineer for the Pokémon TV series. She has gained extensive experience and honed her kids' entertainment chops through years in Sesame Workshop's Interactive Technologies group, as well as the Educate Products/Hooked on Phonics Product Development group in New York City. She is also an accomplished photographer.
She currently resides in Los Angeles, California and is currently working for Studiopolis and Soundelux DMG. Nowadays, she has also been working for Sega as a recording engineer and dialogue editor ever since Sonic Free Riders.
Roles
See also
References
External links
Former English Voice Actors
Ad blocker interference detected!
Wikia is a free-to-use site that makes money from advertising. We have a modified experience for viewers using ad blockers

Wikia is not accessible if you've made further modifications. Remove the custom ad blocker rule(s) and the page will load as expected.