In the deep forest, an old castle is located by the lake. Despite its magical appearance, traps like floating pillars, made to protect the castle, will await the duo.


— Sonic the Hedgehog 4: Episode II English website
Sylvania Castle Zone is the first Zone that appears in Sonic the Hedgehog 4: Episode II. As the name implies, it is an ancient, booby-trapped castle which has been flooded over the years. The Zone's appearance is a hybrid between Aquatic Ruin Zone from Sonic the Hedgehog 2 and Marble Garden Zone from Sonic the Hedgehog 3. It even takes an idea from both of the Zones with the underwater sections from Aquatic Ruin Zone and the spinning wheel obstacle from Marble Garden Zone.
Acts
Act 1 - A New Frontier
Months after destroying the E.G.G. Station Zone in Episode I, Sonic comes across Tails once again. Noticing recent activity in the neighboring continent, the duo decide to take a break aboard the Tornado, chatting about Sonic's adventure. They soon come across an old abandoned castle, flooded with water. They decide to land on the grassy lands, trying to see what might unveil there.
Act 2 - Sunken Ruins
After traversing through the outer parts of the castle, Sonic and Tails find themselves inside the water ruins. Many elements from past games appear here.
Act 3 - Moonlit Realm
After escaping the sunken ruins, Sonic and Tails come across a place near the castle filled with lots of pillars and huge buildings, with a beautiful night sky falling upon them. Little Planet can be seen in the background of this stage, surrounded by gleaming metal.
Boss - Dueling Eggman's New Creation
Dr. Eggman appears to greet Sonic and Tails, showing that he has survived from their previous encounter before he flees. As Sonic and Tails catch up, they are surrounded by familiar totem poles and expect a similar fight from the doctor only to be surprised by an all-new mechanical creation.
Trivia
Video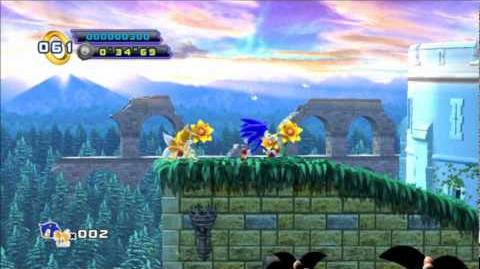 Music
| Name | Artist | Length | Music Track |
| --- | --- | --- | --- |
| Sylvania Castle Zone Act 1 | Jun Senoue | 2:01 | |
| Sylvania Castle Zone Act 2 | Jun Senoue | 2:08 | |
| Sylvania Castle Zone Act 3 | Jun Senoue | 1:15 | |
---
| | |
| --- | --- |
| Characters | Sonic | Tails | Animals (Flicky, Pocky, Pecky, Cucky, Picky) | Dr. Eggman | Metal Sonic |
| Enemies | Asteron | Balkiry | Batbot | Bubbles | Burrobot | Buzzer | Chop Chop | Chopper | Clucker | Crawl | Flamer | Fullboar | Jaws | Mantis | Moto Bug | Newtron | Orbinaut (Uni Uni, Unidasu) | Sandworm | Scarabesque | Shellcracker | Slicer | Snowy | Spikes | Steelion | Turtloids | Zoomer |
| Episode II Zones | Sylvania Castle Zone | White Park Zone | Oil Desert Zone | Sky Fortress Zone | Death Egg mk.II Zone | Special Stages |
| Episode Metal Acts | Episode Metal Act 1 | Episode Metal Act 2 | Episode Metal Act 3 | Episode Metal Act 4 |
| Bosses | Egg Serpentleaf | Metal Sonic | Egg Scrap Mech | Metal Carrier | Metal Sonic and Egg Mobile | Metal Sonic (race) | Egg Heart |
| Moves/techniques | Copter Combo | Propeller Flying | Homing Attack | Rolling Combo | Spin Attack | Spin Dash | Spin Jump | Submarine Combo | Tornado Boost |
| Objects | Air Bubbles | Bumper | Capsule | Booster | Chaos Emerald | Flipper | Giant Ring | Monitor (Super Ring, Shield, Power Sneakers, Invincibility, Extra Life, Special Combination, Combination Dash) | Ring | Spring | Star Post | Red Star Ring | Spikes | Switch | Signpost | Zip Line |
| Other | Conveyor Belt | Crusher | Death Egg mk.II | Fan | Flip Platform | Little Planet | Level Select | Lost Labyrinth treasure | Platform-raising Wheel | Original Soundtrack (& Episode I) | Strange Relief | Ring Shooter | Stardust Speedway | Shuttle loop | Tails' rocket | Time Attack | Tornado | Totem pole |