For the 1995 Game Gear game of the same name, see Tails Skypatrol.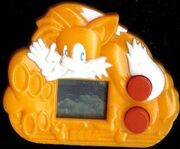 Tails' Skypatrol is a 2003 hand held LCD game released by Sega as a giveaway toy in McDonald's happy meals for a limited time.
Gameplay
The Player controls Tails in his quest to fly around and collect Rings. After collecting thirty rings, the speed and level will increase. Missing ten rings will end the game. There are two large red buttons which the player uses to control Tails.
Gallery
Ad blocker interference detected!
Wikia is a free-to-use site that makes money from advertising. We have a modified experience for viewers using ad blockers

Wikia is not accessible if you've made further modifications. Remove the custom ad blocker rule(s) and the page will load as expected.