This article is about a subject in the real world.

Information in this article is about real-life people, companies, and objects, and does not relate to the in-universe Sonic series.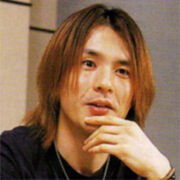 Takahito Eguchi(江口 貴勅 Eguchi Takahito, born August 28, 1971), is a Japanese video game and anime composer, arranger, and orchestrator. He is best known for working with Noriko Matsueda on various soundtracks, most notably Square Enix's The Bouncer and Final Fantasy X-2. Eguchi is currently working for Sega, primarily assisting Tomoya Ohtani on his projects for various series, most notably the Sonic the Hedgehog series.
Credits
Soundtrack
Sonic the Hedgehog (2006):
Sonic Unleashed:

"Cutscene - Opening" (music and orchestration)
"Cutscene - A New Journey" (music and arrangement)
"Cutscene - The First Night" (music, arrangement, and piano)
"Cutscene - Tails in Trouble!" (music and arrangement)
"Cutscene - To Spagonia!" (music and arrangement)
"Cutscene - Same as Ever" (music and arrangement)
"Cutscene - Gaia Manuscripts" (music and arrangement)
"Cutscene - Sonic Appears" (music and arrangement)
"Cutscene - The Egg Beetle" (music and arrangement)
"Boss Stage Clear" (orchestration)
"Cutscene - Temple Activated!" (music and arrangement)
"Cutscene - Planet Pieces" (music and arrangement)
"The World Adventure - Orchestral Theme -" (orchestration)
"Stage Clear" (orchestration)
"Result Screen - E Rank" (orchestration)
"The World Adventure - Piano Version" (arrangement and piano)
"The World Adventure - Jingle" (music and orchestration)
"Cutscene - Chip's Change" (music and arrangement)
"Cutscene - Chip's Memories" (music and arrangement)
"Cutscene - No Reason" (arrangement and piano)
"Cutscene - The 7th Continent" (music and arrangement)
"Cutscene - Congratulations" (arrangement)
"Cutscene - Dark Gaia Appears" (music and arrangement)
"Cutscene - Shrines in Flight" (music and arrangement)
"Cutscene - Hour of Awakening" (music and arrangement)
"Cutscene - Dark World ~ Hope and Despair" (music and arrangement)
"Cutscene - The Final Form" (music and arrangement)
"Cutscene - Annihilation" (music and arrangement)
"Cutscene - Rekindled Light ~ Save the Speech!" (arrangement)
"Cutscene - To the Surface" (music, arrangement, and piano)
"Cutscene - Always" (music and arrangement)
"Dear My Friend - Ending Theme -" (arrangement, acoustic piano, and programming)

Sonic Colors:
Sonic Generations:

"Crisis City : Act 2" (strings arrangment and keyboards)
"Rooftop Run : Act 1" (strings arrangment and piano)
"Rooftop Run : Act 2" (strings arrangment and piano)

Sonic Lost World:

"Wonder World - Title Theme -" (orchestration and piano)
"Cutscene - Opening" (music and arrangement)
"Windy Hill - Zone 1" (keyboards)
"Cutscene - Eggman and the Deadly Six" (music and arrangement)
"Windy Hill - Zone 2" (keyboards)
"Cutscene - Face-off with Zazz" (music and arrangement)
"The Deadly Six Theme" (keyboards)
"Cutscene - The Cacophonic Conch" (music and arrangement)
"Cutscene - Calling in the Heavy Hitter" (music and arrangement)
"Cutscene - Zomom's Take-out Lunch" (music and arrangement)
"Cutscene - The Rise of the Six" (music and arrangement)
"Cutscene - Who Got Us into This Mess?" (music and arrangement) 
"Cutscene - A Legendary Master Appears" (music and arrangement)
"Sea Bottom Segue" (Strings arrangement)
"Cutscene - Eggman's Secret Weapon" (music and arrangement)
"Cutscene - Master Zik's Warm-up" (music and arrangement)
"Cutscene - The Enemy of My Enemy Is...?" (music and arrangement)
"The Deadly Six Theme (Orchestra ver.)" (orchestration)
"Title Screen" (orchestration and piano)
"Cutscene - Tails Gets Angry" (music and arrangement)
"Cutscene - Even a Rose Has Thorns" (music and arrangement)
"Cutscene - Eggman's Buttons Pushed" (music and arrangement)
"Cutscene - Out of Character" (music and arrangement)
"Cutscene - It's a Trap!" (music and arrangement)
"Cutscene - Apathy Meets Disappointment" (music and arrangement)
"The Deadly Six Theme (Violin ver.)" (keyboards)
"Lost World Jingle" (orchestration)
"Mission Clear" (arrangement)
"Item Get Level 1" (orchestration)
"Item Get Level 2" (orchestration)
"Item Get Level 3" (orchestration)
"Item Get Level 4" (orchestration)
"The Lost Hex" (arrangement and piano)
"Cutscene - Zavok's Taunt" (music and arrangement)
"Cutscene - Tails Gets an Upgrade?" (music and arrangement)
"Stage Clear" (orchestration)
"Cutscene - Eggman's Sacrifice" (music and arrangement)
"Cutscene - Revenge of the Six" (music and arrangement)
"Boss Rushes" (orchestration)
"Cutscene - Solitude" (music and arrangement)
"Cutscene - Robo Tails Attacks!" (music and arrangement)
"Boss Rushes (Guitar ver.)" (orchestration) 
"Cutscene - Eggman Returns" (music and arrangement)
"Cutscene - Ending" (music and arrangement)
"Hurry Up!" (orchestration)
"The Legend of Zelda Zone - Hyrule Field" (orchestration)
"The Legend of Zelda Zone - Dodongo's Cavern" (piano)

Sonic Forces: