This article is about a subject in the real world.
Information in this article is about real-life people, companies and objects, and does not relate to the in-universe Sonic series.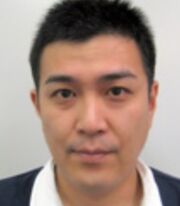 Takayuki Sakazume (坂詰 貴之, Sakazume Takayuki?, born September 3, 1972) is a Japanese seiyū and actor who works for Production Baobab. Sakazume is originally from Chiba Prefecture. He is a graduate of Chiba University of Commerce. He voiced Mephiles the Dark in the Japanese version of Sonic the Hedgehog (2006).
Notable roles
TV Anime
Blood+ (Kato)
Yakitate!! Japan (Kai Suwabara)
Game
Voiceovers
Desperate Housewives
Big Wolf on Campus
Roswell (TV series)
External links
This article or section about the real world is a stub. You can help the Sonic News Network by expanding it!