Talk:Sonic News Network
7,425pages on
this wiki
This talk page has Archives:
Olympic Games 4
.........There is apparently going to be a new Mario & Sonic olympic crossover.....yay? I really do not like the olympic crossovers....or party games in general.David Bear (talk) 18:12, May 17, 2013 (UTC)

Sonic News Network tells the most about Sonic characters, places, items, and other stuff than any other wiki.the biggest and queen of all SonAmy fans (talk) 20:12, June 26, 2013 (UTC)
Is it just me or do other people want SEGA to make a Sonic Adventure 3?Sonicxgmd1 (talk) 05:33, August 8, 2013 (UTC)
@Sonicxgmd I suppose SA3 would be nice. In my opinion, it should be a re-release of Sonic 06, without all the unecessary glitches and problems from 06. But that's just my opinion to be honest. SupeSonicWind2000 (talk) 15:17, August 23, 2013 (UTC)
AHHHHH, GOOD S**T! STOP GIVING ME ALL THESE EMAILS!!!!! YOU KNOW I CAN JUST CHECK MY CONTRIBUTIONS AND TALK PAGES MYSELF, RIGHT?!?!?!
(Casting a Dream Era (talk) 14:31, September 19, 2013 (UTC)) "SomeCallMeDreamcaster
Calm down. If I recall correctly, you can disable Wikia emails in your Preferences section. Serious Sam

Heavy 14:48, September 19, 2013 (UTC)
A Sonic '06 "DX" would be awesome indeed. SpyroGuy (talk) 12:38, September 25, 2013 (UTC)
Ah, you nhave the mind of a genius. A Sonic 06 DX for the 8th generation of consoles would be epic
(Somecallmedreamcaster (talk) 15:11, September 25, 2013 (UTC))
Speaking of which, it is out now, so can someone remove it from upcoming? The template is locked. SeanWheeler (talk) 14:55, November 17, 2013 (UTC)

Well, it's still upcoming in Japan, but then again, we're not a Japanese site. I'll unlock it. -- Shadowunleashed13 (talk) 18:52, November 17, 2013 (UTC)
Site discussion
I think that text of the Site Discussion header should be replaced with Forums instead. Mystic Orb: Who do you think I am? What do you want? What do I do? 09:02, October 3, 2013 (UTC)
Yep. -- Supermorff (talk) 19:42, October 5, 2013 (UTC)
Sweet look!
I really like the new homepage look! Hope this one will last for a loooong time. SupeSonicWind2000 (talk) 07:54, October 19, 2013 (UTC)
Problem with Monobook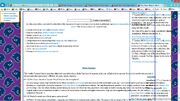 There's a problem of the home page while viewed with the Monobook Skin as seen in the following screenshot.
Mystic Orb
(
TP
.
CO
.
EC
) 03:41, October 21, 2013 (UTC)
That is probably most likely to be a glitch. Mystic Orb (TP.CO.EC) 12:01, October 21, 2013 (UTC)
Is the Monobook Skin issue still existing Orb? I would try something out, if you can answer. - MarioSonic (talk) 13:21, October 21, 2013 (UTC)
Not anymore. However I'm not sure if this is a problem or not, but the blue border surrounding the Did You Know all the way to Sister Wikis on the right side of the page slightly crosses over the page border. Mystic Orb (TP.CO.EC) 00:50, October 22, 2013 (UTC)
That was because of an overly long thread name on the main page. Someone may want to take a look into seeing if we can sort that out for the future.--Kagimizu-Seeya 'round 01:27, October 22, 2013 (UTC)