| | | |
| --- | --- | --- |
| | This article's name is conjectural. Although this article is based on official information, the actual name of the article's subject is pure conjecture. | |
Team Super Sonic, also known by some as Team Super, is the unofficial name of the final team playable in Sonic Heroes which is used against the final boss of the game, Metal Overlord. Using the power of the Chaos Emeralds, Sonic transformed into Super Sonic, and then passed on some of his power to Tails and Knuckles.[Note 1]
Members
History
Near the end of Sonic Heroes, Team Sonic decided to be the ones that would defeat Metal Madness. To accomplish this feat, Team Sonic needed to harness the power of the seven Chaos Emeralds, but they needed time to prepare the emeralds. Willing to help, Team Dark, Team Chaotix and Team Rose fought Metal Madness to buy Team Sonic the time they needed. At the time Metal Madness transformed into Metal Overlord, Team Sonic had the Chaos Emeralds ready. Sonic then performed a super transformation, becoming Super Sonic, while granting Miles "Tails" Prower and Knuckles the Echidna each a Super Shield for a power boost, thus forming Team Super Sonic.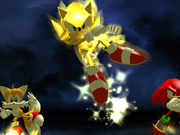 Once the team was finished with its transformation, Team Super Sonic followed Metal Overlord into the sky and began an intense battle with him, with the fate of the world at stake. Though Metal Overlord proved impervious to Team Super Sonic's normal attacks, by combining their
unified power
into a massive
Team Blast
, the team was able to inflict damage to the mechanical tyrant. Eventually, Team Super Sonic's teamwork prevailed over Metal Overlord, sending him falling down from the sky in defeat. After celebrating their victory, Team Super Sonic returned to the
Final Fortress
and powered down to normal.
Moves
Like most Super transformations, the team has enhanced skills, stronger moves, and they even start off at Level 3. Sonic can use the Light Speed Attack at any given moment by pressing the action button mid-jump if objects are nearby. However, doing this costs the team five rings. This move has a similar effect to when he uses it in the team's regular form right after their Team Blast. Tails' Thunder Shoot launches Sonic straight into the Light Speed Attack, just like he does right after a Team Blast in the regular Team Sonic. Knuckles' Power Combo allows him to continuously attack with devastating punches and exploding fireballs. This move is so powerful, that it can be used to counter and destroy the Egg Fleet battleships that the Metal Overlord occasionally tosses at the team.
Trivia
Super Sonic once again showed his ability to transform others in Sonic the Hedgehog (2006), in which he transformed Shadow and Silver into Super Shadow and Super Silver respectively. Strangely in Sonic the Hedgehog (2006), Sonic is able to transform Shadow and Silver directly into their Super States, but can only grant Super Shields to Knuckles and Tails.
Team Super Sonic is the only team to start out completely leveled up.
In the PC version of Sonic Heroes, Sonic does not have an aura around him. Instead, he becomes a lighter golden color.
Gallery
Notes
↑ The in-game files of the PC-version for Tails and Knuckles during the final battle are named in such a way ("sk" and "st", respectively, compare Super Sonic's files named "ss") that they are likely to be a modern take on their Super States. Adding to that is the lack of significant differences between Super Knuckles here and in Sonic the Hedgehog 3 & Knuckles and that Tails transformed using Chaos Emeralds instead of Super Emeralds this time around.
---
Main article | Gallery
Playable
characters
Team Sonic
Sonic | Tails | Knuckles
Team Rose
Amy | Cream | Cheese | Big
Team Dark
Shadow | Rouge | Omega
Team Chaotix
Espio | Charmy | Vector
Team Super Sonic
Super Sonic | Tails (Super Shield) | Knuckles (Super Shield)
Other characters
Eggman | Metal Sonic (Neo Metal Sonic) | Chocola | Froggy | Shadow Android
Enemies
Cameron | Egg Bishop | Egg Hammer | Egg Knight | Egg Magician | Egg Pawn | Egg Pawn (Casino version) | E-2000 | E-2000R | Falco | Flapper | Gold Cameron | Gold Klagen | Heavy-Egg Hammer | Klagen | Rhinoliner | Pumpkin-Head Ghosts
Stages
1P stages
Sea Gate | Seaside Hill* | Ocean Palace | Grand Metropolis* | Power Plant | Casino Park | BINGO Highway* | Rail Canyon* | Bullet Station | Frog Forest* | Lost Jungle | Hang Castle | Mystic Mansion | Egg Fleet* | Final Fortress | Special Stage*
2P stages
City Top | Casino Ring | Turtle Shell | Egg Treat | Pinball Match | Hot Elevator | Seaside Course | City Course | Casino Course | Road Rock | Mad Express | Terror Hall
2P Play Mode
Action Race | Battle | Bobsled Race | Expert Race | Quick Race | Ring Race | Special Stage
Bosses
Egg Albatross | Egg Emperor | Egg Hawk | Metal Madness | Metal Overlord | Robot Carnival | Robot Storm | Team Chaotix | Team Dark | Team Rose | Team Sonic
Moves/
techniques
Speed
Manoeuvres
Homing Attack | Kick | Light Dash | Propeller Hammer | Rocket Accel | Shuriken | Spin | Swinging Hammer Attack | Tornado Jump (Black Tornado, Blue Tornado, Leaf Swirl, Tornado Hammer) | Triangle Jump
Power
Manoeuvres
Auto Homing | Body Press | Bubblegum Descent | Fire Combination | Fire Dunk | Fire Launcher | Fireball Jump | Forward Power Attack | Hammer Down | Jump Fire Knock | Jump Fireball | Remote Power Attack (Fireball, Fire Knock) | Triangle Dive | Umbrella Descent | Wide Power Attack (Big Fishing, Omega Arm, Vector Breath, Volcanic Dunk)
Fly
Manoeuvres
Ascending Flight | Cheese Attack | Dummy Ring Bomb | Sting Attack | Thunder Shoot | Quick Ascent
Team Blast
Sonic Overdrive | Chaos Inferno | Flower Festival | Chaotix Recital | Super Sonic Power
Other
Grind Step | Grinding | Jump Dash | Lightspeed Attack | Spin Jump
English voice actors
Ryan Drummond (Sonic, Metal Sonic) | Deem Bristow (Eggman) | William Corkery (Tails) | Scott Drier (Knuckles) | David Humphrey (Shadow) | Lani Minella (Rouge, Omochao) | Jon St. John (Omega, Big) | Jennifer Douillard (Amy) | Sarah Wulfeck (Cream) | Bill Corkery (Espio) | Marc Biagi (Vector) | Emily Corkery (Charmy)
Japanese voice actors
Jun'ichi Kanemaru (Sonic the Hedgehog, Metal Sonic) | Chikao Ōtsuka (Eggman) | Ryō Hirohashi (Tails) | Nobutoshi Kanna (Knuckles) | Kōji Yusa (Shadow) | Rumi Ochiai (Rouge) | Taiten Kusunoki (Omega) | Taeko Kawata (Amy) | Sayaka Aoki (Cream) | Takashi Nagasako (Big) | Yūki Masuda (Espio) | Kenta Miyake (Vector) | Yōko Teppōzuka (Charmy) | Etsuko Kozakura (Omochao)

OST

/

Vocal Trax

/

Official

/

20th Anniversary

Sonic Heroes | We Can | This Machine | Follow Me | Team Chaotix | What I'm Made of...
Other
Ball Switch | Bobsled | Bomb | Bull Train | Bumper | Bumper wall | Cage | Cannon | Capsule | Castle Key | Cell Key | Cervix Tunnels | Chaos Emerald | Character battles | Container | Conveyor Belt | Dash Panel | Dash Rail | Dash Ring | Detonator Switch | Dummy Ring | Egg Fleet | Emblem | Engine Core | Fan | Flipper | Flower | Fly Type | Formation Change Gate | Gallery | Giant Frogs | Giant Switch | Glowing Mushrooms | Goal Ring | Grind Rail | Haunted Towers | Hint | Item Box (Barrier, Fly Charge, High Speed, Invincible, Rings, Power Core, Team Blast Ring, 1-Up) | Kao | Laser Field Block | Light Spider Mark | Orb switch | Palm Plants | Pole | Power Gong | Power Type | Propeller | Pulley | Sonic Heroes Puzzle | Rank | Ramp | Ring | Shuttle loop | Slot Machine | Spear | Speed Type | Special Stage Key | Sphere | Super Hard Mode | Super Shield | Switch | Target Switch | Team Blast Gauge | Team Chaotix Missions | Torch | Vine | Warp Flower | Weight | Wide Spring

*Stage is also playable in 2P Battle mode.