This article is about a subject in the real world.
Information in this article is about real-life people, companies, and objects, and does not relate to the in-universe Sonic series.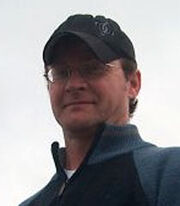 Terry Klassen is a Canadian voice actor and voice director. He voiced several characters in Adventures of Sonic the Hedgehog, such as Dr. Qwark.
His other voice roles include Sylvester in Baby Looney Tunes, Tusky and Husky in Krypto the Superdog, Krillin and Master Roshi in Dragon Ball Z, Cut Man in Mega Man, Blinky and Frix in Bucky O'Hare, Ice Pick in Double Dragon, Black Dragon in G.I. Joe Extreme and several different voices in Mummies Alive!, Gadget and the Gadgetinis and Saber Marionette J.
He also worked as a voice director on CardCaptors, Ed, Edd 'n' Eddy, Johnny Test, Little Witch and Mama Do You Love as well as working as an English adapter for the English version of the popular anime Beyblade.
References
External links
Former English Voice Actors