The Jewel in the Crown
Talk

0
7,448pages on
this wiki
"The Jewel in the Crown"

The title card for "The Jewel in the Crown".
Series
Sonic Underground
Episode no.
21
Original airdate
8 February 2000
Written by
Mark Edens
Sonic Underground
"The Jewel in the Crown" is the twenty-first episode of the Sonic Underground television series and the first episode of Season 2. The episode was written by Mark Edens and first aired on 8 February 2000. It was included in Volume 2 and The Queen Aleena Chronicles.
The song performed in this episode is "The Cosmic Dance".
Plot
Sonic, Manic, and Sonia the Hedgehog are spying on Doctor Robotnik, but unknown to them, they've set foot into the wrong case.
Trivia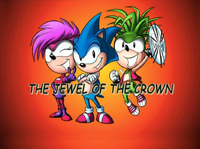 This episode is known by two names: "Jewel of the Crown" and "Jewel in the Crown".