Ad blocker interference detected!
Wikia is a free-to-use site that makes money from advertising. We have a modified experience for viewers using ad blockers

Wikia is not accessible if you've made further modifications. Remove the custom ad blocker rule(s) and the page will load as expected.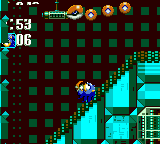 The unnamed Tidal Plant Badnik is an enemy that have only appeared in the Tidal Plant Zone in Sonic the Hedgehog Triple Trouble. These enemies are orange and white colored sea snake-type badniks with black eyes and cyan pupils. They are the only enemies seen in underwater tunnels of Tidal Plant Zone.
These flashing sea snake enemies swim around in wavy patterns with three segments following the head part, which is loosely similar to the Caterkiller or Crawlton. If the player touches the segment parts instead of the head, the badnik breaks into pieces while damaging the player. To destroy this badnik without taking damage, the player has to hit the head part. Like other badniks in the game, they don't have Animals as energy source.

Sonic the Hedgehog Triple Trouble
---
Main article | Beta elements | Gallery
| | |
| --- | --- |
| Characters | Sonic | Tails | Dr. Robotnik | Knuckles | Nack | Metal Sonic | Flicky |
| Badniks | Boing-o-Bot | Bombaberry | Sunset Park Badnik | Kameka | Rabibin | Meta Junglira Badnik | Penguin Bomber | Spidal Tap | Tidal Plant Badnik | Mecha Hiyoko | Bomblur |
| Zones | Great Turquoise Zone | Sunset Park Zone | Meta Junglira Zone | Robotnik Winter Zone | Tidal Plant Zone | Atomic Destroyer Zone | Special Stage |
| Bosses | Marvelous Queen | Tart Turtle | Marve-shupopolous-gou | Wood Buttarundorf | Giga Thomas "Pen" | Knuckles the Echidna | Metal Sonic | Atomic Destroyer Zone Boss 1 | 2 | 3 |
| Moves/techniques | Flying Spin Attack | Heli-Tails | Spin Attack | Spin Jump | Strike Dash | Super Spin Dash | V. Maximum Overdrive Attack |
| Objects | Ring | Monitor (Super Ring, Power Sneakers, Rocket Shoes, Pogo Spring, Super Heli-Tails, Jet Board, Propeller Shoes, Invincibility, 1-Up, Marker, Chaos Emerald (Star Circle), Time Bonus) | Continue | Spring | Air Bubbles | Bonus Panel |
| Other | Bomb | Booster | Breakaway Bumper | Chaos Emerald | Comic Adaptation | Conveyor Belt | High-speed warp tube | Sea Fox | Shuttle loop | Spiked ball | Spin Coaster | Switch | Teleporter | Tornado |