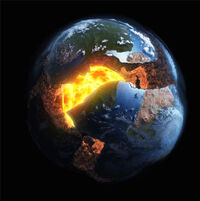 Dark Gaia grows over millions of years, then rises to destroy the world. And I put it all back together. We've been doing this over and over, again and again... since the very beginning of time.


— Chip, Sonic Unleashed
The time of awakening (目覚めの時, Mezame no toki?) is an event that appears in Sonic Unleashed. It is a major global phenomenon that occurs naturally on thee earth every few millions of years where the planet is broken apart by Dark Gaia following the beast's return to full maturity in an attempt to destroy the world. Following this cataclysmic break-up, the world is put back together by Light Gaia, who awakens at the same time and returns Dark Gaia to dormancy before going back to sleep as well.
History
Origin
It has been speculated by Prof. Pickle that the time of awakening was instigated by the earth itself to have a balance between light and darkness.[1] The genesis for the event took place in the beginning of time with the birth of Dark Gaia and Light Gaia around time where the planet came into existence. Following their purposes, Dark Gaia sought the planet's destruction while Light Gaia sought to protect it from his dark counterpart. In the end, Dark and Light Gaia began an endless cycle of destruction and rebirth of the planet. In this cycle, Dark Gaia would sleep in the earth's core for millions of years to gather negative energy and then emerge from the core as Perfect Dark Gaia, splitting the world apart. Light Gaia would then awaken, return Dark Gaia to sleep, and restore the earth before going back to sleep as well. If Dark Gaia should succeed its mission, all life on the planet would perish, and the death planet would enter a deep slumber until Light Gaia's arrival.[2] The time where these two deities would awaken, rising up to their full potential, became known as the time of awakening.
Occurrences over the ages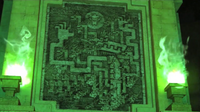 Over the eons, the time of awakening would continuously repeat itself. The second-to-latest time of awakening is said to have occurred some tens of thousands of years ago. This event became a legendary disaster that threatened the existence of the world, and the knowledge gained from it were recorded in the Gaia Manuscripts.
Premature time of awakening
In Sonic Unleashed, Dr. Eggman initiated the time of awakening himself with his Chaos Energy Cannon which forced Dark Gaia to awaken so he could harness the beast's energies to build Eggmanland. However, this was not a proper time of awakening as it happened too early. As a result, Dark Gaia dispersed around the globe due to immaturity, and Light Gaia lost his memories.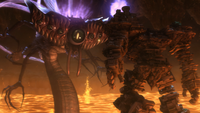 When Sonic the Hedgehog and Light Gaia confronted the fully reassembled Dark Gaia in the planet's core, Light Gaia called the Gaia Temples to form the Gaia Colossus, pronounced that the time of awakening had now truly arrived.[note 1] With the help of Super Sonic, Light Gaia defeated Dark Gaia, bringing the time of awakening to an end once more and restoring the two deities' cycle.
Notes
↑ In the Japanese version of Sonic Unleashed when combining the Gaia Temples, Chip says "It is now... the Time of Awakening". However, in the English version of the game, Chip says "Awaken, and gather here to me!"
References
↑ Sonic Team (9 December 2008). Sonic Unleashed. PlayStation 3. Sega. Cutscene: Save the Speech. "Prof. Pickle: We cannot live without the night. We all must sleep. We all must rest. Darkness is a part of our world, just the same as light. It may be that the darkness has not been destroyed, but merely laid to rest. It grows strong over the eons, rises up, then is put to slumber by the light. Perhaps that is the true balance of Dark and Light Gaia. That balance may be the very will of the planet itself."
↑ Sonic Team (9 December 2008). Sonic Unleashed. PlayStation 3. Sega. "Dark Gaia's Minions, entry 025/025: When the beast is complete, its dark arms shall encompass the planet, ushering in the end of times. The world, in death, will fall into a deep sleep in waiting for the time of rebirth to come."
---
Main article | Gallery | Script | Credits (Xbox 360/PS3, Wii/PS2) | Re-releases (Mobile)
Characters
Sonic (Super Sonic, Sonic the Werehog) | Chip (Gaia Colossus) | Tails | Amy | Dr. Eggman | Professor Pickle | Orbot | Dark Gaia (Perfect Dark Gaia)
Town Stages/Villages
Apotos | Mazuri | Spagonia | Chun-nan | Holoska | Shamar | Empire City* | Adabat | Eggmanland
Action Stages/Stages
Windmill Isle | Savannah Citadel* | Rooftop Run | Dragon Road | Cool Edge | Arid Sands | Skyscraper Scamper* | Jungle Joyride | Eggmanland
Residents
Apotos
Alexis | Anastasia | Eric | Gregorios | Hot Dog Vendor* | Ice Cream Vendor | Lambros | Lucas* | Milos* | Sandra
Spagonia
Aida* | Barbara | Ciccio | David | Denise | Dora | Elio* | Federica | Franco* | Gigi | Hot Dog Vendor* | Ippolita | Irma* | Josef | Lilli* | Lucia | Marcantonio* | Mauro | Natalia* | Otto | Professor Pickle | Professor Pickle's Assistant | Raimondo
Mazuri
Ana | Essie | Gwek | Hog Dog Vendor* | Kofi | Kwami | Kwod | Yawa | Yaya
Chun-nan
Chun | Hot Dog Vendor* | Hualin | Jinlin* | Lin | Shuifon | Wang* | Yilin | Zonshen
Holoska
Hot Dog Vendor* | Jari-Pekka | Jari-Thure | Marketa | Sarianna | Ursule
Shamar
Ara | Dimah | Ehsan | Erhan | Hizir | Hot Dog Vendor* | Iman | Labib | Latif | Layla | Mufid | Musaid | Raniya | Sa'id | Sadiq | Safi | Samia | Sammar | Shadi | Utba | Yasmine
Empire City
Boss* | Brenda* | Charles* | Def Big* | Elizabeth* | Hot Dog Vendor* | Li'l Kate* | Louie Montaine* | Robert*
Adabat
Hot Dog Vendor* | Jamal | Kaeo | Nagi | Rudi | Teanchai
Eggmanland
EF-DC1998* | EF-MD1991* | EF-XB2006* | Hot Dog Vendor*
Misc.
Baker | Lah | Su* | Wentos* | Wu*
Enemies
Eggman's Machinery
Aero-Cannon | Aero-Chaser | Egg Blizzard | Egg Burst | Egg Fighter | Egg Fighter: Knight (Electric shield, Spring shield) | Egg Fighter: Shield (Electric shield, Spring shield) | Egg Fighter: Sword* | Egg Flame | Egg Launcher (H) | Egg Launcher (H+V) | Egg Launcher (V) | Egg Shackle | Egg Shooter | Egg Typhoon | Gold Aero-Cannon | Interceptor | Little Fighter* | Mole Cannon | Spinner | Thunder Ball | Thunder Spinner
Dark Gaia's minions
Big Mother | Cure Master* | Dark Bat | Dark Bat Sniper | Dark Eel* | Dark Fright | Dark Master** | Deep Nightmare | Evil Flower* | Fire Master | Fright Master | Killer Bee | Lightning Master | Little Rex | Nightmare | Power Master* | Red Fright | Red Killer Bee | Red Nightmare** | Red Deep Nightmare** | Red Rex | Red Titan** | Spike** | Thunder Bat | Titan
Bosses
Egg Beetle | Egg Cauldron* | Egg Dragoon | Egg Devil Ray | Egg Lancer | Dark Gaia | Dark Gaia Phoenix | Dark Guardian | Dark Moray | Perfect Dark Gaia
Moves/
techniques
Sonic
Air Boost | Crouch | Foot Sweep* | Grind Step | Grinding | Homing Attack | Hop | Jump Dash | Light Speed Dash | Slide | Skydiving | Sonic Boost | Sonic Drift | Spin Jump | Stomp | Quick Step | Wall Jump
Werehog
Dash | Double Jump | Grab | Guard | Unleashed Mode | Wall Shuffle
Misc.
Boost | Super Sonic Boost | Turbo Boost
Skills
Straight
attacks
Donkey Kick Combo* | Double Axle Combo* | Double Kick Combo* | Feral Were-Hammer* | Knuckle Sandwich Combo* | Sho-Hog-Ken* | Unleashed Knuckle Sandwich* | Vertical Were-Hammer* | Were-Hammer* | Werewheel Rush*
Hook
attacks
Earthshaker* | Egg Scrambler* | Feral Wild Whirl* | Rolling Kick Combo* | Sho-Claw-Ken* | Ultimate Wild Combo* | Unleashed Wild Combo* | Wereclap* | Wild Whirl* | Wild Whirl Were-Hammer*
Aerial
attacks
Aerial Claw Slash* | Aerial Claw Slash and Spin* | Aerial Piledriver* | Crescent Moon Strike* | Diving Bodypress* | Flying Double-Punch* | Flying Double-Punch Crush* | Hurricane Combo* | Shooting Star Combo* | Typhoon Combo*
Special
attacks
Comet Punch* | Missile Punch* | Spinning Needle Attack* | Tricky Tornado Uppercut* | Triple Wild Claw* | Were-Claw Charge* | Were-Cyclone* | Were-Rush* | Were-Tornado* | Wild Werewhip*
PS2/Wii
Beatdown** | Claw Charge | Crescent Moon Strike** | Earthshaker** | Wereclap** | Were-Hammer** | Were-Claw** | Were-Wallop** | Wild Claw** | Wild Whirl**
Level up items
Air Boost Shoes* | Light Speed Dash Shoes* | Stomping Shoes* | Wall Jump Shoes*
Objects
Art Book* | Audio System | Balloon | Blue Tea* | Blue spring | Bobsled | Bookshelf* | Bomb | Buggy** | Check Point | Chaos Emerald | Chaos Orb* | Chili dog | Container (Explosive crate) | Conveyor Belt | Crane Lift | Crank | Crystal Ball* | Dark Energy Key** | Dark Gaia Force | Dash Panel | Dash Rail | Dash Ring | Door | Fountain | Gaia Key* | Giant spear** | Goal Ring | Gift* | Gramophone* | Green Tea* | Grind Rail | Hanging vine | Horizontal Bar | Hourglass* | Icicle | Item Capsules** | Jump Selector | Key Stone* | Laser Field Block | Lever | Lovely Ring* | Maiden Statue* | Miles Electric | Moon Tablet** | Movable box | Moving Crate | Old Necklace* | Planet Tablet** | Pick-Me-Up* | Pretty Bouquet* | Power Shield* | Rainbow Ring | Ramp | Record* | Red Tea* | Ring | Shield Charge* | Snowblower | Souvenir* | Spiked ball | Spikes | Springboard/Spring | Springpole | Sun and Moon Medals | Sun Tablet** | Sundae Supreme | Super Claw* | Super Ring | Switch | Thorn Spring | Tornado-1 | Trap Spring | Turquoise Tea* | TV* | Videotape* | Violet Tea* | White Tea* | Wide Spring | Yellow Tea* | Zip Line | 1UP
English voice actors
Jason Griffith (Sonic, Sonic the Werehog, Prof. Pickle's Assistant) | Amy Palant (Tails) | Lisa Ortiz (Amy) | Anthony Salerno (Chip) | Mike Pollock (Eggman, Zonshen) | Christopher Collet (Orbot) | Dan Green (Ice Cream Vendor, Prof. Pickle)
Japanese voice actors
Jun'ichi Kanemaru (Sonic) | Chikao Otsuka (Eggman) | Chō (Prof. Pickle) | Ryo Hirohashi (Tails) | Taeko Kawata (Amy) | Tomokazu Seki (Sonic the Werehog) | Ryōko Shiraishi (Chip)
Planetary Pieces
Endless Possibility | Dear My Friend
Other
Auto Running | Boost Gauge | Boss Gate | Boost Gauge | Buoy | Chao* | Chaos Energy Cannon | Chun-nan's Treasure | Collection Room* | Combo | Critical Attack | Dark Energy Force Field** | Don Fachio* | Doctor Eggman's chair | Earth | Eggman Fleet | Egg Mobile | Entrance Stage* | Exorcisms | Experience Point | Freeze | Gaia Gate | Gaia Manuscripts | Gaia Temple | Gaia Temple guardian | Hallowmoon | Havok | Health Gauge | Hint Ring | Orb Result** | Quick time event | Ring Energy Gauge | Shield | Shield Gauge | Shop* (Counter of Dreams 2, Eggshop, Flying Fish Beach Shop, Golden Trading Company, Josef's, Surfside Seagull Sundries, Traveling Salesman Wentos, Treeshade, Ursule's Trading Post, Wang's Emporium) | Shuttle loop | Sonic: Night of the Werehog | Sonic World Adventure (manga) | Spagonia University | Rank | Time of awakening | Tornado Defense* | Unleashed Gauge

"*" Exclusive to PS3/Xbox 360 version
"**" Exclusive to PS2/Wii version.
Ad blocker interference detected!
Wikia is a free-to-use site that makes money from advertising. We have a modified experience for viewers using ad blockers

Wikia is not accessible if you've made further modifications. Remove the custom ad blocker rule(s) and the page will load as expected.