This character exists primarily or exclusively within the Sonic Boom continuity.
Information in this article may not be canonical to the storyline of the games or any other Sonic continuity.
For the film series, see Tommy Thunder (series).

But you're right, you know? Tommy Thunder's not a hero. Just a devilishly good-looking actor, number one box office draw and rich beyond your wildest dreams, but not a hero like you guys.


— Tommy Thunder, "Tommy Thunder: Method Actor"
Irwin Fertelmeister[3] (stage name Tommy Thunder[2]) is a character that appears in the Sonic Boom television series. He is an anthropomorphic tiger and a famous martial arts action movie star,[5] having starred as the protagonist in multiple movies from the eponymous Tommy Thunder film franchise.[3]
Concept and creation
The character of Tommy Thunder was created specifically for the plot of "Late Night Wars", an episode in the first season of Sonic Boom.[6] In the first pitch though, he was named "Johnny Thunder."[7]
Appearance
Tommy Thunder is a tall and muscular anthropomorphic tiger. He has orange fur with white fur on his abdomen. He has brown stripes, including one over each eye which resemble eyebrows. He also has small, triangular brown ears with white inner ears, green eyes with slit-like pupils, white eyelids, a white muzzle with short cheek tuffs, a small black nose, noticeable fangs, and a thin tail with a white tuff. For attire, he wears a brown leather vest with torn-off sleeves, fingerless brown gloves with metal plates, spiked metal wrist armor on his right arm, white sportstape on his ankles, baggy ecru socks, and brown shoes with metal reinforcements. He has also carried a large brown scabbard with a cat-shaped golden buckle on his back.
While following Sonic around, Tommy briefly wore the same attire as Sonic.
History
TV series
Past
The star of the Tommy Thunder film series, Tommy has starred in several highly-acclaimed action movies. In time, he gained the reputation as a famous actor, humanitarian and legitimate hero. While Tommy relished in his fame and fortune, he was never more than an actor though.[3]
Season one
Having starred in a new standard-breaking action movie, Tommy appeared on the Comedy Chimp Show (hosted by Knuckles) to promote his movie. During the interview however, Eggman attacked the studio, frightening Tommy, who barely dodged some lasers before Team Sonic came to help.[8]
Season two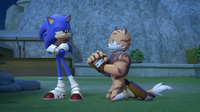 While at Meh Burger promoting his next movie, Tommy saw Team Sonic defeat Dr. Eggman and was inspired to follow Sonic around and observe his heroism for his next role. When Sonic refused his company, Tommy charmed Sonic's team into convincing Sonic for him when he could not. Tommy's method acting got on Sonic's nerves though, and when Team Sonic caught the Weasel Bandits, Tommy took credit for this. Overconfident about his "heroics", Tommy called out Eggman while on the Comedy Chimp Show for an interview, prompting Eggman to attack him with his robots. Showing his true colors, Tommy begged Sonic into saving him, but reverted to his old ways when Sonic covered for his cowardice by giving him credit for Eggman's defeat. However, he announced his hero studies as over.[3]
In time, Tommy Thunder would star in and finish another movie.[9] He later voted in a referendum for a new name for the Unnamed Village.[10]
Personality
An egomaniac by his own admission, Tommy's life of success, handsomeness and riches has left him with an inflated sense of self and over-the-top ego not unlike Sonic's, but to a greater degree. He carries himself around in an overly confident manner and normally refers to himself in third person. This attitude Tommy makes overconfident and self-delusional about his own accomplishments at times. He also tends to exaggerate and embellish to make himself seem more talented. He is similarly very narcissistic, making extensive efforts to get all the praise for himself, whether he deserves it or not, without showing any remorse bout it. Tommy likewise prefers the lifestyle of a superstar, showing subtle disgust about the mediocre parts of Meh Burger.[3]
For all his self-admiration, Tommy has a peculiar sense of humility and honesty. In the beginning, he openly admitted he was an egomaniac, nor a hero, and even complimented Sonic on his cleverness when he used his own superficial quotes against him. When acknowledging his shortcomings though, Tommy will also mention his own real-life successes, thereby emphasizing them for greater effect. In a similar manner, despite being a seemingly glory hog, Tommy will give credit where it is due to those that have helped him, although he leaves the noteworthy praise for himself.[3] Tommy is also by no means dull intelligent-wise, having demonstrated devious cunning by manipulating Team Sonic to his own benefit and setting people up so he can take their credit for himself.[3]
As an method actor, Tommy uses personal experiences to portray his roles. However, he takes this concept a little too far, namely by asking questions constantly and even imitating his character. This makes him annoying to others.[3]
Despite portraying himself as tough, Tommy is easily frightened and quite nervous in the face of danger. When threatened, Tommy's macho appearance falls apart and he becomes a downright coward who will degrade himself to convince others to save his skin or freeze up and tremble in fear.[3][8]
Powers and abilities
Tommy is quite an accomplished actor. Not only can portray himself as a fearless hero in spite of his cowardice, but he can also convince others to believe his fake stories. He also has some skills in manipulating people, often playing his targets right into his hands for his own benefits, like in the case where he played Team Sonic so he could take credit for their heroics.[3]
References
Ad blocker interference detected!
Wikia is a free-to-use site that makes money from advertising. We have a modified experience for viewers using ad blockers

Wikia is not accessible if you've made further modifications. Remove the custom ad blocker rule(s) and the page will load as expected.