Too Tall Tails
Talk

0
6,665pages on
this wiki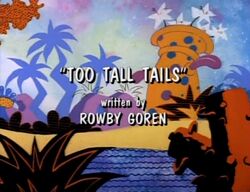 "Too Tall Tails" is the fifteenth episode of the series Adventures of Sonic the Hedgehog. This episode is the first appearance of the recurring character Professor Von Schlemmer. It was written by Rowby Goren.
Characters
Edit
Locations
Edit
The Garden Of the Evil Wizard Lizard
Sonic's Costumes
Edit
Athletic trainer
Crane Operator
Robotnik has kidnapped Professor Von Schlemmer and has forced him to tell how to create his Gizmo Gas machine. Scratch and Grounder finish putting together the Gizmo Gas machine, but when tested, it fails. Robotnik, now furious, tortures Von Schlemmer to see what they have to do to get his contraption to work (by tickling his feet with a feather), and Von Schlemmer finally reveals what to do. Robotnik then sends Von Schlemmer to the deepest darkest hole in the Jungle of Doom.
Menwhile, Sonic and Tails are being chased by Coconuts, but they easily get rid of him. The two heroes then arrive in Wienerville, the weenie capital of Mobius. Mayor Knackwurst greets Sonic and Tails and insists on feeding them a feast. Tails gobbles down a ton of food. Tails leaves to get some dessert. At the same time, Robotnik tests the machine on a piece of belly-button lint, but the machine explodes and casts Gizmo Gas into the air, and it eventually settles on Tails, who breathes it in as it rolls into town. Tails grows to an enormous size and gets very hungry. Tails starts eating and breaking the whole town. He leaves so as not to hurt anyone. The citizens of Wienerville are quick to forgive Tails until Robotnik flies in on his Egg-o-matic and tells them that Tails did it on purpose and Sonic is the mastermind behind the destruction. They don't believe Robotnik until he gives them all a bunch of free gifts. The citizens then turn on Sonic and Tails.
Tails continues to grow and continues to eat whatever he can. Tails' burps cause earthquakes. The citizens go after Tails like he is a monster. Robotnik leaves and puts Scratch and Grounder in charge. Sonic overhears them talk about Von Schlemmer, so he tricks them into telling him where to find the Professor.
Sonic runs to the bottomless pit in the Jungle of Doom and pulls Professor Von Schlemmer out with a crane. Von Schlemmer tells Sonic that the antidote to the Gizmo Gas is the fragrance of the rare Hoot-n-Toot Garlic from the garden of the evil wizard lizard. Sonic runs and gets it.
Meanwhile, the Wienerville citizens have Tails cornered in a canyon. Tails tries to justify his actions, but they do not listen. Sonic and Von Schlemmer arrive with the garlic, but the citizens insist Robotnik uses his Insto-Freeze Cannon to turn Tails into a Popsicle. Von Schlemmer gives Sonic blueprints to build the world's largest wiener launcher which fires a giant Chili Dog (with the garlic on it) into Tails' mouth. Tails shrinks back to normal and Robotnik's freeze ray misses him and bounces back at the villains. Professor Von Schlemmer explains everything to the Mayor. The diner's waitress asks how to make things up to Sonic and Tails. Tails asks for 746 Chili Dogs and some dessert.
Sonic Sez
Edit
Tails is eating junk food, but Sonic intervenes and tells him that he needs to eat fruit, veggies, dairy, poultry, fish, bread and cereals. Tails gets a tummy ache from eating too much ice cream. This segment reveals that although Sonic loves chili dogs, he eats healthy too.
DVD Releases of this Episode
Edit
There is a car in this episode which has a name that is a parody of the Delorian from the Back to the Future series.
Coconuts rides a strange unicycle type scooter vehicle. He first used this vehicle in the episode "Big Daddy".
When Coconuts is chasing Sonic and Tails, Sonic's arms are blue instead of tan when he is talking to Tails.
External Links
Edit