Ad blocker interference detected!
Wikia is a free-to-use site that makes money from advertising. We have a modified experience for viewers using ad blockers

Wikia is not accessible if you've made further modifications. Remove the custom ad blocker rule(s) and the page will load as expected.
| | |
| --- | --- |
| | This article or section is incomplete and in need of attention. Please follow the guidelines in the Manual of Style and help the Sonic News Network by expanding this article. Remove this message when finished. |

Traffic Challenge is one of the game modes featured in the World Tour mode of Sonic & All-Stars Racing Transformed.
Overview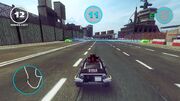 The Traffic Challenge serves as another checkpoint race, where the player must race through checkpoints in order to gain time. However, exclusive to this event, the player must dodge and refrain from crashing into waves of traffic, with three different types of obstacles under a time limit.
Types of traffic
*The names given below are conjectural.
| Image | Type | Strategy |
| --- | --- | --- |
| | Green cars* | Move in a straight line and scattered around the track. |
| | Yellow cars* | Only a few in the track and constantly move sideways to strike the player. |
| | Police cars | About only one in every checkpoint and follow and block players way, slowing them down. |
Types of checkpoints
| Image | Type | Strategy |
| --- | --- | --- |
| | Checkpoint | A line guarded by two green cars to earn a checkpoint and gain an additional 11 seconds of time. |
| | Time bonus* | A smaller line guarded by two green cars and only gain the player an additional 4 seconds of time. |
Difficulty
| Medal | Difficulty | Event |
| --- | --- | --- |
| | Easy | 10 easy waves: Less traffic, only green cars. |
| | Medium | 12 medium waves: More traffic, green and yellow cars. |
| | Hard | 15 hard waves: More traffic, green, yellow and police cars. |
| | Expert | 15 expert waves: More traffic, green, yellow and police cars. |
Events
N/A
N/A
Sonic & All-Stars Racing Transformed