This article contains information about a

canceled object

.
As a result, the content of the article may have been canceled or replaced by another subject.


Tri Drill is a badnik that was originally going to appear in the cancelled video game, Sonic X-treme. It is the most common badnik in that game as it appears in many test levels and magazine screenshots, as well as Jade Gully Zone act 2 in the 714 prototype. It has two types: one doesn't move, a second type moves to left and immediately turns right and vice versa, and in its finalized sprite, it seen that it's able to spin to attack Sonic. In Point of View's 714 prototype, it doesn't move but can hurt Sonic and can also be defeated by him.
Trivia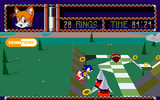 It appears that Tri Drill is the very first original enemy created for Sonic X-treme, as seen in a video of Sonic Mars, where it moves up and down.
Gallery
Ad blocker interference detected!
Wikia is a free-to-use site that makes money from advertising. We have a modified experience for viewers using ad blockers

Wikia is not accessible if you've made further modifications. Remove the custom ad blocker rule(s) and the page will load as expected.