Ad blocker interference detected!
Wikia is a free-to-use site that makes money from advertising. We have a modified experience for viewers using ad blockers

Wikia is not accessible if you've made further modifications. Remove the custom ad blocker rule(s) and the page will load as expected.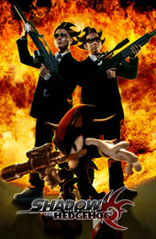 A special remix of the original "Tripod Baby", performed by M-Flo and their former singer, Lisa, was used promotionally for Shadow the Hedgehog.
Legacy
The original version was from M-Flo's album "Beat Space Nine," which was part of their "M-Flo Loves" series, where each of the songs had a unique guest singer (with three exceptions - Beat, Space, and Nine). The remixed version was renamed to "M-Flo loves Shadow the Hedgehog - Tripod Baby". The remixed version also had an altered version of the music video (seen aside right) that featured clips from Shadow the Hedgehog, along with new animations, such as a clip of Shadow dancing. At the end, Shadow captures M-Flo and Lisa as his dancers. Featured in the Japanese iTunes Store, It was also made in the last track in the remix album "Dope Space Nine".
Lyrics
Let me hit you with the ryuusei sound
This is how it goes down
We back again in the LAB now
To turn it out
We gonna get you out your seats now
Y'all know what's it all 'bout
OoooH (It's Shadow the Hedgehog, Baby!)
3... 2... 1...

Waratte ireru yo, baby, cuz it's like, docchi wo tottemo
Whatever I choose to do, sou kekkyoku love is there
And, it's all I got na yume datte, toki ni yuraidari shita tte
I believe that subete's guuzen ja nai...
But you don't know my name

Mune no oku no who knows what...
Itazura ni sasayaku koko kara saki e wa don't you cross the line
"Hitori de ikireru no" tte, demo koi mo sugoku shitakute
Life is like, kotae no nai, rainbow in the sky...

I'm wishing you were by my side tonight, dare no soba ni iru no?
I'm falling so deep na kurai, bureru shikai, kamawanai
(I've) been there before...

waratte ireru yo, baby, cuz it's like, docchi wo tottemo
whatever I choose to do, sou kekkyoku love is there
and, it's all I got na yume datte, toki ni yuraidari shita tte
I believe that subete's guuzen ja nai...
but you don't know my name

Get BEEZY whoa EASY don't know if y'all is READY
Get BEEZY whoa EASY don't know if y'all is READY
Verb-eezy check the mic Lis-eezy check the mic
Verb-eezy check the mic Lis-eezy...

I see that MISTA kaccho ii na across the dance floor
So, I'm gonna shuffle over & release some FEROMON
AND yurasu to the left, and to the right
Mecha hajike ki ga ki ja nai
1, 2 I STEP, throughout the night

All of this you can have if you want it
Yuuwaku saretara@seem perfect
All the fame, and the chicks, and the money
Daa, dou suru? Dou suru?
PHASE ONE
Mayonaka, kyou wa SATADE-
KURABU de utau
Kyaku ore mite sawagu
"BA-BARU" GYARU sakebu, ore maji yorokobu
She's DO-PU! ore mo DO-PU!
Dakedo I gots to GO!
UH-OH!! UH-OH!! What you doin' NOW
Koufun suru@she's DANGEROUS!
UH-OH!! UH-OH!! This ain't no GAME
SO tanomu kara LIPS wo yonde~

I'm wishing you were by my side tonight, tenshi wa doko ni iru no?
I pray that this surechigai ni imi wa nai, wake ga nai
I know...

Waratte iru yo, baby, cuz it's like, doko e mukattemo
Whatever I choose to do, sou kekkyoku ai da ne
And, it's all I got na yume datte, toki ni yuraidari shita tte
I believe tadoritsukeru, itsuka wa...
Still you don't know my name

All of this you can have if you want it
Yuuwaku saretara we PANIKKU
All the fame, and the chicks, and the money
Saa, dou suru? What you gonna...
Do?... PHASE 2
Kidzukeba kocchi miteru, kocchi kuru FLASHY GIRL!
BURANDO suki THAT'S COOL~(but)
Kaiwa suru tsukareru (she's) kane zuru mukatsuku
YO HANI- you wa nani? SORRY ME NO MONEY
Don't TAKE, TAKE, TAKE my osaifu
Attaamatta koro ni sacchau
WAIT, WAIT, WAIT for the aizu
Waccha! Waccha! Kuse ni nacchau
SHAKE, SHAKE, SHAKE zengosayuu de agero VOLUME
It's GREAT, GREAT, GREAT like GIDAIYU
Let LISA show you

Let me hit you with the ryuusei sound
This is how it goes down
We back again in the LAB now
To turn it out
We gon' get you out your seats now
Y'all know what's it all 'bout
OoooH (It's Shadow the Hedgehog, Baby!)
3... 2... 1...

Waratte ireru yo, baby, cuz it's like, docchi wo tottemo
Whatever I choose to do, sou kekkyoku love is there
And, it's all I got na yume datte, toki ni yuraidari shita tte
I believe that subete's guuzen ja nai...
But you don't know my name(2x)

Ain't gonna go kono mama... We gonna flow kono mama.(2x)
Translated lyrics
Translation: Tripod Baby
I can smile, baby, cuz it's like, however you look at it
Whatever I choose to do, yeah, in the end love is there
And, it's all I got, my dreams waver sometimes
But I believe that nothing's a coincidence...
But you don't know my name

Who knows what's in your heart...
You whisper mischievously, from here, don't you cross the line"
"I can live alone" but I really want to be in love
Life is like a rainbow in the sky with no answers...

I'm wishing you were by my side tonight, whose side are you by?
I'm falling so deep, my vision's getting shaky and I don't even care
(I've) been there before...

I can smile, baby, cuz it's like, however you look at it
Whatever I choose to do, yeah, in the end love is there
And, it's all I got, my dreams waver sometimes
But I believe that nothing's a coincidence...
But you don't know my name

Get beezy whoa easy don't know if y'all is ready
Get beezy whoa easy don't know if y'all is ready
Verb-eezy check the mic lis-eezy check the mic
Verb-eezy check the mic lis-eezy...

I see that mista cool guy across the dance floor
So, I'm gonna shuffle over & release some pheromones
And shake it to the left, and to the right
I've broken out big time, I'm not myself
1, 2 I step, throughout the night

All of this you can have if you want it
If you feel the attraction, seem perfect
All the fame, and the chicks, and the money
Well, what you gonna do? What you gonna do?
Phase one
Midnight, it's Saturday
We sing at the club
The audience looks at me and goes crazy
The girls scream "Verbal!" and I'm really happy
She's dope! And I'm dope too!
But I gots to go!
Uh-oh!! Uh-oh!! What you doin' now
She's exciting, she's dangerous!
Uh-oh!! Uh-oh!! This ain't no game
So, I'm begging you, summon your lips

I'm wishing you were by my side tonight, where are the angels?
I pray that this misunderstanding doesn't mean anything
I know...

I'm smiling, baby, cuz it's like, wherever I go
Whatever I choose to do, in the end love is there
And, it's all I got my dreams waver sometimes
But I believe I'll get there someday…
Still you don't know my name

All of this you can have if you want it
When we feel an attraction we panic
All the fame, and the chicks, and the money
Well, what you gonna do? What you gonna...
Do?...phase 2
You'll notice she's looking our way, she's coming over, a flashy girl!
She likes labels, that's cool~(but)
I'm tired of talking to her (she's) all about money, it pisses me off
Yo honey, what you about? Sorry me no money
Don't take, take, take my wallet
When we get warm we'll go
Wait, wait, wait for the signal
Waccha! Waccha! It's become a habit
Shake, shake, shake forward and back, left and right, rise the volume
It's great, great, great like Gidayu*
Let Lisa show you

Let me hit you with the meteorite sound
This is how it goes down
We back again in the lab now
To turn it out
We gon get you out your seats now
Y'all know what's it all 'bout
Ooooh
3... 2... 1...

I can smile, baby, cuz it's like, however you look at it
Whatever I choose to do, yeah, in the end love is there
And, it's all I got, my dreams waver sometimes
But I believe that nothing's a coincidence...
But you don't know my name

I'm smiling, baby, cuz it's like, wherever I go
Whatever I choose to do, in the end love is there
And, it's all I got my dreams waver sometimes
But I believe I'll get there someday...
Still you don't know my name

Ain't gonna go like this...we gonna flow like this
---
Main article | Gallery | Staff
Characters
Shadow (Hero Shadow, Dark Shadow, Super Shadow) | Black Doom (Devil Doom) | Eggman | Sonic | Tails | Knuckles | Amy | Rouge | Omega | Vector | Espio | Charmy | Cream | Cheese | Maria | Gerald | Commander | President | Secretary | Chao
Enemies
Ark Missile Turret | Artificial Chaos (Artificial Chaos P-100, Cell) | Black Assassin | Black Hawk | Black Oak | Black Volt | Black Warrior | Black Wing | Black Worm | Big Foot Type A | Big Foot Type B | Death Leech | Death Worm | Egg Pawn | Egg Pierrot | Giant Walker | Giga Trooper | Gun Beetle | GUN Soldier | GUN Trooper | Jack Bommer | Killer Plant | Mono Beetle | Rocket Beetle | Sand Worm | Shadow Android | Spark Beetle

Stages

Air Fleet | Black Comet | Central City | Circus Park | Cosmic Fall | Cryptic Castle | Death Ruins | Digital Circuit | Final Haunt | GUN Fortress | Glyphic Canyon | Iron Jungle | Lava Shelter | Lethal Highway | Lost Impact | Mad Matrix | Prison Island | Sky Troops | Space Gadget | The ARK | The Doom | The Last Way | Westopolis
Bosses
Black Bull | Black Doom | Blue Falcon | Devil Doom | Diablon | Egg Breaker | Egg Dealer | Heavy Dog
Moves/techniques
Chaos Arrow | Chaos Blast | Chaos Control | Chaos Spear | Crouch | Dark Spin Dash | Grind Step | Homing Attack | Jump Dash | Light Dash | Mid-Air Attack | Overturn | Pick up | Punch | Slide | Spin Dash | Spin Jump | Super Sonic Boost | Swift strike | Tail Swipe | Triangle Jump

Weapons

4-Shot RPG | 8-Shot RPG | Bazooka | Big Worm Shooter | Big Barrel | Black Barrel | Black Sword | Egg Bazooka | Egg Gun | Egg Spear | Egg Vacuum | Environment Objects | Flash Shot | Gatling Gun | Grenade Launcher | Heal Cannon | Heavy Machine Gun | Heavy Shot | Laser Rifle | Light Shot | Omochao Gun | Pistol | Refractor | RPG | Samurai Blade | Satellite Gun | Semi-Auto Rifle | Shadow Rifle | Splitter | Survival Knife | Tank Cannon | Vacuum Pod | Wide Worm Shooter | Worm Shooter

OST

/

Lost and Found

All Hail Shadow | Almost Dead | Chosen One | E.G.G.M.A.N. | I Am... All of Me | Never Turn Back | Tripod Baby | Vengeance is Mine | Waking Up | Who I Am
English voice actors
Jason Griffith (Sonic, Shadow) | Sean Schemmel (Black Doom) | Mike Pollock (Eggman, Gerald) | Amy Palant (Tails) | Dan Green (Knuckles) | Lisa Ortiz (Amy) | Kathleen Delaney (Rouge) | Rebecca Honig (Cream, Maria) | Carter Cathcart (Vector) | David Wills (Espio) | Amy Birnbaum (Charmy) | Jeff Kramer (Omega) | Andrew Rannells (GUN Soldier) | Marc Thompson (Commander) | Maddie Blaustein (President) | Bella Hudson (Secretary)
Japanese voice actors
Kōji Yusa (Shadow) | Jun'ichi Kanemaru (Sonic) | Ryūzaburō Ōtomo (Black Doom) | Chikao Ōtsuka (Eggman, Gerald) | Ryō Hirohashi (Tails) | Nobutoshi Canna (Knuckles) | Taeko Kawata (Amy) | Rumi Ochiai (Rouge) | Sayaka Aoki (Cream) | Yuri Shiratori (Maria) | Kenta Miyake (Vector) | Yūki Masuda (Espio) | Yōko Teppōzuka (Charmy) | Taiten Kusunoki (Omega) | Takashi Yoshida (GUN Soldier) | Banjō Ginga (Commander) | Yutaka Nakano (President) | Junko Kitanishi (Secretary) | Ryō Hirohashi (Additional Chao)
Other
Air Saucer | Barrel | Barrier | Black Comet | Black Slab | Black Tank | Bomb Unit | Case | Cell Cannon | Chaos Emerald | Central Information Agency | City annihilator bomb | Color Panel | Container (Special Weapon Container) | Convertible | Core program | Eclipse Cannon | Dark Gauge | Dark Rider | Defense Unit | Egg Balloon | Egg Monitor | Eggman Fleet | Electrified Rail | Energy Core | Expert Mode | Fan | Fire in the Sky Festival | Firewall | Flash game | Goal Ring | Gravity Control Switch | Green energy fluid | Gun Lift | GUN Motorcycle | Gun ship | GUN turret | GUN Vehicle | Heal Unit | Health Gauge | Hero Gauge | Hint Ring | HMMWV | Item Box (1-Up, Damage Recover, Heat Barrier, Invincibility, Super Ring) | Jump Panel | Jump Vehicle | Junction switch | Lantern | Laser Field Block | Laser turret | Light-speed circuit | Magnetic Barrier | Mother computer | Pole | President's escape pod | Prison Island | Prosperity ritual | Red fruit | Red Slime | Ring | Rocket | Secret Door | Secret Key | Shield switch | Shooting Gallery | Small bomb | Surveillance camera | Tails' Spaceship | Temple jewel | Toxic marsh | Vine | Warp Hole | White House | Wide Spring | Yellow water | Zip Line