Tunnelbot
Talk

0
6,677pages on
this wiki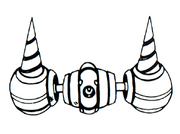 Tunnelbot (ガキーン, Gakīn?) is Marble Garden Zone's sub-boss in Sonic the Hedgehog 3 for the Sega Mega Drive. Its appearance is a long bot with two drills on top to dig through the ruins of Marble Garden's fortresses.
Pre-Boss Behaviour
Edit
The boss appears at several parts of act one of the zone. It will wait for the player and then drill into the ceiling, sometimes causing terrain changes. The player can jump at Tunnelbot to damage it, but it cannot be defeated in this short time and the damage dealt actually has no effect on the boss battle.
Attack Pattern
Edit
Once the player reaches Tunnelbot, it will immediately burrow into the ceiling. Then, rocks will fall, and so will Tunnelbot, trying to injure the player. This is the chance to attack Tunnelbot. This fight is similar to the second Drill Eggman in Sonic the Hedgehog 2.
In Knuckles version of this sub-boss, A spiked pillar will rise from the ground to help Knuckles reach Tunnelbot, because Tunnelbot won't attempt to strike the ground. if you get hit it really hurts
Sonic the ComicEdit
In the British Publication of Sonic the Comic, Tunnelbots appeared following Doctor Robotnik's discovery of the Floating Island. However, they are standard members of his badnik army, and there is no suggestion of their being any different from any other badniks.
Tunnelbots first appeared as part of the force that attacked Sonic's Secret Underground Base, forcing the Freedom Fighters to abandon it.[1] A Tunnelbot later appeared in the service of Robotnik's minions, the Marxio Brothers, guarding the Carnival Night Zone. It was among several badniks that the Marxios used to attack Knuckles the Echidna, but it was destroyed along with the other's by Knuckles' powerful punch.[2]
References
Edit