Twinkle Snow (トゥインクルスノー, To~uinkurusunō?) is the fifth Zone in Sonic Advance 3. It is one of the parts of the earth that Dr. Eggman created when he broke the planet apart with Chaos Control.
Description
Twinkle Snow is an ice-themed Zone. The northern lights appear above the mountains in the background of this cold zone.
Minecarts offer a quick ride through portions of this Zone, along with ice machines that will suck up characters, then launch them in a frozen state (though freezing in this game is harmless). There are also platforms that the player can interact with by holding down on

to make it sink slowly (and will sink faster if both characters are crouching on it), then release to be catapulted into the air. Water is also present within all three Acts of this Zone, though it is mostly avoidable by taking a high route (this also helps avoid the bottomless pits); however, Act 2 has a mandatory water section near the end. The Zone is also littered with lots of wooden platforms.
Boss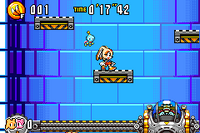 The boss of this zone is the Egg Chaser. The Egg Chaser keeps rising, so the player must use the platforms to avoid falling. Jumping off of the platforms will drop them. This is how the Egg Chaser will be damaged. Eventually, the Egg Chaser will launch a spiked ball at the player, which must be avoided. After eight hits (six in easy mode), the Egg Chaser will be defeated.
Gallery
Music
Videos
---
Main article | Gallery | Staff | Glitches
Characters
Sonic (Super Sonic) | Tails | Knuckles | Amy | Cream | Cheese | Vanilla | Eggman | G-merl (Ultimate G-merl) | Chao | Omochao
Zones
Route 99 | Sunset Hill | Ocean Base | Toy Kingdom | Twinkle Snow | Cyber Track | Chaos Angel | Altar Emerald | Nonaggression | Special Stage
Bosses
Egg Hammer 3 | Egg Ball No.2 | Egg Foot | Egg Cube | Egg Chaser | Egg Pinball | Egg Gravity | Hyper Eggrobo | Ultimate G-merl
Enemies
Akatento | Aotento | Ape | Bu-bu | Buzzer | Clam | Condor | Gaogao | Gekogeko | Ginpe | Guards | Guruguru | Hariisen | Jousun | Juggling | Kamaki | Kyacchaa | Marrun | Minimole | Muugaden | Spina | Takkon | Uutsubo | Yadokka | Yukigasen
Moves/
techniques
Regular moves
Amy Dash | Big Hammer Attack | Boost Mode | Bound Attack | Chao Attack | Chao Ball Attack | Chao Spinning Attack | Dash Climb | Double Mid-Air Glide | Double Punch | Drill Claw | Fire Sliding | Flying | Floating Fall | Grinding | Hammer Attack | Hammer Jump | Hammer Propeller Flying | Head Slide | High Propeller Flying | Hip Drop | Homing Attack | Jump Dash | Leap | Mid-Air Dash Glide | Propeller Flying | Mid-Air Chao Attack | Mid-Air Chao Ball Attack | Mid-Air Chao Spinning Attack | Mid-Air Glide | Mid-Air Hammer Attack | Mid-Air Hammer Jump | Skid Attack | Spin | Spin Dash | Spin Jump | Super Sonic Boost | Spinning Hammer Attack | Spiral Upper | Tag Action | Tail Spin Attack | Tail Swipe | Tornado Attack | Upper Spin | Wall Climb | Wind Attack
Mid-Air Trick Actions
Big Air (Happy Spring, Hop Jump, Petit Step) | Long Wind Jump (Humming Top, Sweet Roll, Window Jump) | Stop 'n' Slam (Bound Attack, Spinning Hammer Attack, Propeller Descent, Hip Drop)
English voice actors
Ryan Drummond (Sonic) | Deem Bristow (Eggman) | William Corkery (Tails) | Scott Dreier (Knuckles) | Jon St. John (Announcer) | Jennifer Douillard (Amy) | Sarah Wulfeck (Cream)
Japanese voice actors
Jun'ichi Kanemaru (Sonic the Hedgehog) | Chikao Ōtsuka (Eggman) | Ryō Hirohashi (Tails) | Nobutoshi Kanna (Knuckles) | Taeko Kawata (Amy) | Sayaka Aoki (Cream)
Other
Act Ring | Angel Island | Aqua Shield | Balloon | Bungee Rope | Chao Playground | Chaos Emerald | Corkscrew loop | Dash Panel | Factory Ring | Fan | Fly Type | Flywheel | Freeze | Goal Medal | Grind Rail | Gymnastic Bar | High-speed warp tube | Item Box (Invincibility, Maximum Speed, Ring Magnet, Shield, 1-Up, 5/10/ Random Ring Bonus) | Jump Panel | Minecart | Platform-raising Wheel | Pole | Pulley | Power Type | Propeller Spring | Ring | Seesaw | Shuttle loop | Snowblower | Sonic Factory | Special Key | Special Spring | Speed Type | Switch | Time Attack | Tornado 2