Type-S
Talk

0
6,677pages on
this wiki
Type-S
First appearance
Other appearances
User(s)
Purpose
Description

A yellow/grey/white Board type Extreme Gear. Storm's personal Extreme Gear.
The Type-S (タイプ-S, Taipu-S?) is a recurring Board type Extreme Gear in the Sonic Riders series. It is Storm the Albatross' character Extreme Gear, exclusively for him, meaning only he can use it, and his default Extreme Gear. It is one of the first Extreme Gears available in every game in the Sonic Riders series.
The Type-S is a part of the Babylon Rogues' own unique series of Extreme Gears that is constructed and customized by the team's own Extreme Gear mechanic, Wave the Swallow.
Game Appearances
Edit
Sonic RidersEdit

He's a force nature alright, and nothing is going to stand in his way when he's blazing around on his custom board.

— Description from the Sonic Riders website.

Babylon Standard. Power type W (Wave).

— Game description in Sonic Riders.
The Type-S made its first appearance in Sonic Riders, where it was a standard Extreme Gear for the Babylon Rogues. Wave had specifically made it for the Power Type.
The Type-S is this game designed as a sturdy-looking yellow board. It has thick accents in a darker yellow shade on the front and each side of the rear, and has three additional pieces of black accents on the front, while the rear is black. Finally, its upper surface and underside are colored grey, while the underside has three circular pads on it.
In the Sonic Riders story line, the Type-S was the first Extreme Gear Sonic the Hedgehog rode on. After Knuckles the Echidna managed to knock Storm off the Type-S, Sonic grabbed it and used it to pursue Jet the Hawk. Storm managed to reclaim the Type-S, however, after Jet managed to blow Sonic off it.
| | |
| --- | --- |
| Dash | ★★★☆☆☆☆ |
| Limit | ★★★☆☆☆☆ |
| Power | ★★★★☆☆☆ |
| Cornering | ★★☆☆☆☆☆ |
Sonic Riders: Zero GravityEdit

When redesigning Storm's gear, Wave broadened the craft's base to support his massive bulk.

— Game description in Sonic Riders: Zero Gravity.
The Type-S later made a return in Sonic Riders: Zero Gravity, where it was redesigned by Wave, who broadened its base so that it could better support Storm's massive bulk.
The design for the Type-S in Sonic Riders: Zero Gravity is very different from its design in Sonic Riders, leaving only a vague resemblance to its old design. As mentioned in its profile, the Type-S is here much broader and thicker, giving it a more bulky structure, while still keeping a distinct board shape. It is primarily white, with orange layers along the sides and rear, with red streaks and a flame-like pattern, along with two purple circular foot pads, on the upper surface. It has as well green outlines on the exhaust port and on its borders between orange and white.
| | |
| --- | --- |
| Dash | █ █ █ ░ ░ ░ |
| Limit | █ █ █ █ ░ ░ |
| Power | █ █ █ ░ ░ ░ |
| Curve | █ █ █ ░ ░ ░ |
Gear Parts
Edit
Max Speed Up: Increases the Type-S's top speed.
Bike: Turns the Type-S into a Bike type Extreme Gear, allowing it to crash through obstacles without slowing down.
GP Gauge Up: Increases the Type-S's GP gauge by 25 points.
Sonic Free RidersEdit

Rebuilt by Wave to support Storm's heft, this gear pushes hover lift output to the max.

— Game description in Sonic Free Riders.
The Type-S reappeared again in Sonic Free Riders, where it was rebuilt by Wave for maximum hover lift output in order to once again support Storm's massive heft.
Like in Sonic Riders: Zero Gravity, the Type-S received a new design in Sonic Free Riders as well. In this game, the Type-S is given a more board-like shape that greatly resembles the one it had in Sonic Riders. However, it took on a rather different color scheme, being colored mostly grey. It has a white broad and open accent covering the rear and a single brown accent on the front. Also, its foot panel is black, with white, grey and yellow streaks and markings covering it. It can be equipped with up to two Gear Parts.
| | |
| --- | --- |
| Dash | ★★★☆☆☆ |
| Limit | ★★★☆☆☆ |
| Power | ★★★☆☆☆ |
| Turn | ★★★☆☆☆ |
Archie Comics
Edit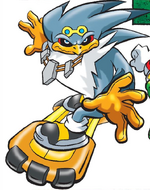 The Type-S has made several appearances in the Archie Comics as Storm the Albatross's personal Extreme Gear, which he always has with him, and was one of the first Extreme Gear shown in the comics. In this media, it has the same design it had in Sonic Riders.
The Type-S first appeared in Archie Sonic the Hedgehog Issue 163 where it was used by Storm to battle Sonic the Hedgehog, along with Jet the Hawk and Wave the Swallow. Using the Type-S, which was foreign technology to Sonic, Storm and his team were able to defeat Sonic in their first confrontation. The next day, however, when the Babylon Rogues arrived to destroy Knothole, Storm was attacked by Sonic, Knuckles the Echidna and Miles "Tails" Prower, who had required their own Extreme Gear. With his Extreme Gear, Knuckles was able to combat Storm on his Type-S, and eventually managed to drive off the Babylon Rogues, with the help of Sonic and Tails.
Concept Art
Edit
On its underside in Sonic Riders, it has the mark of the Babylonians.
Despite Storm being the only one who can ride the Type-S, Sonic rides it in the opening cutscene of Sonic Riders.