This transformation exists primarily or exclusively within the Pre-Super Genesis Wave continuity.
Information in this article may not be canonical to the storyline of the games or any other Sonic continuity.
For the Sonic the Hedgehog television episode, see Ultra Sonic (episode).
Ultra Sonic is a transformation that appears in the Sonic the Hedgehog comic series and its spin-offs published by Archie Comics. It is a super form of Sonic the Hedgehog that he has only attained through the use of massive amounts of power, namely a huge cache of Power Rings created by Nate Morgan and by a Super Emerald found by the same. He first appeared alongside Hyper Tails to battle Ugly Naugus, only to disappear as Sonic's power was depleted. Later, when Knothole was threatened by a beam of energy that could have disrupted the entire space time continuum, Sonic used a Super Emerald to achieve this form in order to race around the planet and prevent the beam from making contact. He later assumed this form once more to combat Ixis Naugus when the wizard returned to the Northern Tundra.
Appearance
Ultra Sonic looks like Sonic normally does except he is surrounded by two energy loops which closely resembles the electron shells of an atom. Ultra Sonic leaves behind tiny trails of stars as he moves. When he used a Super Emerald to transform, he gained goggles and a red costume decorated with white lightning bolts.
History
First transformation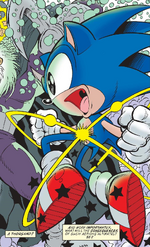 When Ixis Naugus raided Nate Morgan's secret tundra lab, he, as well as Sonic and Tails were infused with energies from a large cache of Power Rings. Though Ultra Sonic managed to hold his own against Naugus' attacks through manipulating the elements at the atomic level and with Hyper Tails, Ultra Naugus seemingly had greater stamina than either and waited for their transcended states to burn out before he attacked Morgan. After Nate sent Naugus back to the Zone of Silence, the two heroes found their Power Ring induced energies depleted, causing them to turn back to normal and in a weakened state. Upon being awakened, they had no memory of their advanced transformations until Nate told them of it.[1][2]
Second transformation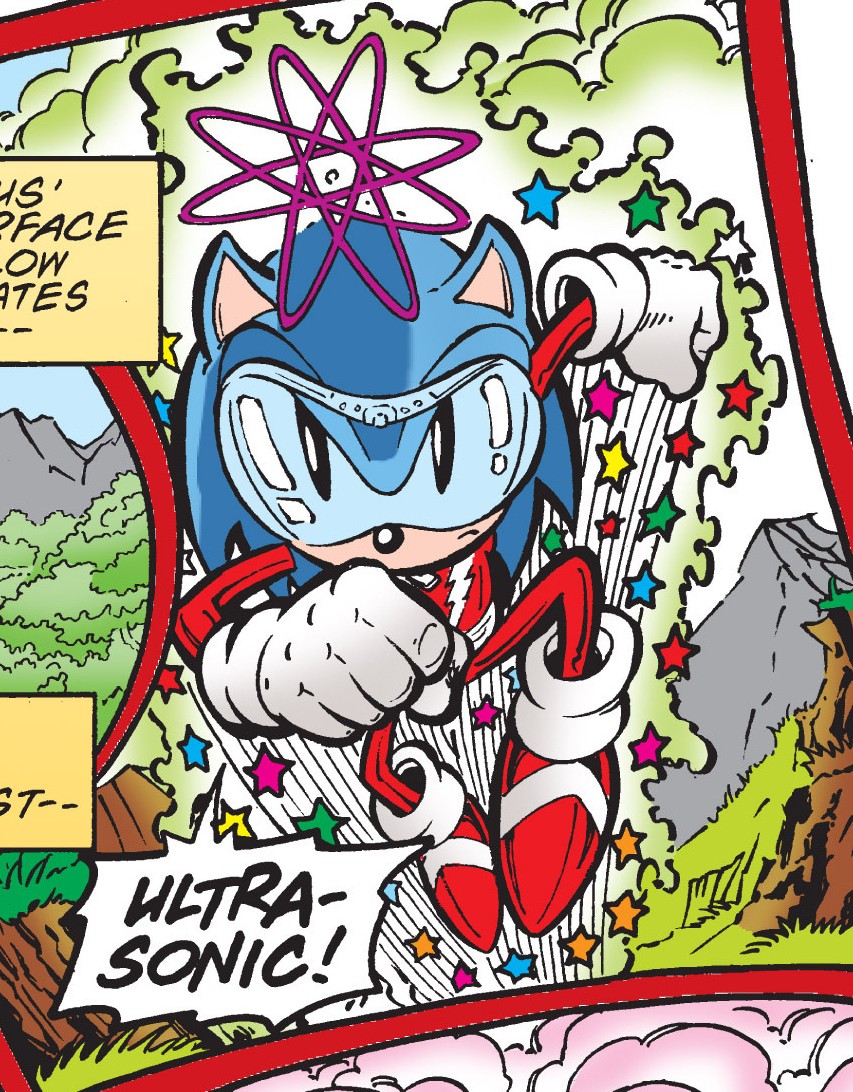 When one of Dr. Robotnik's satellites fired a beam that moved slowly towards Knothole and threatened to disrupt the space-time continuum and destroy the planet itself, Sonic used the energy of a Super Emerald to ramp up his speed in order to run around Mobius at a high enough speed velocity to stop the effects of his attack. As he ran, Sonic's power level continued to increase until he first became Super Sonic, then Ultra Sonic, and then Ultra Sonic's various alternate forms.[3]
Rematch with Naugus
Some time soon after, Sonic returned to the Southern Tundra to place flowers at Eddy's grave in memory of his sacrifice. He fell into the castle's ruins however, and found Naugus had been able to return himself to Mobius from the Zone of Silence and planned to use the remains of Nate Morgan's ring storehouse to regain his transcended state and merge the two zones to make him omnipotent. In the battle that followed, Sonic tricked Naugus into burying him with the stockpile of Power Rings and used them to become Ultra Sonic once more. Despite having less finesse with this form, he applied his power and speed to open a portal to the Zone of Silence that sucked Naugus back inside and closed. The rings' power then wore off due to how much Ultra Sonic had used up to open the portal, and he resumed his normal state.[4][5]
Powers and abilities
As Ultra Sonic, Sonic's innate talents are greatly enhanced, granting him highly increased strength, speed and reflexes. Additionally, he is able to fly through mid-air, and is supposedly invulnerable to virtually any harm.[6]
Ultra Sonic has the ability to control the bond of local atoms, allowing him to manipulate non-living matter by changing its atom structure, i.e. turning air into a wall of water or turning a stone column into a large uprising spike. The limits of this ability, as well as its ability to affect living matter, have not been elaborated upon. Ultra Sonic has also been shown able to adapt his form depending on his environment.
Alternate Forms of Ultra Sonic
References
External links
Video games

Alf Layla wa-Layla | Baker | Burning Blaze | Chaos' forms (Chaos 1, Chaos 2, Chaos 4, Chaos 6, Perfect Chaos) | Color Power | Dark Queen | Dark Shadow | Darkspine Sonic | Devil Doom | Excalibur | Excalibur Sonic | Finalhazard | Gaia Colossus | Hero Shadow | Hyper Mode | Hyper Knuckles | Hyper Sonic | Master Core: ABIS | Mephiles' monstrous form | Nega-Mother Wisp | Neo Metal Sonic (Metal Madness, Metal Overlord) | Perfect Dark Gaia | Roboticization | Sonic the Werehog | Super transformation (Classic Super Knuckles, Classic Super Sonic, Classic Super Tails, Flicky's Super State, Mecha Sonic's Super State, Pir'Oth Ix's Super State, Super Knuckles, Super Mighty, Super Ray, Super Shadow, Super Silver, Super Sonic, Super Tails, Ultimate Gemerl) | Ultimate Emerl | Void's transformation
Sonic the Comic
Perfect Chaos | Super Sonic (Mirror Zone)
Adventures of Sonic the Hedgehog
Roboticization | Super Robotnik | Supreme High Robotnik

Archie Comics

Pre-SGW
Chaos' forms (Chaos 6, Perfect Chaos) | Chaos Knuckles (Dark Mobius, Light Mobius) | Chaos Shadow | Crystalline Magic (Crystal Golem) | Enerjak (Dark Enerjak) | Finalhazard | Metal Overlord | Perfect Tikhaos | Roboticization (Blaze Woman, Charmy Man, Espio Man, Knuckles Man, Mecha Sally, Mecha Sonic, Rose Woman, Rouge Woman, Shadow Man, Silver Man, Tails Man, Vector Man) | Super transformation (Hyper Knuckles, Hyper Tails, Master Mogul, Super A.D.A.M., Super Armor Mega Man, Super Scourge, Super Shadow, Super Silver, Super Sonic (Dark Mobius, In Another Time, In Another Place), Turbo Tails, Ugly Naugus, Ultra Sonic (Eco Sonic, Polar Sonic, Solar Sonic)) | Titan Metal Sonic | Titan Tails | Werehog
Post-SGW
Burning Blaze | Chaos Shadow | Crystalmancy (Crystal Omega, Crystal Sonic) | Devil Doom | Monster Form | Neo Metal Sonic (Metal Overlord) | Overclocked Nicole | Perfect Chaos | Perfect Dark Gaia | Roboticization (Blaze Woman, Charmy Man, Espio Man, Knuckles Man, M'egga Man, Rose Woman, Rouge Woman, Shadow Man, Silver Man, Sonic Man, Tails Man, Vector Man) | Sonic the Werehog | Super transformation (Super Armor Mega Man, Super Shadow, Super Silver, Super Sonic)
Sonic X
Chaos' forms (Chaos 2, Chaos 4, Chaos 6, Chaosbot, Perfect Chaos) | Cosmo's transformation | Dark Sonic | Final Lizard | Final Mova | Serpenter | Super Shadow | Super Sonic

Miscellaneous

Chaos Dingo | Regeneration | Roboticization (SatAM, Sonic Underground)