Hi my name is Ediskrad327 but you can call me Edis, i joined this wiki because i like the sonic games a lot. tambien hablo español para que no me teman los que si saben!!!.

if anyone knows about easter eggs in sonic games (you know like the sonic 06 cover in empire city newspaper or the chao garden and central park street signs in sonic 06) please let me know about them, i LOVE looking for easter eggs in video games.
i have a huge adition on the Dr Pepper soda and i rather old emoticons like this one :P and i hate sonadow with every fiber in my soul but that's not important.
if you leave me a message be patient, i will eventually aswer it

even though i suport some couples i think the wiki isn't the place to ad information about them. good places for that kind of info would be
or

either one is a more apropiate place for that sort of information BUT NOT HERE.
Vandals feel the rath of the undo button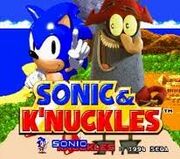 Cool people i know here
SalaComMander :awesome vids! and heck of a Sonic voice
Bullet Francisco: nice guy, he's cool
Katrins: cute drawing style :3
'Sonic th Hedgehog' (when he is in character...whch lately isn' tvery much time:P )
Genesjs (IGN haters UNITE!)
=PKMNthehedgehog=
:D