Check out my webcomic. Updates are Mon-Fri...I mean, whenever I actually feel like it.
FEATURED USER!
This User has been a Featured User 3 times!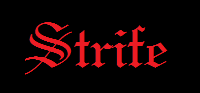 Y'know I used to be just like you! An elitist snob who looks down on everyone around him! Well I've changed! Now I'm a snob who only looks down on some people! ...Anyway, there's a lesson in there! I'm just not sure where...


They say "life is a nightmare". Normally, when you open your eyes, the nightmare ends. Open your eyes fool, you don't have it that bad.

— Strife
Welcome to my page, now that you're here, I'd just like to say...
GET OUTTA HERE!!
Insert Coin
This article is about a great person, for other uses, click here
I've never seen a stranger person than this guy
Strife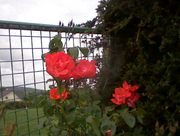 Strife a quiet, shy and desperately lonely person. People call him an emo, something he wouldn't necessarily disagree with. He makes sprite comics and play video games due to a lack of activities, and logs onto SNN out of the crushing hopelessness of solitude. He likes to go running to stay fit, something he picked up as a kid, playing Sonic games. He is an extremely vain person, thinking highly of my own appearance "Well, when ya look like me, you would too", according to Strife himself. Emotional, yet reserved, he is a rather unusual person, in terms of social compatibility. He laughs quietly, in a "Heh heh heh" tone. Strife is vengeful, cold and unforgiving; if one achieves the difficult task of making him angry, the conflict is unlikely to end anytime soon. He is stereotyped as a knife-loving sadist who is attracted to blood, listens to metal music, wears black, and hates life. This is not 100% true though. He is just misunderstood.
He's also a ladies man, don't judge.
N is a stupid letter
It rips off both 'M'and 'Z'
..This needed its own section 'cause I said it did!
Let's not forget, the lowercase 'n' rips off 'u' ... No, none if this is the other way around.
Comix
NOTE: To date, this list is still incomplete, it also doesn't contain EVERY comic I've ever made as some were deleted and others are just too early and not good enough to show.
My Earlier Stuff
These are comics that I made while starting off. There of lower quality due to my lack of experience, but I thought I'd keep them for the hell of it.
My Return
These are from when I returned to SNN after a long hiatus. I shortly went back to comic-making and rediscovered a love for it.
Veteran Series
After finishing MobiusBound, I pretty much became a self-proclaimed veteran. This is everything that came after MobiusBound.
Others
Comics made just for an lol.
* = Not made by me
Credits
Lev (for teaching me)
Micha/Fario
Gardow
Xeric
Fox Omega
Charity
Clyent Nite
Ryuki TH
Zig Sonar
Smithy GCN
Deekman
Daniel Sydney
Shyguy Kingdom
Spirit Database
Frario
Zeox
Andyvader
MC Katanga
Shadow Tails
Nate the Hedgehog
ANGELxZERO
Midochaoshedgehog
Rudolphtheechidna
Grim
Shadow91
Joe T.E.
DBurraki
FroggyMudd
Cylent Nite
Gozinzolo
N-Finity
JonathanExplorer
Apocalypse the Hedgehog
Solink
Vortex Gamer
CyberShadow
Hypero-Blade
CraigTH
Kharana
Silverknuckles78
Master
Zach "Zin" Furr
Ryu
ShadowBot
SupaChao
SilverBot
Skylights
?UNKOWN?
Drshnaps
Rob-fox
Angelglory
SmithyGCN
E79
Jackster (SPECIAL THANKS for the Earthbound texts)
And that's the lot
Minor Awards
From the Emerald Awards. Just gonna land them here.
| | |
| --- | --- |
| | This user was awarded the Master Emerald for being Administrator of the Month in June 2014! |
| | |
| --- | --- |
| | This user had been awarded the Light Blue Chaos Emerald for posting the Comic of the Month! (August 2014) |
| | |
| --- | --- |
| | This user had been awarded the Light Blue Chaos Emerald for posting the Comic of the Month! (September 2014) |
| | |
| --- | --- |
| | This user had been awarded the Light Blue Chaos Emerald for posting the Comic of the Month! (February 2015) |
| | |
| --- | --- |
| | This user had been awarded the Master Emerald for being Administrator of the Month! (March 2015) |