FEATURED USER!
This User has been a Featured User!
For the Sonic Fan Character (as well as other characters that relate to him), go to Mystic Monkey (fan character) on Sonic Fanon Wiki.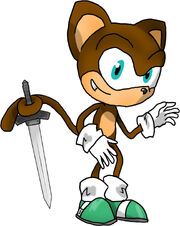 IRL
Colin

Born

January 5, 1988

Gender

Male (♂)

Location

SNN Role

Admin

Goal

Fan character
Sonic fan from Newtown. Though living in Wales I am English. These days I have my own access to the internet and been a hardcore Sonic fan since the 90's and plan to be a fan for as long as I can. Though I know little of the Archie comic continuality, I am strict to the games version of Sonics life.
I may not see the cartoons as canon to Sonics life, it is still something I enjoy as a past time. I enjoy the classic slapstick humour of AoSTH, especially how it seems everything seems to be made of rubber. The YouTube Poop spawned from the series brings me great lol.
As for SatAM, it is the series I least accept into Sonics life, but have a higer respect for it after what I hear what Ben Hurst had to say for it. At first I enjoyed the series for what they are, now I have a deeper respect for it, though I will never accept it as Canon to Sonics world. I have the complete series of both AoSTH and SatAM on DVD Boxsets.
I once had the movie on Video, but that was ages ago and seem to have misplaced it when I moved onto DVD. But I am sure I can find it somewhere on DVD.
Sonic the Comic was the comics I collected in respect for Sonic and these comics were 90% over 10% of the cartoons I watched (Thats because AoSTH and SatAM were hardly on TV) The comics were good but as time went by the stories streched from the games, this confused me and thus why I am strict to the Sonic games than other.
Where I live we can't get Archie comics. My best friend Tonic the Merhog somehow manage to get me a single Archie comic (#159) and I am trying to figure a way to get the back series. It's just the $/£ problem. Eitherway though the comic looks abit doomish I guess I need to get all the old comics together before I can full understand it all, Im hoping it would have it's unique ties as it did with SatAM.
However of late I have been ordering the Sonic Archives off eBay. Credits to RedHotComics whom I buy from.
As for Sonic himself, this blue hedgehog means alot to me. It is because of him I have an understanding of justice and heroism which children usually pick up from Marvel or DC comics. During my teen hood I wondered what I should do with my life. I enjoyed drawing characters like Sonic so I considered making comics, however I found making adventure comics fun but wasn't satisfying for me and felt I wanted to give more. Noticing that Trading Card Games like Pokémon or Yu-Gi-Oh! are popular I considered what if I could make a collecting card game that was fun? (Me and my brother made "Megamon" which is played simular to Triple Triad.) While I did had a working plan for a more classic TCG I couldn't see it working out and gave up on it. (But elements from it inspired a more later TCG idea called "Battle Cards")
I just couldn't decide what I really wanted to do. I wanted to tell stories but not by words alone. I wanted to express myself with pictures but didn't want them to stay still and I wanted to make games that are beyond that of simple cards and counters.
Then I realised that what I really wanted to do was smiling at me shaking his finger, waiting for me to guide him through Green Hill Zone. It was then I realised that I didn't just want to make computer games. I had to make computer games.
True to this day I still haven't got round to making a games because I am not entirely sure where to start. I have the programs and the motivation, just need some guidence and tutorials. but I know exactly what I want to do with my life and this is to be as good or even better than Shigeru Miyamoto and Takashi Iizuka.
SGGG
Which means Segagaga.
I think these days Sega are becomming the only game business company that truely understand games as what they truely are. Sega makes games not because of profit but because of how the games are. thats relaly what games are about. Fun. Some see them also as art, others stories or entertainment. I believe those at Sega have different views but share the same ideas of making games that are fun.
However, I have my reasons to believe that both Nintendo and Microsoft are taking advantage of Segas morals for profit.
Please see my theory Dogma for more information.
I have ideas for both games and technology as well as business plans to help Sega get back on track to help Sega return to glory. However I would be honoured if Sega hired me to join sonic Team.
Games
The game continuality is the fandom I strongly believe in than all the other branches. This is because that despite it not having much of a plot thats not a game, it is still what I consider actual Sonic.
These are all the Sonic games I own:
None yet, but hoping to get Sonic Shuffle
Xbox Live
Stuff
My Signiture
My Sonic Fanon Wiki userpage
MonoBook skin sandbox and my JavaScript wiki sandbox
My Articles (And sometimes to-do list)
Chaos Energy
Sonic & the Black Knight
Summer of Sonic
Chaos Drives
Item boxes
Retro Orbital Chaos Compressor
Sonic: Night of the Werehog
Hedgehog Engine
Gaia Temples
Upgrades
Mario & Sonic At The Olympic Winter Games
Uhu the Wind Genie
Townspeople (S&tBK)
Treasury (S&tBK)
Hedgehogs
Mobodoon
Mystic Melody
Goal
Ring of Ultimate Velocity
Sonic World
Dr Robotnik (song)
Santa Claus (Didn't started it, but Supermorff did.)
Gems
Alberto Robert
Rimlight
Weapons in Sonic and the Black Knight
Avatar (Xbox 360)
Soap shoes
Hint
Sonic token
Beginner (Extreme Gear)
Shield
Bobbin
Gameplay Mechanics
Sonic Adventure DLC
Regeneration
Sonic's Birthday
Mirrors of Soleanna
Light Cores
Items in Sonic Chronicles: The Dark Brotherhood
Hourglass
Key Stones
Forcejewels
Rengoku (Extreme Gear)
Council of Four
Adopted parents
Life Energy
All about... Sonic the Hedgehog
Simon Lane
Other wiki's
Other wiki's I work with.
Sonic Fanon Wiki
Kingdom Hearts Fanon Wiki
Bronies wiki (Admin)
Gallery
Of fan art!