I do not agree with a word you say but will defend to the death your right to say it

— Voltaire
Welcome to 's Profile!
This is why you need to stop making crazy-@$$ fan drawings.
Hallo! I am SilverPlays97. I have been on this wiki for about 6 months and I'd say i understand how everything works. Let me just say i love the Sonic franchise (that's why i joined!). I like to add categorys, edit random pages, and make blog posts. I can be friends with just about anyone (just ask me first!). I also have a YouTube channel that uploads lots of videos (Why don't ya check it out?). Hope to see you soon!
PS: Manik is awesome
Give these photos some categories!
People i like
Pages I've made
Guinness World Records Gamer's Edition
Entertainment Software Rating Board (ESRB)
Grand Battle Kukku XV (Archie)
Sigs.
My:
!--->SilverPlays97<---! (talk) (July 2012 - 8/18/2012)
-Template:SilverSig -current. Made by Bullet Francisco Template:SilverPlays97
Other users: Put a sig!
Time to start this havoc of signatures on Userpages (in the case, Silverplays' one). Willaca (talk) Go Here If I'm on SCP or RSW
YOYOYO SILV-BOY CHECK OUT MAH NEW YOUTUBE CHANNEL "GRAYSON HEATON" PitsBrother 143
I like Blaze :3

☯Sly the Fox☯ Bureizu za Kyatto

23:47, August 27, 2012 (UTC)
Ello der! Template:JakeSig
Y ELLO DER Template:SUsig
Buenos dias! Template:SolaceSig 08:27, September 16, 2012 (UTC)
I like Sally and Blaze:3
Sonally Fan Forever

17:52, October 3, 2012 (UTC)
goom Pacmansonic138 (talk) 23:38, October 4, 2012 (UTC)
Why not? Template:BlueSig 4:15PM-10/5/12
Favorite Sonic the Hedgehog Characters
Males
5: Dr. Eggman
Females
5: Amy Rose
2: Sally Acorn
Overall #1
Silver The Hedgehog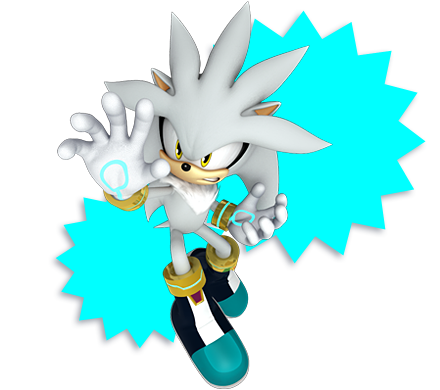 User Boxes
Sonic games i own:
Sonic games i want to own:
Fan character
This user page contains a fan character
The information of the fan character is not owned by Sega.
Marine the Hedgehog
Age: 250
Gender: Male
Lives: The ocean of Mobius
Alinment: Anti-hero
Summary:
Marine is a hedgehog who lives in the ocean of Mobius. He guards the aquatic live from anyone who dares to harm it. His origin is unknown. His source of survival is water. Marine ages very slowly for reasons unknown (his relative age is 18). If taken out of water for more than 48 hours, he will shrive up and die. Marine also has the power to control the flow of water. Marine is also known to absorb all the water out of beings.
screen shots
Comments
Chat Room
Random photos
Alternate Account: User:Wiki Invader