FEATURED USER!
This User has been a Featured User 5 times!
Character of the Week
Every week i like to highlight a character just for fun.
This Week: Fang the Sniper
Sincere apologies. It is called "Character of the week" yet Egg Pawn was up for over 8 months. What a lame character to leave off on too. Anyway, here we have our friend, Fang the Sniper or as I grew up calling him, Nack the Weasel. Why has he been absent for so long? It is great to have a furry Sonic bad guy who STAYS BAD! Jet, Knuckles and Shadow are such wiener butts because they all end up becoming good guys! It is annoying. Nack is way cooler than these new characters and he should definitely come back and join the modern canon. Sonictoast 02:53, July 28, 2011 (UTC)
Previous Weeks
Previous Characters of the week
Fang the Sniper Sincere apologies. It is called "Character of the week" yet Egg Pawn was up for over 8 months. What a lame character to leave off on too. Anyway, here we have our friend, Fang the Sniper or as I grew up calling him, Nack the Weasel. Why has he been absent for so long? It is great to have a furry Sonic bad guy who STAYS BAD! Jet, Knuckles and Shadow are such wiener butts because they all end up becoming good guys! It is annoying. Nack is way cooler than these new characters and he should definitely come back and join the modern canon. Sonictoast 02:53, July 28, 2011 (UTC)
Egg Pawn Yes, I do believe that Egg Pawn is responsible for the overly addressed downfall of Sonic games. Okay, it is not Egg Pawn personally, but it is what the Egg Pawns represent, laziness. Egg Pawns, introduced in Sonic Heroes are just mass produced, un-interesting... pawns (I guess that's where they get the name). But look at all the cool badniks from the past Sonic games. They were all creative, interesting and, oh yeah, THREATENING! You could tell SEGA got lazy because instead of coming up with new casts of awesome badniks, they just introduced these stupid Egg Pawns that don't do anything and are everywhere. The egg Pawns hit the same time that Sonic games started getting bad reviews. Makes you think. Actually in all truth, its not the Egg Pawns' fault for the bad reviews, it is because Sonic moved from just GameCube to bad systems. Sonictoast 04:11, December 7, 2010 (UTC)
Cubot Yeah, so I'm totally down with the whole, 2 stupid sidekick idea. I really don't mind Orbot's total C3PO voice and overly pessimistic, finger pointing attitude, I think it is great. However, Cubot I think is a little overly silly. The Cowboy voice was one little gimmick, but then the pirate thing and then his real voice being all obnoxious and hyper... I don't know, it kind of made me want to hit the + button to skip the cut scene. Sonictoast 05:20, November 30, 2010 (UTC)
Bark the Polar Bear Honestly, he looks nothing like a Polar Bear. And what kind of name is "Bark" for a Polar Bear anyway. Isn't Bark a more suiting name fro a dog? You know these character issues are important to Sonic fans because look at how little respect Bark gets compared to Bean. Bean is a secret character in Virtua Stirkers 2 not Bark. Bean has been given a fun, silly personality in the comics with tons of funny lines. Bark is just kind of there. Bark didn't even beat a comic exclusive character in our tournament. oh Bark, you gotta do something big and soon otherwise we will never like you. Sonictoast 06:02, November 15, 2010 (UTC)
Black Knight That "My Will to Fight the Knight" theme song was pretty awesome... all except the beginning where they say "MY WILL TO FIGHT THE KNIGHT!" twice really loud. What a terrible way to start a good song. The Black Knight was a cool classic character to tie into the Sonic series, but making him an illusion was so lame. The whole. "Merlina is the real villain" was such a stupid twist to the game. If it turned out the Black Knight were really Robotnik, then the game would have been so much better. Maybe the third storybook game will be "Sonic and the Mushroom Kingdom", it can also be the third "Mario & Sonic game". Sonictoast 01:13, November 2, 2010 (UTC)
Elise So Elise is into dead animals... what kind of a sick person is she?! I guess what really gets me is the number of young, tall, human girls in this series who are romantically involved or at least share sexual tension with a short talking hedgehog. I mean there is Seira who is dating Sonic, gets engaged to Robotnik, kisses Knuckles and gets groped by Tails, all in the same day. Then there is Shahra and Merlina, both of which you know Sonic is totally into. Why does Sonic run from Amy? Because he's not into Hedgehogs. He's into humans. Sonic plays it cool, but you know he wants Elise bad. Then there's Shadow and Maria. You know they were more than friends. Notice all these female characters are teenagers. Notice there are no teenage boy characters. I guess the teenage boys are the target audience, so give them what they want, right? Well, if they wanna give me what I want, then they'll never use Elise in another Sonic game ever again. We can throw out Shahra, Merlina and Maria too while we're at it. Let's stick to the animals having adventures, and save the inter-species romance for ... hmmm, how about never!Sonictoast 04:21, October 25, 2010 (UTC)
Wisps I sure am excited for Sonic Colors next month. These wisps remind me of both the Flickies from Sonic 3D Blast and the Chao from Sonic Adventure. But they are better than both of those because they actually help you rather than just seeing what you can do for them. I'll bet the wisps taste like fruit snacks, each one being a different flavor. On that note, the only flavor of fruit snacks I really notice to be different are the purple ones. The rest all taste the same to me. Sure the blue ones taste kind of chalkie, but the flavor seems the same. Anyway, good for wisps. Way to make us forget about Chip... forever.
Dr, Finitevus Yes! This is a cool villain. Sure he's most likely a rip off of Doctor Zachary, but Pir'Oth Ix is most likely a rip off of him. When it comes to villains, Archie really knows how to make them. Enerjak, Scourge, Mammoth Mogul, these are ruthless, cruel villain. I mean SEGA has kind of ruined Robotnik by making him always team up with Sonic. Shadow had potential to be a cool bad guy, but now he's just another one of Sonic's wussy friends. And what's with Metal Sonic being a good guy in Sonic Rivals 2? C'mon. Lame toast. Dr. Finitevus is bad to the core and I wouldn't turn my back on him if you payed me. He's wicked, he's ambitious, he's powerful and he's threatening. Those are the aspects that make a good villain. The above card was made using fanart by deviant artist kichigai.Sonictoast 21:50, October 4, 2010 (UTC)
Dark Chao Walker Boy, what a slow pile a butt. They replaced Big the Cat with this guy? Well I guess it makes more sense than having Big the Cat in an Eggwalker shooting lazers. My guess is that Big the Cat was originally tacked in their because production of SA2 was so rushed. Then in SA2 Battle, they probably added this Dark Chao walker because it made more sense. People aren't very into Chao anymore. I think it is XBOX's fault. They stopped the Chao Gardens because XBOX didn't have a handheld system to put them on. SEGA probably wouldn't want to only put Chao on Nintendo and Playstation because that would make XBOX cry. Never mind that they got Banjo in their ASR. Gee, that was ranty. Sonictoast 15:20, September 27, 2010 (UTC)
G.U.N. Commander Think of a four letter word that starts with a "D" and ends with a "K"... yup, that is G.U.N. Commander, spot on. This D**k is a punk who thinks it is cool to shoot hedgehogs with guns. This d**k thinks he is so cool, hiding in his weird headquarters or his giant robot suit thing while all his soldiers are getting slaughtered left and right. I was really hoping this d**k was going to die at the end of Shadow the Hedgehog. Hey, Black Doom dies. In one ending even Robotnik dies. So why can't this stupid, pompous d**k die. Instead, he becomes, super nice captain america at the end. Then he's all bossing around the Chaotix in Sonic Chronicles: The Dark Brotherhood. Seriously, who does this guy think he is? Cause if you ask me, he's just a big dork... oops, I said the "D" word. Sonictoast 07:00, September 20, 2010 (UTC)
Orbot In celebration of Orbot receiving an official name and artwork, I have decided to make him this week's featured character. So, it appears that in Sonic Unleashed, they went on a limb and gave Robotnik a comical sidekick. It appears to have been successful because in Sonic Colors, there will be a second comical sidekick to go with orbot here. I hope that isn't overkill. It does feel very Scratch and Grounder. I think this is a positive thing because I look back at Scratch and Grounder with fond memories. Sleet and Dingo were not funny. Decoe and Bocoe also were not funny and did not have enough screen time to ever have the chance of becoming funny. You go Orbot, we wish you all the best. Sonictoast 16:19, September 13, 2010 (UTC)
Tails Doll Now this is a character that is popular for all the wrong reasons. You would think with his recent popularity, SEGA would do something to get him back in the games. What if Tails Doll is in Sonic Colors? Or what if his origin is told in an episode of Sonic 4? One thing for sure, Jazwares has gotta make a Tails Doll action figure. It's the least they can do after making us buy six Sonic figures. Sonictoast 01:30, August 31, 2010 (UTC)
Medievil Friends Way to go SEGA! Way to do things right. SatBK gets a lot of guff from stupid people, but from a die-hard Sonic fan, it is awesome. Like SatSR, we have the Sonic characters playing story book characters, but in this one they are playable, they get their own artwork and are really cool looking. Only thing missing is a medievil Robotnik character. Sonictoast 21:42, August 24, 2010 (UTC)
Big the Cat Why does everyone hate Big the Cat? Tell you the truth, When Sonic Adventure came out, I loved Big and Gamma, when Sonic Adventure 2 first came out, I hated Shadow and Rouge. I'd rather they geet rid of Shadow than Big. Big is a big fat cat who likes to fish. Shadow is a fast hedgehog with an attitude... wait a second, already have one of those in this series! Big is funny and a nice change of pace from the head spinning running levels and the stressful - get chased by ZERO levels and the boring - find the emerald shard levels. I support Big the Cat. Sonictoast 20:16, August 16, 2010 (UTC)
Black Doom Black Doom... what a confusing character. I tell ya, if he were my boss, I'd probably never get a raise. He's like "don't attack our soldiers" then they start shooting you, so you kill them and Black Doom says "how dare you! You Traitor!" I wish you could say "hey, they attacked me first, they are the traitors. Come on man! If you are going to command an army, you gotta get everyone on the same page!". If Black Doom were running for President, I so would not vote for him. Sonictoast 02:09, August 10, 2010 (UTC)
Charmy Bee So I have a personal grudge against Charmy. Back when I was in 5th grade (1996), me and my Sonic maniac friends became really excited about Knuckles getting his own game (Knuckles' Chaotix), however, upon seeing that one of Knuckles' new friends is a cutesy little bumblebee, a large number of my friends thought the series was going too kiddie and they quit Sonic and took up games like Mortal Combat. Sure enough, having an increasing less amount of interests in common, I drifted from those friends, and by high school we were practically strangers... and it was all Charmy's fault. Sonictoast 21:07, August 2, 2010 (UTC)
Tikal the Echidna Tikal is so boring. I wish she would stay in the master emerald and never come out. Is she really a fan favorite? She is so boring. Did I mention that Tikal is boring? She was in SA1 then in battle mode of SA2. Let's leave it at that, no more games for Tikal, sound good? Sonictoast 18:13, July 28, 2010 (UTC)
Knuckles the Echidna Good old Knuckley Knuckles. Whether you call him "Rad Red" or "Knuckle Head", he's still the same old gullible goof ball. He sure was a jerk back in Sonic 3. He sure was a wiener back in Sonic Adventure. Now it seems like SEGA doesn't know what to do with him anymore except stuff him in spin off titles, (same goes for Shadow). Supporting characters like Tails and Amy have very easy roles to fill whereas more gruff characters like Knuckley Knuckles take more effort to find a place for otherwise they end up just being another one of Sonic's annoying sidekicks (Like Knuckles was in Sonic '06). Will Knuckles ever get another solo game? Probably not, he was a lot more popular back in the mid-nineties than he is now. Oh Knuckles, you use to be so cool, with Sonic & Knuckles, Knuckles Chaotix, and who could forget the Knuckles comic book series which had its moments, but the writer, ken Penders has recently revealed that he is a butt cheek, so that makes his comics a tad less cool. Sonictoast 17:10, July 19, 2010 (UTC)
Dr. Ivo Robotnik Since I missed last week, I decided to highlight my favorite character this week (aside from Sonic). Dr. Robotnik is such a good villain in so many ways. He can be evil, he can be silly, he can be gross, he can be dignified. He has so much potential as a villain, it is no wonder that the series has lasted almost 20 years now. I do hate when he teams up with Sonic, that is so lame. SA2 and Sonic Heroes and sonic '06 and Shadow the Hedgehog and Sonic advance 3 are all guilty of making Robotnik a good guy at the end and it sucks. SA1 and Sonic unleashed had it a little better where the monster turns on him and he ends on his fat egg shaped bottom. But the best are the games with the big epic battles with Robotnik at the end. Like Sonic & Knuckles, Sonic 2 and Sonic Advance 2. Sonic Heroes, Sonic Unleashed and SA1 all had excellent final Robotnik bosses which were so cool and so much harder and better than the actual final bosses (Chaos, Metal overlord and Dark Gaia). Notice no one ever remembers any Sonic villains except Robotnik. If you mention Erazor Djinn, Black Doom, Captain Whiskers or the Battlue Kuku army in a conversation, everyone says "who?" But when you say "Dr. Robotnik" Everyone says "yay!" I don't call him Eggman, I think that name is stupid. Sonictoast 16:53, July 12, 2010 (UTC)
Black Creature Honestly, I felt uncomfortable playing Shadow the Hedgehog (game) because I felt like the characters were being racist by calling them the "Black Creatures". Just like how in the japanese version of the Sonic anime, they called Metal Robotnik, "Black Eggman", I just felt like they could have called him, Metal eggman or Dark eggman. Couldn't the black creatures just be called, aliens? Sonictoast 16:06, June 29, 2010 (UTC)
Super Sonic To celebrate Sonic's Birthday, this week we are highlighting, Super Sonic! You know what is cool about Super Sonic for me? Well, when Sonic 2 came out, Dragon Ball Z had not yet hit US shores. So when I saw Super Sonic, it was this whole new idea to me, a whole new world of japanesey awesomeness. And Super Sonic made that game so much easier, because most of you probably don't remember, but when you are eight years old, Sonic 1 and 2 could be pretty dang hard at times. Sonictoast 07:04, June 22, 2010 (UTC)
Super Shadow I'm glad SEGA gave us cool new 3D artwork of Super Shadow. It's not a cheap re-color like the Super Silver artwork. Though I do kind of wish that Super Shadow didn't exist. He makes Super Sonic seem so much less cool. Like in Sega Superstars Tennis and in Sega Superstars and in Sonic & Sega All-Stars Racing, Shadow's special is always Super Shadow, just like how Sonic's is Super Sonic. We don't see Knuckles becoming Hyper Knuckles left and right or Tails running around with his legion of birdies. Come on Shadow, have a little originality for a change. Sonictoast 06:53, June 15, 2010 (UTC)
EggRobo EggRobo is awesome. He needs to make a comeback. His little cameos in Chronicles and SA2/SA2 Battle were great. they really made me remember how much I love EggRobo. Sure hope EggRobo comes back in Sonic 4. You know what would be cool? If EggRobo got his own game. It could be called EggRobo Adventure, pretty catchy, huh? Sonictoast 07:53, June 7, 2010 (UTC)
Maria Robotnik Don't you hate when they introduce a new character just to kill them off? Worse than that is when they introduced a new character just to kill them off then they make up some silly story to bring them back to life, like Morph in X-Men and Shadow in Sonic Heroes. Maria is the lesser of two evils because she is a character who they made just to kill off so Shadow has an excuse to be whiny. Still, why did SEGA choose an innocent little girl to be brutally and innocently shot? These are supposed to be kids games for crying out loud. I don't like that they keep killing off characters in the Sonic series. They should be like the Mario series and just keep storing up the characters so there are plenty to pick and choose from in the next kart or party game. However, I'm glad Maria is dead for one reason. In Shadow the Hedgehog (game) she was so so so scary. She was just creepy and weird looking. I wished I could have been the one to kill her in that game. Sonictoast 21:41, June 1, 2010 (UTC)
Jet the Hawk Jet is a cool character. Let's keep him that way. hopefully he doesn't take the path of Shadow and become an over emotional Pansy. Rivals like jet are better when they remain threatening and when they don't become friends with Sonic. Jet has joined forces with Sonic in both Sonic riders games, next thing we know he's gonna be the next Knuckles (a cool character who that turned into a total wiener). Bad guys are good when they are bad. And don't give me the whole "well he's an anti-hero" garbage. The consept of anti-heroes is dumb. Batman and Punisher are good guys, not anti-heroes. Let's face it, Shadow and rouge are good guys. Jet? I'd say he's a good guy too, but he would be cooler if he weren't. Sonictoast 22:06, May 24, 2010 (UTC)
SCR-HD Yup SCR-HD, ... I'm really running low on characters to highlight. HD was a petty lame final boss. He was kind of like Metal Sonic in Sonic Heroes where throughout the story they hint that he's up to something, then at the end it turns out their plan was to become a giant hideous monster. The Sonic Riders series is interesting how it combines the F-Zero type racing genre with the 3D Sonic adventure game genre. Anyway, I like it better when the final boss is someone who was a constant threat throughout the game, like Chaos, Black Doom and Erazor and I kind of think Dark Gaia fits in this category too. But when they just throw in some random threat at the end to be the final boss *cough Biolizard cough cough* it feels lame and lazy.Sonictoast 18:36, May 17, 2010 (UTC)
Rouge the Bat So Rouge was made so as to give the Sonic series sex appeal? Really? That's just weird. She is a bat for crying out loud! What is sexy about a bat! She is about as attractive as Dr. Robotnik in a Bikini. Sometimes I wonder what Sega is thinking when they introduce new characters. Sonictoast 22:00, May 10, 2010 (UTC)
Mario & Friends Mario & Sonic at the Olympic Games, Mario & Sonic at the Olympic Winter Games, and Super Smash Bros. Brawl. What an excellent 3 games for Mario and his friends to cross-over with Sonic in. Back in the 90's we would have died for a game where Mario and Sonic fight. They were the two biggest characters of video game history and bitter rivals. Playgrounds were torn between Genesis and Super Nintendo. When Gamepro did their April Fools prank saying Sonic was in Melee was heart braking to millions when they found out it wasn't true. Sonic being in Brawl was a dream come true. You gotta admit, when it comes to cast, Mario has quite a variety compared to Sonic. In Olympic Winter Games when all the characters stand in a line, Mario's team has so much variety, DK, Yoshi, Bowser, Waluigi. Then Sonic's team has Robotnik and Vector then all the other characters look the same, just different colors. Mario is a great series and the fact that a whole Mario & Sonic series has emerged is the best thing in the whole world. Sonictoast 15:01, May 3, 2010 (UTC)
Shadow the Hedgehog It seems with Shadow, fans either love him or they hate him. There is no in between. Though even though fans don't like him because he is unoriginal and steels Sonic's thunder, the phrase "stay dead" is now old and cliche'. However, those fans that are like "Oh, I love shadow so much, (Starts crying) "How dare you make fun of Shadow! Shadow's had a hard life! How dare you. I'll kill you." Personally I thought it was lame that he came back to life, but then when they explained everything in the Shadow the Hedgehog game, I was okay with it. If only he could stay a bad guy though, he's such a Vegeta. And when is he gonna ask Rouge out on a date? Is he gay or something? Sonictoast 17:07, April 26, 2010 (UTC)
E-102 (Gamma) This is one of those characters that make you say "It's too bad he's dead." Honestly, Gamma is cool. In SA1, I liked playing as Robotnik's crony for a while. If we ignore all continuity, we can pretend that that is him in SA2 and in Sonic Battle. Oh E-102 Gamma, we hardly knew ye. We have to admit that Gamma's levels in SA1 were way way way better than the Tails and Robotnik levels in SA2. I like the comic book story,that Gamma transferred his personality into Omega, that's nice, its like he is still with us. In the games, Gamma is just a bird flying around somewhere...he probably got eaten by Blaze. Stupid cat. Sonictoast 14:26, April 19, 2010 (UTC)
Chili Dog What? Chili Dog isn't a character? Oh, oh well, it gets to be featured this week anyways. Chili Dogs are to Sonic as Spinach is to popeye... no actually that is not right at all. If anything is to Sonic as Spinach is to Popeye it would be the power rings. then what is a chili dog like to Sonic? Kryptonite to Superman? Sonic does have a weakness for Chili dogs. But i think water is more likely Sonic's Kryptonite. If anything a Chili dog to Sonic is like Pizza to the Ninja Turtles, Pasta to Mario, Lasagna to Garfield and dirt to Earthworm Jim. It is simply a favorite food that makes the character seem flatter, sillier and more cartoony. Still, have you ever been to Weiner Schnitzel? Dang good chili dogs.Sonictoast 20:13, April 12, 2010 (UTC)
Sonic the Werehog This is proof that SEGA is trying new things. However, SEGA does not seem to accept that no one likes the Werehog. The fans want action figures, they make a Werehog action figure. There's a Werehog Juvi, Plush, even skin on little big planet and his own short animated feature. Everywhere lately, Werehog is alongside Sonic, Tails, Knuckles and the regular crew. They just won't stop cramming him down our throats until we are brainwashed into thinking we actually like the Werehog. It's working too, I just bought another Werehog action figure... and I like it. Sonictoast 16:33, April 5, 2010 (UTC)
Wave the Swallow I know, a lot of Sonic Riders characters lately, so sue me. Sonic Riders was a good game, but did it really need a sequel? The Sequel was just as good as the first, with no real notable improvements on gameplay or graphics. ow let's talk about Wave. Is there something going on between Jet and Wave? Their relationship seems awfully similar to that of Shadow and Rouge, and you just know something is going to happen between Shadow and Rouge someday. I think they only added Shade, so she could be a new love interest for Knuckles then Rouge could be free for Shadow. So, yeah, Wave should totally forget Jet and date Espio or someone like that. Sonictoast 16:50, March 29, 2010 (UTC)
30px SCR-GP Is it just me, or do these guys seem an awful lot like the destroyer droids in Star Wars episode I. I think the design of these characters is also greatly inspired from Sonic '06, with that newer shinier sci-fi look rather than the fat cartoony look of E-1000G and E-1000 R from Sonic Riders who look more like the robots in Sonic Heroes. The thing I hate about SCR-GP is if you don't unlock him right when you get the game, it is close to impossible. Because once you unlock all the other characters, they take up all the spots in the race and there are no SCR-GPs left to beat and unlock. riggid raggid no good rag.Sonictoast 16:45, March 22, 2010 (UTC)
Blaze Blaze the Cat... where to start. how about with Sonic Rush. Blaze made a very good alternate character to play as in Sonic Rush. Why? She is different from Sonic. Yes the gameplay is very similar, but she looks different, acts different, wears clothes and has fire powers. She fits in as a Sonic character but has enough unique attributes that she is interesting. There are the so different characters that they are weird like Big and gamma then there are the so similar characters that you wonder why they even exist like Amy and Shadow. Blaze however is a nice blend of the two types much like Tails and Knuckles. Is she related to Big? Who knows. Maybe we'll find out some day. Sonictoast 19:23, March 15, 2010 (UTC)
Metal Sonic Quite the popular character, but would you say his recent success is a comeback? Tell you the truth it doesn't seem like he ever left, therefore I don't believe he is capable of making a comeback. Though something we should note is how many times he has been a secret character, Sonic R, Sonic Adventure 2, Sonic Adventure DX, Sonic Rivals. And then he's got cameos up the wazzu like Sonic Adventure and Sega Superstars Tennis. [[Sonic Heroes was supposedly his comeback, which I guess works since he hadn't played a role in the actual storyline for so long. Though personally, I thought Sonic Heroes was one of his lamest appearances. You know what was a cool metal Sonic appearance? Those metal Sonic's in the comic book. right after the Sonic Adventure adaptation, when Sonic had to fight those 2 new metal Sonics. That was so cool, that one was pure evil, the way he kidnapped tails and tied him up in a volcano, holy toast, what a jerk, right? But that is the proper way to use Metal Sonic. I like him in Olympic winter games too. Sonictoast 16:26, March 8, 2010 (UTC)
Chaos "You Know nothing fool! It's Chaos! The God of Destruction! Ha ha ha ha ha ha ha". Chaos was a fresh, original idea for a Sonic villain back when Sonic Adventure came out. His showdown with Super Sonic at the end was amazingly awesome. what stinks is how it was then used as a template for every Sonic game after that. Biolizard seemed very tacked on. Then we see Metal Sonic, Black Doom, Erazor Djinn and SCR-HD all transform into these giant monster bosses, the formula has gotten a bit stale. From the first cut scene of Uleashed we all knew a large monster would come out for Super Sonic to fight. Oh chaos, why must everyone steal your thunder.Sonictoast 16:08, March 1, 2010 (UTC)
Storm the Albatross Storm and wave get no respect. Everyone loves Jet, (and who can blame them, he's cool). Jet was in Black Knight, Winter games and even got a trophy in Brawl. What does storm get? A sticker in brawl and a cameo on the cover of an issue of Sonic X. Storm is not a very interesting or likable character. Pretty much it seems that Storm is there to make Jet look better. And he does a great job at it, keep up the good work Storm. Sonictoast 17:32, February 22, 2010 (UTC)
Egg GunnerI for one am very glad that the original badniks are making their comeback in Sonic 4. Look at this Egg Gunner. He looks like something out of a sci-fi blockbuster with too much budget for its own good. However, Sonic '06 had some real potential. I bet if they made a wii version without the aweful hub stations (like they did for Unleashed) the game would have gotten a little bit of positive feedback. Sonictoast 17:36, February 15, 2010 (UTC)
Super Silver So Silver has a super form too? ... Yup. really? mmm hmmm. sigh. Sonic, Tails and Knuckles did not have their Super forms until at least their second appearance. Then Shadow came along, and they are like "in case you don't like our new character yet, tada! Super Shadow" then in '06 they are like, "well it worked for Shadow, lets do it with Silver too". Too many Hedgehogs trying to steal Sonic's thunder. Plus Silver has such a dorky voice. Apparently SEGA doesn't think much of Super Silver either since his artwork is about 90% recycled from Sonic Rivals 2. Oh well, don't worry Super Silver, we still like you more than Chris Thorndyk.Sonictoast 20:46, February 8, 2010 (UTC)
Chao Walker I always thought this Chao should be named Luke. Luke Chao Walker. It has kind of an epic ring to it. Ever wonder if the Chao Walkers will ever make a return? He was a pretty cool unlock in SA2, but being a starter in SA2 Battle was like, c'mon this is lame. Still, if there were a Chao walker action figure, I'd buy it. Sonictoast 16:55, February 1, 2010 (UTC)
KikiYou know what is strange about Kiki? He is possibly the most re-occurring badnik in the whole series (Unless you count Metal Sonic as a Badnik). Kiki was in Sonic Adventure then returned in Sonic Adventure 2. Wow, he also was in some of the Sonic Advance games and then returns in the two Olympic Games titles. He also had a card cameo in Sonic Rivals. On top of all that, he was made into an action figure back when Sonic Adventure came out. Think of all the characters who have never recieved action figures, Chaos, Omega, Blaze, Fang,Jet, Vector, Espio, etc. Yet we have one of Kiki. Way to go Monkey friend. Sonictoast 17:39, January 25, 2010 (UTC)
Espio the Chameleon Espio is for sure one of the cooler characters in the Sonic series. Just look at his name, "Espio", it is close enough to "Espionage" to give it meaning without being too on the nose. Most the chaotix changed between Knuckles Chaotix and Sonic Heroes. Charmy's age decreased, Mighty ceased to exist, and Vector buffed up. Espio changed from being a Raphael type hot head to being a zen type Buddhist character. That's cool, I guess in those 6 or 7 years after Sonic the Fighters he learned to keep his cool, while Vector hit the gym, Charmy found a fountian of youth and Mighty made himself disappear. You notice the current Chaotix are now very similar to the aqua teen hunger force. Vector - Master Shake (idiotic leader), Espio - Frylock (straight thinking, calm guy), Charmy - Meatwad (childlike sidekick). Just something to think about.Sonictoast 04:33, January 18, 2010 (UTC)
Erazor DjinnQuite honestly, I found Erazor Djinn to be quite a refreshing new character. 1st off, he is a new bad guy that does not turn good at the end. second, he does not die, he's just trapped in his lamp, meaning it can be canon to see him return in a spin off game or something, I'll bet he'd be great on a Sonic Baseball team.Sonictoast 18:39, January 11, 2010 (UTC)
SEGA Friends Seriously, have you ever seen a bigger bunch of rejects? These guys all seem to leach off Sonic for support and popularity, more so than even Shadow or Tails. Especially NiGHTS and Billy Hatcher. I think those two have appeared in more Sonic games than their own. I'm not usually critical of SEGA, I honestly like all these characters, but there is something off here. Nintendo has a number of great series - Mario, Pokemon, Zelda, Star Fox, etc. Each of these games stands strongly on its own two feet, so then it is super cool when they all come together for Smash Bros. SEGA on the other hand has one great series - Sonic, then a bunch of okay series - Monkey Ball, Samba De Amigo, KNiGHTS, etc. When SEGA does a cross over it is like, oh, another attempt to make the Sonic fans like the other SEGA characters and wanna buy their games. Thats why the Mario & Sonic series is so great, because it is two popular, lovable games coming together. Its win win rather than win lose because SEGA stuffed a pair of nasty zombies in your cool Sonic racing game. Having all them SEGA secret characters in Sonic Riders and Sonic Riders zero Gravity was great, but honestly, I would have rather had Omega, Big or the Chaotix. Sonictoast 23:15, January 4, 2010 (UTC)
E-123 OmegaOmega's appearance in Olympic Winter Games was awesome. Why? Because he was threatening, he was mean and he came off as a real bad guy. I think Omega would be such a cool rival for Sonic. He should team up with Robotnik and be his new right hand man. Sonic couldn't touch butt-nick if he had Omega at his side at all times. Omega is definitely under used. In Chronicles and Shadow the hedgehog, Omega is just there, killing robots, playing no significant role in the stories. He is one that they need to give a bigger arc and a new reason for existence. Sonictoast 06:35, December 26, 2009 (UTC)
Professor Pickle The only thing I didn't like about Sonic Adventure is how it set the world in our modern day, human infested Earth. I prefer the SatAM/ Archie world where everyone is an animal, with maybe a few humans left over. With that said, Sonic '06 had stupid, way too realistic humans. I very much enjoyed the cartoonyness of the humans in Sonic Unleashed, and that is why I find professor Pickle to be such a refreshing character. He is simlar to Professor Von Schlemmer from AoStH. I loved that character and kind of wish they used him instead of making up professor Pickle, but oh well. You can't have two wacky, genious professors, so I guess this is good bye to Professor Von Schlemmer. Though I wouldn't be surprised if we never see Professor Pickle again either.Sonictoast 23:10, December 14, 2009 (UTC)
Amy RoseWho? Oh, Rosey the Rascal. Isn't it funny how for years we called Peach, Princess Toadstool, then all of a sudden she is Peach and everyone is fine with that. Amy was Rosey to me for so many years, then all of a sudden, Sonic Adventure says "no you idiot, her name is Amy", and I'm okay with it. But I still won't call Robotnik, Eggman. Did you know in the American Booklet for "Sonic CD", it says Amy's name is Princess Sally? They did it to help promote SatAM in a weird round about way. Kind of lame. Why are there so many anti sonamy people? I think i know the truth. Amy ends up marrying Shadow in the future, not Sonic. Why? I believe Silver is a descendant of Amy. Amy and Sonic both have Green eyes, so Silver would have green eyes too if he were their descendant. But Silver's eyes are yellow, which makes me believe that he is a descendant of Shadow an Amy because her green eyes mixed with his red eyes should come out a nice yellow. (I know that's not how genestics or colors really works, I'm just having fun.)Sonictoast 22:16, December 7, 2009 (UTC)
FlickyWasn't Flicky a great game? Honestly, I think it is one of my most played games on Sonic Mega Collection. Sure was great to see our original Flicky character in the Background of Olympic Winter Games. They should make Flicky a driver in Sonic & Sega All-Star Racing. Seriously, I consider Flicky an All-star. If only Sonic 3D Blast didn't stink so bad and make everyone hate flickies. Sonictoast 15:38, December 1, 2009 (UTC)
Silver the HedgehogSeriously, why does anyone like Silver? His voice is whiny and nerdy at the same time and he gives the series one too many hedgehogs. Sonic was great, Amy was Kosher, Shadow was kind of pushing it, now Silver is too much. There are thousands of animals on this planet, We've got enough Hedgehogs. Sonictoast 21:11, November 16, 2009 (UTC)
Cream the RabbitI for one think Cream had a lot of potential that Sega simply didn't take advantage of when they had a chance. Cream slowly faded from a starting playable character, to a secret unlockable character, now to a lame referee or cameo in most games. I blame a lot of Cream's downfall on her horrible voice. If she sounded like a cute little kid, she'd be much more likable than sounding like an old lady trying to talk as high as she possibly can. Archie hasn't bothered including her in the comics yet, which must be saying something because they introduce another character every issue. in Sonic X she didn't really do anything, but sit around and watch TV. She had that one fight with Emeril which was lame, it made Emeril seem like a piece of garbage, being defeated so easily by a little bunny girl. Much like Rouge the Bat, I see Cream as a failed experiment who is bast her high point of popularity. Watch out Blaze, You're next.Sonictoast 00:09, November 10, 2009 (UTC)
Sonic the hedgehogThat's right, old true blue himself is this week's highlighted character. Why Sonic so soon you say? Simple, he's my favorite and this week is my birthday, so this is my birthday present to myself. Sonic is a legend of our time. A mascot beyond other mascots. 4 full cartoon series'. What other character has 4 cartoon series'? Spiderman (6), Scooby Doo (10+), but they have been around since the 60's. They had a thirty year head start on old Olgilvie Maurice. Sonic is cool, he is exciting, he is unique and he is also the likely inspiration for Crash bandicoot and all those other lousy animal protagonist video game characters. But none of those rejects have been in the Macy's Day parade, received the honor of having a human gene named after them, and starred in a comic series that has produced a universe of over 300 issues and counting, running consistently for 16 years. Sonic is one of the greatest anthropomorphic characters to have ever been created. Long live the Hedgehog. Sonictoast 23:06, November 2, 2009 (UTC)
Mighty the Armadillo:Admit it, you're glad Mighty didn't turn out to be SEGA's mascot. Great as he is, he can barely hold a candle to Sonic. Nevertheless, we want our Mighty back! Only appearing in 2 games both of which are now two of the most obscure Sonic games in history, we need some kind of Mighty fix (I've still got Knuckles' Chaotix, just can't find a working 32X to play it on.). We can take pity on him because SEGA ditched him in Sonic Heroes, though we have to admit, Vector is a much more interesting power character. But still, is there a chance he'll make a comeback? Maybe in Sonic Rivals 3? Sonic Battle 2? Night of the Werehog 2: Werehog meets Frankendillo? Only time will tell. Sonictoast 13:36, October 29, 2009 (UTC)
Chip: Is he the next Shadow? Introduced for Sonic Unleashed Chip left at the end, never meant to return. This is similar to Shadow the hedgehog who died in SA2 and only came back because fans demanded it. Do we love Chip after one game like we did Shadow? Will Chip soon be seen blowing up aliens with bazookas and cursing when he dies in his very own game? Only time will tell.
My Favorite Characters
About me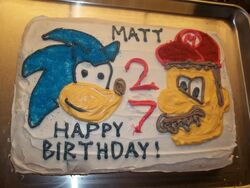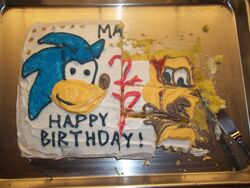 Greetings one and all, welcome to my page.
I go by sonictoast, I'm very interested in movies and visual arts. check out my Sonic videos I've made on youtube: http://www.youtube.com/user/sonictoast
Inspirational Quotes
"This just isn't my day" - Sonic (Sonic & the Secret Rings)
"Ah, messed up!" -Sonic (Mario & Sonic at the Olympic Winter Games)
"Arrgh! I hate Eggman" -Sonic (Sonic Adventure)
"I forget why I hated Eggman so much." -Sonic (The Simpsons Game)
"Nah nah, ya butt cheek!" - Daisy (Mario Party 8)
"My ears hurty-hurt" - Big Top (Mario Party 8)
"If you're tired of Weird Al, that means your tired of life." - Homer Simpson (the Simpsons 411 That 90's show)
"I'm not the fig plucker or the fig plucker's son, but I'll pluck your figs til the fig plucker comes." - Earthworm Jim (EWJ Comic #3)
Current Curiosity polls
These are a race, first to 30 votes wins.
Favorite Character in Olympic Games/ Winter Games?
Favorite Rival in Olympic Winter Games?
Favorite Freedom Fighters (archie comics)?
Past Curiosity Poll Results
Previous poll results
1. Who's your favorite non-sega character that has had a game with sonic?
Commentary: Mario once again takes his place as #1
Satisfied with these results?
2. Which classic characters do you want to see make a comeback in an upcoming game?
Commentary: Big surprise that Heavy and Bomb beat Nack, Bark and Bean.
Satisfied with these results?
3. What recent Sonic series actually deserves a third installment?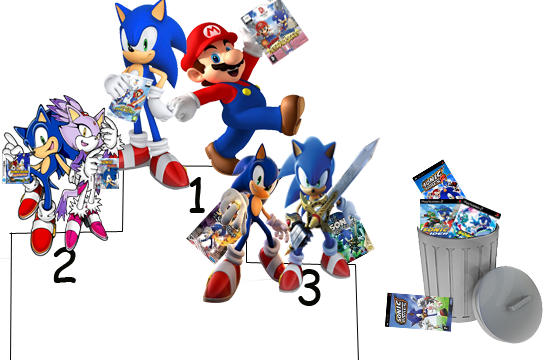 Commentary: It appears from these results that the Nintendo exclusives are more popular than the other titles.
Satisfied with these results?
4. Favorite game(s) starring a side character?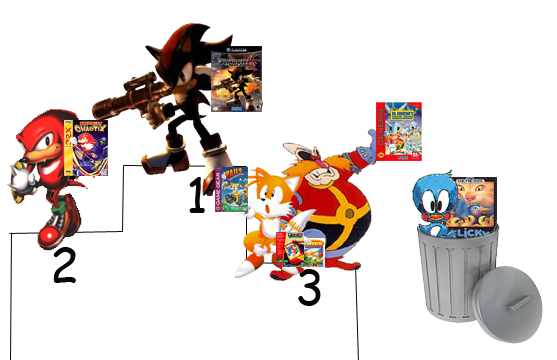 Commentary: Shadow had a landslide of votes despite the amount of criticism his game received. Goes to show it was meant for the Sonic fans rather than the casual reviewer. Though one can't help but wonder if a majority of voters have ever played these other games. Knuckles got 2nd with only 5 votes. Tails and Robotnik tied with 4 votes.
Satisfied with these results?
5. Best Animated Sonic Special?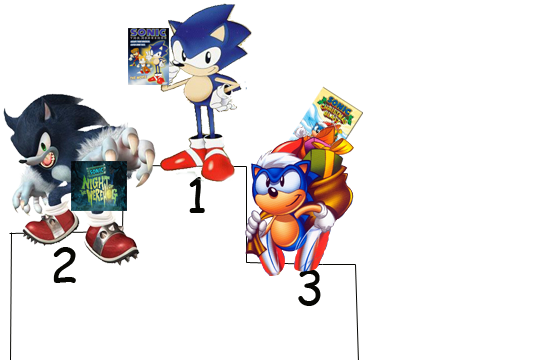 Commentary: Should have included "Man of the Year" just to have more competition and something to put in the trash.
Satisfied with these results?
6. Worst Sonic Console Game?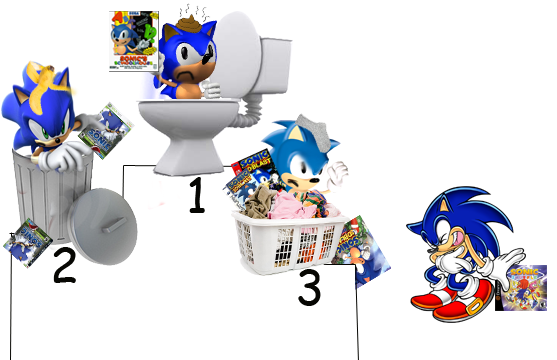 Commentary: Looks about right. though I think Shuffle was way worse than 3D Blast. At least 3D Blast was playable.
Satisfied with these results?
7. Best Cartoon Series?
Commentary: Everyone who voted for "Sonic X" is stupid. That was the worst show ever.
Satisfied with these results?
Commentary: It is amazing how many Big the Cat haters there are out there. At least he's a Sonic character. You'd think a Sonic character would get more support on a Sonic Wiki. He's much better than those ugly Zombies that nobody has ever heard of until this game.
Satisfied with these results?
9. Favorite Sega All-Star?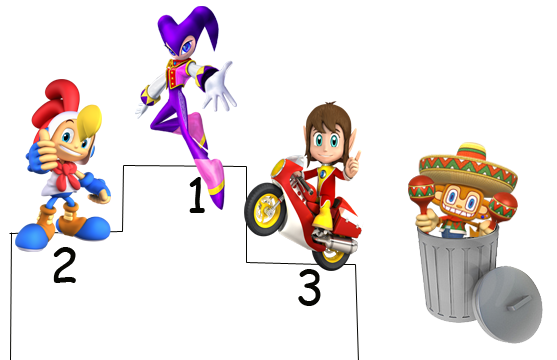 Commentary: I had no idea that Billy Hatcher had fans. Billy was ahead the whole time until NiGHTS pulled ahead at the very end, we all knew NiGHTS had fans. With how much SEGA stuffs Aiai and Amigo in our faces, you'd think thy'd have bigger fan bases, but I guess not. Amigo was the lowest with only 1 vote. Alex Kidd got third with only 6 votes, barely more than Aiai, Beat and Ulala.
Satisfied with these results?
10. Best Hedgehog (Besides Sonic)?
Commentary: Why does everyone like the game characters so much? Like Silver. Never mind that his game was terrible and he was no fun to play as, just because he is in a game, everyone automatically loves him more than Uncle Chuck, Scourge, Sonia and Rob O' the Hedge, all very cool characters. Anyway, Shadow winning was to be expected, it is amazing how hardcore some fangirls are about Shadow.
Satisfied with these results?
11. Robotnik's Best Sidekick
Commentary: All those guys in the trash received zero votes. Why is Bokkun so popular? He didn't really do much in the cartoon and his voice was really annoying. Maybe it was his prominent role in the Sonic X comic that made everyone want to vote for him.
Satisfied with these results?
12. Favorite recent Sonic Cameo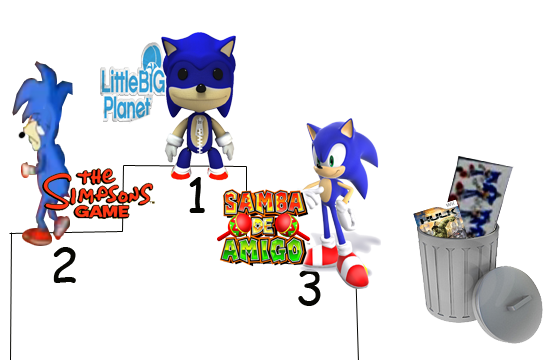 Commentary: Sonic's Cameos have been fewer in recent years, but much cooler. Sonic's cameo in the Hulk is much like older SEGA games, where he would be on a sign in the background, and I think that is why it got zero votes, whereas in games like Samba De Amigo Wii, Sonic is dancing and being awesome. And his role in the Simpsons game is hilarious. These results look just about right, with Little Big Planet on top, because their DLC Sonic pack truly was impressive.
Satisfied with these results?
13. Favorite Design of Dr. Robotnik (Eggman)
Commentary: His current design is great, but you gotta love the classic, round, beach ball Robotnik. Notice the two most serious forms of Robotnik are the ones in the garbage.
Satisfied with these results?
Commentary: Superstars Tennis had zero votes. A lot of votes went to Winter Games and Brawl, I think the public likes the Hedgehog and the Plumber together.
Satisfied with these results?
15. Best Genesis Sonic Game
Commentary: It is a little outrageous that Sonic & Knuckles only got one vote putting it in the garbage with Sonic 3D Blast which suprisingly got one whole vote. Sonic & Knuckles is a great game, it is one of those games that the whole series would not be the same without. Sonic Spinball is a really great game too.
Satisfied with these results?
16. Best Bird?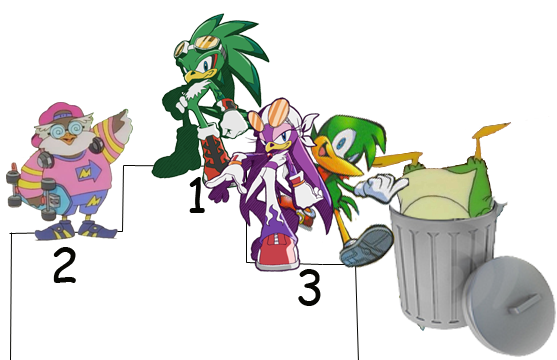 Commentary: As Dr. Robotnik would say, "An Obvious Result". People love Jet, just like how they love Shadow and Knuckles. Go figure. Though who would have thought the Old Man Owl would get second, he had a lot of votes too. Bean and Wave tied, a lot of birds got zero votes including Speedy from Tails Adventure.
Satisfied with these results?
17. Favorite Bunny?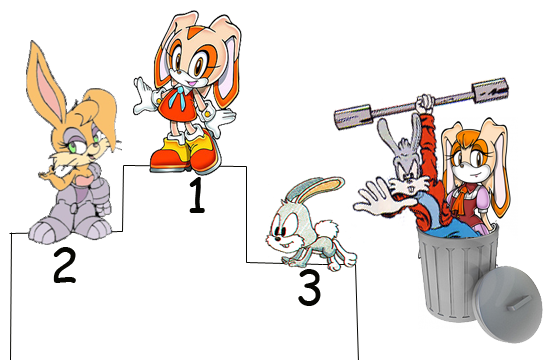 Commentary: Seems like a Game character will always beat all others.
Satisfied with these results?
18. Favorite Cat?
Commentary: So as a twist I added the option, "none, I hate stupid cats" which actually took third place, while most other cats in the series recieved zero votes. I think I'm done with these "best of this kind of animal" polls, the outcomes are too predictable.
Satisfied with these results?
19. Favorite Game Gear Game?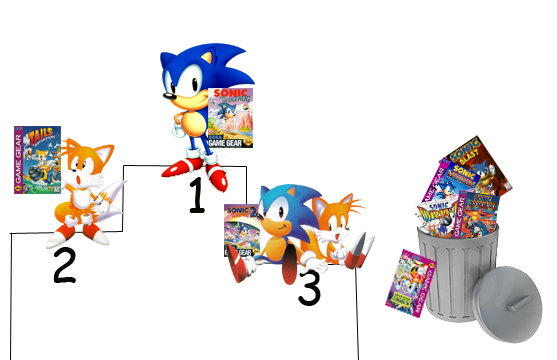 Commentary: These top three are all really great games. Notice, (in japanese continuity), 1st is Sonic before he met Tails, 2nd is Tails before he met Sonic, and third is Sonic and Tails, together for the very first time. How fun. The five games in the trash all got zero votes. Awful shame that "Triple Trouble is in the trash, it is definitely one of the better GG games.
What do you think of these results?
20. Favorite SEGA Saturn or SEGA Dreamcast game?
Commentary: Glad SA1 beat SA2, it was more fun. Shuffle belongs in the trash, but Jam doesn't, it is a great compilation with so much exclusive content, it is like a dream to any loyal Sonic fan. 3D Blast and R tied... good for them.
Satisfied with these results?
21. Upcoming game, most looking forward to?
Commentary: Looks right. Too bad for Sonic 4, that Sonic Colors had to show up and steal its thunder. Much like what Super Mario Galaxy 2 did to New Super Mario Bros. Wii. I'm not surprised that Free Riders got the least votes. It doesn't look like a bad game, but since it is exclusive to XBOX, it will probably disappoint.
Satisfied with these results?
22. Favorite Nintendo DS game?
Commentary: Chronicles got an insane amount of votes, beating Rush adventure by about 30. No one likes Superstars Tennis it seems.
Satisfied with these results?
23. What SEGA Series should have a full blown Adventure cross-over with Sonic?
Commentary: Sorry I spelled NiGHTS wrong in the poll. It didn't seem to hurt its chances at all though.
Satisfied with these results?
24. Favorite GameCube Game?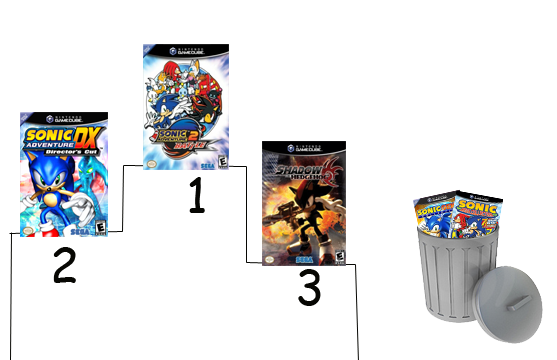 Commentary: The Adventure games will forever be popular and the Shadow fan boys have struck again. But seriously, the compilations don't deserve to be in the trash. They are both excellent. Especially Mega Collection.
Satisfied with these results?
25. Best Sonic Transformation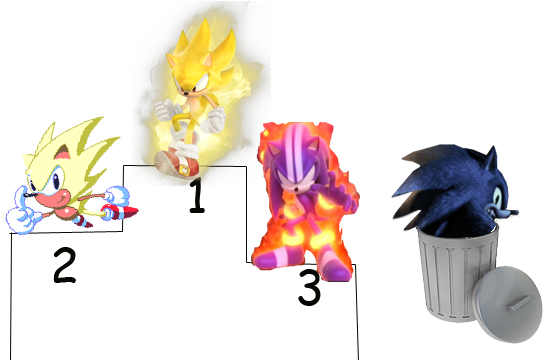 Commentary:Darkspine Sonic is so cool. I'm glad he beat Excalibur-Sonic. Hyper Sonic is a bit over rated in my opinion. Sure he's fun to play with, but he's pretty much just an upgraded Super Sonic, Darkspine is so original, fresh and awesome looking. Haha, no one likes Werehog.
Satisfied with these results?
26. Best SatAM freedom fighter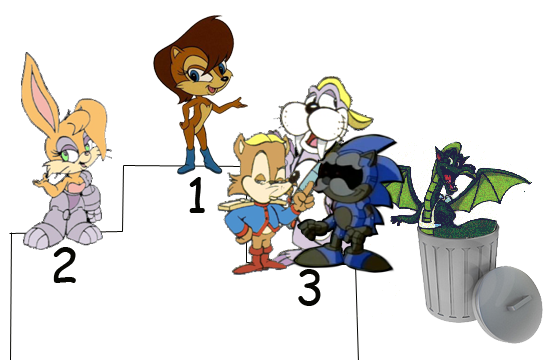 Commentary: Wow, Sally had a landslide of votes. Bunnie got second with only 9. Uncle Chuck, Antoine and Rotor tied in third with 5 votes each! Leaving Dulcy the stupid dragon all alone in the garbage (where she belongs). Honeslty, season 2 would have been perfect without her.
Satisfied with these results?
27. Best Member of the original Chaotix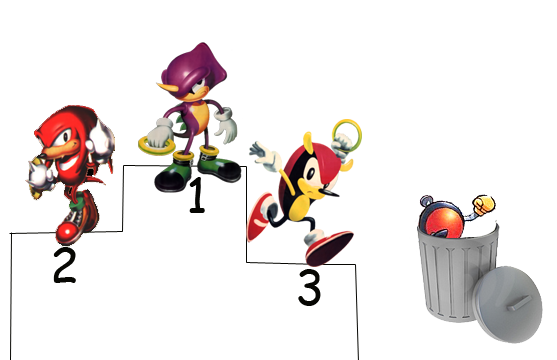 Commentary: hmmm, 2 of the top 3 aren't even part of the chaotix team anymore. That's too bad. Poor bomb got zero votes. no wonder though, he's probably the least creative character they've ever come up with.
Satisfied with these results?
28. Best Hand-held system for Sonic Games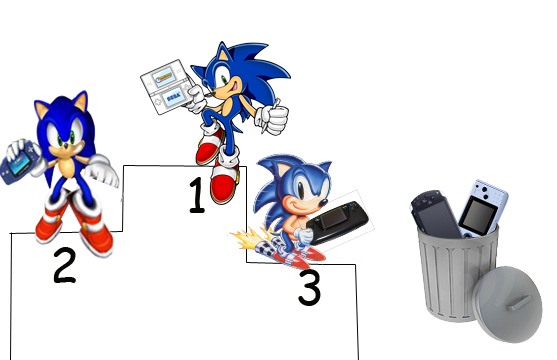 Commentary: Dang, I heard PSP was lame, but ranking it with the Neo Geo Pocket is a bit sad. Still, the Nintendo DS deserves to win for Sonic Chronicles alone. Then the Rush games are pretty good and All-Stars Racing is awesome, then let's not forget the olympics. GBA has a handful of good game, particularly Advance 2, 3 and Sonic Battle.
Satisfied with these results?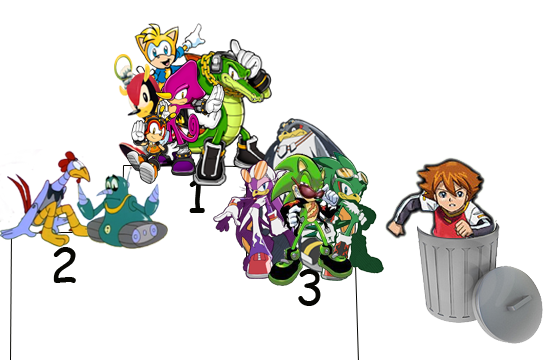 Commentary: Wow, they always say the Chaotix are fan favorites and this certainly proves it. Scourge had a tie with The Babylon Rogues, it is amazing how popular he is for a comic character. Scratch and Grounder got a very significant amount of votes and personally, I think a Sonic Universe arc revolving around them would be very entertaining. Chris Thorndyk was put on the poll for the single purpose of putting him in the trash, obviously no one would want to read about him.
Satisfied with these results?
30. Best English Voice actor for Sonic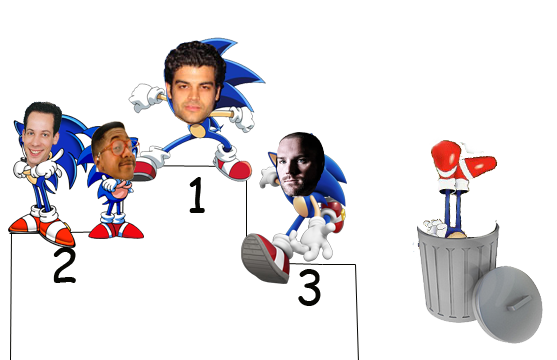 Commentary: Darn, my two favorite tied for second place. You know why I like Ryan Drummond and Jaleel White? Because they both took the character and made up a voice that they thought fit well. And it worked in both cases. Jason Griffith just had to mimic Ryan Drummond and Roger Craig Smith just had to mimic Jason Griffith. Martin Burke is another good one because he made up his own Sonic voice which was hilarious. Anyway, Jason Griffith was the first to 30 with Ryan and Jaleel tying with 22 each.
Update Since people seem to not know the faces, first place is Jason Griffith, his face is on a Sonic X body because that was his first Sonic role. Second was a tie between Ryan Drummond and Jaleel White. Ryan is on a Sonic Adventure body because that was his first Sonic game, Jaleel is on a Dic Sonic body because he did the voice for all the Dic cartoon. Roger Smith got third, his face is on a Sonic Colors body because that is a game where he does Sonic's voice. I don't know what Martin Burke looks like, so that is why anime Sonic is face down in the trash.
Satisfied with these results?
31. Best Sonic toy Company
Commentary: That's Jazwares Sonic at the top, winning instantly with a landslide of votes. Second was Toy Island with 6 and third was ReSaurus with 3, leaving first 4 figures and Joyride in the trash. I understand why Jazwares got so many votes. Many of the consumers of the current Sonic figures are kids and Jazwares is all they know. I do commend Jazwares for their commitment to the franchise and their goal of making as many characters as possible, thus we finally have figures of Espio, Vector, Silver, Metal Sonic and Super Sonic. However, the many lazy defects in Jazwares toys are unforgivable. Toy Island had some truly hideous Sonic Adventure figures back in 2000, but they totally redeemed themselves with their awesome Sonic X figures. Sadly ReSaurus is very under-appreciated. ReSaurus made the first real set of Sonic Action figures. They made the toys that I had been waiting 9 years for. Finally Sonic, Tails and Knuckles figures to display and play with and make fight the Ninja Turtles and X-Men and Mario. Plus Amy, Big and Gamma as bonuses. ReSaurus is to Sonic toys, what Sonic 1 is to Sonic video games. A few kinks, but otherwise pure magic.
Satisfied with these results?
32. Best Family of home consoles (company) to have the best group of Sonic Games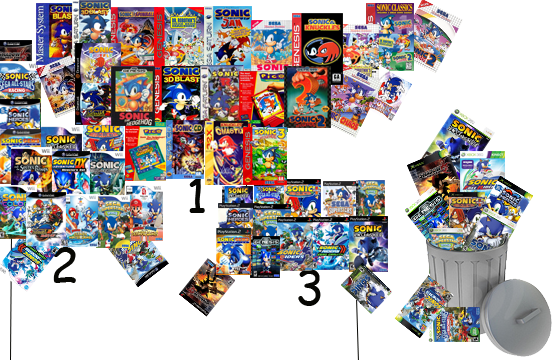 Commentary: Any Sonic loyalist would have no choice, but to pick SEGA. Though you have to admit, the blue blur has made quite the name for himself for Nintendo, his former rival. PlayStation and XBOX seemed to be a toss up on who would get third. The game lineup is pretty similar with exceptions like "Zero Gravity", "Superstars", "Free Riders" and "Gems".
Satisfied with these results?
33. Favorite couple
Commentary: So Omega and the Toaster was just a joke, but I believe so many people voted for it because it was somewhat of an alternative to all the lame romances within the game/ comics/ cartoons. Shadow and Rouge tied with Sonic and Sally with 13 votes.
Satisfied with these results?
Bentley Jones Contest submission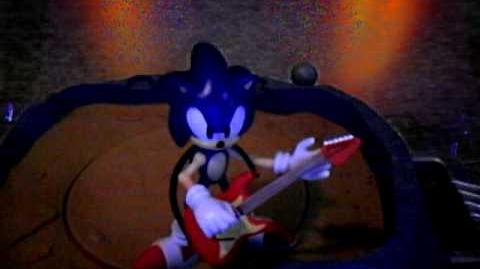 This is my entry to bentley Jones' "So Much More' contest in promotion of Sonic & SEGA All-Stars Racing. Enjoy.
This video is starring myself as Sonic Fan boy, along with Mat Foley as Dr. Robotnik.
Sonic's 19th Birthday Contest Entry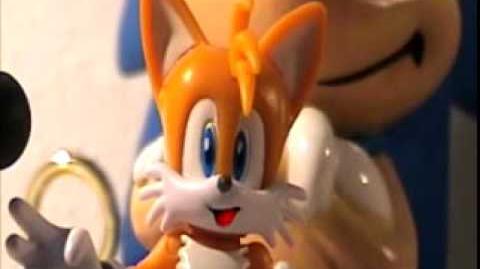 This stunk. I submitted my video, but then when it was processed by Youtube, it cut off the last 13 seconds for some reason (after it took 7 hours to upload). So I uploaded it again, in lower quality (so it would only take 20 minutes) so people could see the whole thing. If my video makes it to SEGA's top ten, be sure to vote for me. :)
My Needlemouse Badnik submission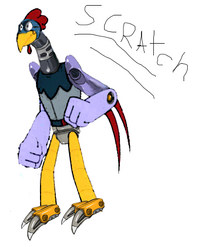 For the Needlemouse badnik concept art community challenge, i decided to do Scratch from Adventures of Sonic the Hedgehog. i didn't have a scanner on hand or anything, and it is too hard for me to draw with a mouse, so instead I combined a screenshot of scratch with bits and pieces of the motobug art, to give him an updated look.
My contributions
Every Sonic Games I own
My favorite pages
Dream of a better Absolution
Note: This is an imporved version of Silver's theme, Dreams of an Absolution.
Cause Jaleel White will save your life
And Jaleel White will be with you
Cause Jaleel White still lays awake
And I dream of an absolution

Cause Jaleel White will make it right
And Jaleel White will come to you
But Jaleel White just stays the same
In my dream of an absolution
100 random awesome (except for Chris Thorndyk) characters
My Featured user interview
Featured User interviews
FUI 1
Well, it's our first Featured Interview of the new year, so let's start the year off right! Firstly, Sonictoast had this to say about his victory:
"I am thrilled to be a featured user. I was blown away to see how many votes I received and I would like to thank everyone who voted for me this month. This is one of the most meaningful recognitions I have ever received (tear)."
Now, let's get this started!
1. Q) When did you join the SNN, and why?
A: I joined this past April. I collect artwork from Sonic Games, and when I stumbled upon this wiki, I noticed how much it was lacking in that category. When I noticed the Knuckles artwork gallery did not contain his original Sonic 3 artwork, I was shocked. It was then that I realized I could finally put my Sonic artwork collection to use, and from there on I have been dedicated to keeping this wiki up to date on Sonic Game artwork.
2. Q) You are best known for focusing almost entirely on pictures when it comes to contributions. Why do you focus so much on pics?
A: I knew this question would come up. I am a very visual person. I like to draw, sculpt, paint, make puppets and most of all Photoshop. I feel like pictures make a web page a lot more attractive and help bring the information on the page to life. Toast, a picture says a thousand words right?
3. Q) How do you feel about the Sonic franchise as a whole, and where it's headed?
A: I love the Sonic franchise. I've been playing Sonic from 1991 to present. Those silly game reviewers can kiss my toast. I loved Black Knight, Unleashed and Olympic Winter games. SEGA continues to produce creative new twists and gimmicks for Sonic that keep him interesting and I appreciate that. As for where it is headed? I think Sonic will continue to be a top rated mascot no matter what those angry reviewers say about him. Even if the next Sonic Game is as good as Mario Galaxy the reviewers will still tear him apart. The thing is, Sonic isn't aimed at the reviewers who fell in love with Sonic & Knuckles when they were 10. Sonic is aimed at today's kids and the reason is because kids love Sonic. I used to work as a camp counselor and every 6-9 year old boy I had, loved the hedgehog. My young cousins love the hedgehog. My Wife's younger brothers love the hedgehog. No matter what, the games will sell because Sonic is such a lovable character. So I don't think we have to worry about him disappearing. And honestly, I prefer the games being aimed towards kids, GTA is garbage. Shadow the Hedgehog was fun, but I can't play it with my family which is a bummer.
4. Q) What would you want to see most in a Sonic game?
A: An adventure cross-over game with Mario. I'm satisfied with Brawl and the Olympic series, but a full adventure game would be a real dream come true. On a separate note, I'd like the setting to be moved to an anthropomorphic animal inhabited mobius rather than a modern day human inhabited earth. I'd also like Eggman to go back to being called Robotnik. On a separate note, I'd like to see more Sonic Chronicles type stuff where the story is really aimed towards the fans with fun references to past games and media. I'd also like to see Tails turn to the dark side and join Robotnik as a result of the friendship they formed in Sonic Chronicles. That could result in some real drama between him and Sonic.
5. Q) What improvements do you think the SNN needs?
A: I'd love to do away with all the advertisements on the sides, but that's probably not possible.
6. Q) Which character would you most want to see get their very own game, or at least a prominent role in a Sonic game?
A: I'd like a Dr, Robotnik game (I am aware of Mean Bean Machine but that doesn't count). I wouldn't want it like the SA2 Robotnik levels, more like the Wile E. Coyote gameplay from the Road Runner game. I'd like a Robotnik game where you get to use all his machines to try and catch that pesky Hedgehog and a story where he pursues his love for Ella.
7. Q) If you could become a mobian, what species would you want to become?
A: I would say a dog, but Muttski can't talk or anything, so forget that. I guess a Crocodile like Vector. I have allergies in my ears, so not having ears would be a major plus to being a crocodile.
8. Q) Who's your favorite hero character? A: Old true blue himself, the priority one Hedgehog on all levels. I've slept with my Sonic Plushie everynight for the past 17 years, my wife has finally accepted that when she married me, she married the Hedgehog too.
9. Q) Fav villain character?
A: Dr. Robotnik. It seems all the other villains end up becoming good guys... or dying. Sometimes a bad guy should stay bad.
10. Q) Now finally: You are one of a select few users (in fact, the only one I know of) who became Featured Users and didn't have the rank of admin. How do you feel about that?
A: I'm okay with it. I would like to be an administrator, but I'm not sure I'd be able to keep up with the work load like you, Kagi, and Supermorff do.

Wow. Well, this has certainly been a revealing interview. I mean... you're married!? And you have kids!? I never woulda guessed. Well, I guess that goes to show you just how many people Sonic can affect.
FUI 2
I am kind of blown away at how many votes I got. It's not my fault, I voted for Supermorff. Most of them came after the month was over too, which I thought was kind of funny. Tell you the truth I was extremely excited and was telling all my friends the first time I was featured user. I'm not that excited this time, but still very honored. Thanks to everyone who voted for me.
1. Q) How do you feel about your adminship?
A: I enjoy the privileges of being able to rollback and delete old images no one is using. But trying to solve other people's problems, that's hard toast.
2. Q) You have a family, right? Well, how do you balance wiki business with family time?
A: I have a good amount of free time at work, so that is mainly when I spend time on the SNN. I sure hope my boss doesn't read this.
3. Q) What will you do once you've gotten a satisfactory amount of pictures up?
A: Go to Disneyland
4. Q) Who have you ever respected the most on the SNN?
A: Fairfieldfencer, I never knew someone could love Omega that much.
5. Q) If you had kids, would you let them have accounts on the SNN?
A: Well I have a daughter, but she is only a little baby. And a Foster kid, but he's not allowed on the internet. If I had kids that were old enough to read and write and could make useful contributions, I would be all for them having accounts on the SNN. My wife probably wouldn't though, she often emphasizes that she does not want our kids indoctrinated in Sonic and Mario.
6. Q) How do you feel about the thought of possibly being the oldest User on the SNN?
A: If that's true then I should get a prize. Like a logo at the top of my user page that says "Oldest User of the SNN". I'm only 25 though. I do consider myself one of the truest bluest sonic fans. I was seven years old when the first game came out, and I've followed Sonic with a Tails-ish loyalty for 19 years and counting. You should have seen the presents I got for my 25th birthday - Winter Games and Black Knight for Wii. S&K T-shirt, 10" Metal Sonic toy and a Luigi Figurine. It was a good birthday.
7. Q) What game was the biggest disappointment for you?
A: Sonic 3D Blast for sure. Sonic 3 & Knuckles was such a great game. We all were starving for more Sonic. Knuckles' Chaotix came along, but it was so glitch infested, it was hard to play. Sonic x-treme was canceled, that was another hit to us fanboys. But we kept hope because Sonic 3D Blast looked so cool. I waited in line, bought it the day it came out...nuff said. All my friends gave up on Sonic at that point. It was the archie comics that kept me hanging until Sonic Adventure came out. Sonic Adventure really redeemed the franchise.

8. Q) What series would you least want to see a Sonic crossover with?
A: Yu gi oh, that would suck.
9. Q) Are you satisfied with how the SNN is doing?
A: Sometimes, We gotta give more attention to the comics and the cartoons. It feels like most users just wanna edit Sonic and Shadow.
10. Q) Which characters would you most want to see a battle between? They can be from any continuity.
A: Scratch and Grounder Vs. Decoe and Bocoe. Battling to the death to win Robotnik's love!!! Sonic Universe anyone?
FUI 3
And again I'm late -_- Oh well, let's get on with this thing. When asked about his most recent win, Sonictoast said this: "I'm 3 for 3 now, my head's getting pretty big. Thanks users for your support and don't forget to vote for your favorite Sonic characters in the [Sonic Character Tournament]."
1. Q) Now, you may be in your mid-twenties, but surely you must have or have had a Sonic fan-character or two, no?
A. The Sonic Universe has enough characters as is. Come to think of it, when I was nine, I made up a character named Robhonisaurus. It was a Dinosaur with Robotnik's head. Lame? yeah, but admit it, you've seen lamer fan-characters.
2.Q) Why do you do "Character of the Week" on your Userpage?
A. For fun.
3. Q) Do you have anything like a favorite meme?
A. "Find the Computer Room!"
4. Q) How do you feel about the most recent news about the Sonic VA cast?
A. I just hope they change Cream's voice, she has always sounded irritating to me.
5. Q) Is there anyone on the wiki you personally feel is qualified or un-qualified for adminship?
A. Jaleel White?
6. Q) Pick a random character. Now, what is your opinion of that character?
A. Wallace A. Ditso has made his mark on the series and no one can imagine the world without him. I heard "Sonic & Knuckles" was originally going to be called "Sonic & Ditso" but they changed it last second so it would tie in more with Sonic 3. Back in '05 or '06 it was a tough decision as to which Sonic character would get a solo game, either Shadow the Hedgehog or Wallace A. Ditso. SEGA obviously made the wrong choice. Wallace A. Ditso is the greatest characters right after Sonic and Robotnik.
7. Q) (Borrowing an old SLJ question) Robots or cyborgs?
A. I'm a Teen Titans fan, so Cyborg.
8. Q) Which would you prefer for a pet/friend, an Earth dog or a Mobian dog?
A. Robian Dog, then you don't have to clean up its poop.
9. Q) What genre would you most like to see a Sonic game made in to?
A. Comedy, like Raving Rabbids and Earth Worm Jim
10. Q) Any future plans beyond SNN?
A. We are having a baby boy this December. So that's exciting, I'm also hoping to continue my stop motion internet series "The New Sonic the Hedgehog Show". Check it out on youtube. http://www.youtube.com/user/sonictoast
Works in Progress
Works in progress
Sonic's costumes in Adventrues of StH. I intend to document every costume he wears in the whole series. this will be for the Sonic the Hedgehog (Adventures of Sonic the Hedgehog) page.
Dr. Robotnik's Love Interests
Appearances of Re-Occuring Characters
These characters have been in so many epiodes, I'm using this space to keep track of them until the lists are complete,then I'll post them on the characters' pages.
more aosth stuff
Adventures of Sonic the Hedgehog Characters
[[