Welcome to my page!
Edit
Hello I'm TalkingSonicfan215 but my character's name is Ronic the Hedgehog! (
Sonic
's one and only Cousin)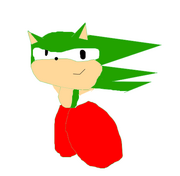 User:Rose Wolf (I know her in real life)
Fave games
Edit
----- Here are the best Sonic games -----
Games I Own:
Edit
Signature
Edit

Sonic Rules!

by Rose Wolf