No matter what happens, I will always believe in Sonic.

— Ultrasonic9000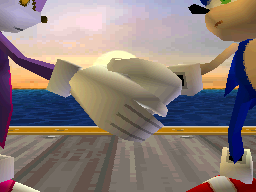 Hey all you out there in the wiki society. My name is Ultrasonic9000 (just call me Alex) and I am here for one reason and one reason only... Because I just LOVE
Sonic the Hedgehog
, his friends and all his adventures, and I want everyone who wants to know about him, to get first class knowledge from Sonic News Network.
For a long time I have been the one reading these wiki articles. But then I started to notice something: Many of these articles are kind of messy! Something is under the wrong section, something should have it own section, something is better off being unified under another one section, something is missing vital information, something needs a better explanation, something is just mashed together in one long text ect. (No, I really mean ect.), but I'm not blaming you.
I said "This is unacceptable! For all the Sonic fans out there they deserve the best decscribed information of the blue hedgehog as possible!" So therefore, I took the duty of cleaning up all the articles I encounter, and make sure they are understandable and cleaned up nicely. In other words, I like to see myself as the janitor of this wiki and I have sworn to make Sonic News Network a better place for all of you!
So if you see my work out there, I hope you understand I'm doing this for the best interest of everyone.
About me
I live in the small city of Kalundborg, out on the country, and I work as a trainee on a small audit company, though I plan to return to my studies. I enjoy relaxation, drawing stuff and getting a job well done.
My first experience with the Sonic series was when I was only a few years old and I watched Adventures of Sonic the Hedgehog. I was only a kid and did not understand the show very much, but I did take a liking to Sonic back then. However, I soon moved to an appartment with limited TV reception and so I slowly forgot Sonic.
It was first years later, when Sonic X came out and I had a serious case of nostalgia. I began searching for Sonic on the internet where I stumbled upon Sonic Heroes, and I was drawn by the colorful characters, and after some time I learned Sonic had a whole game series... and I loved it! Cool characters, magical gems, the gameplay (racing, which I liked, but with platforms)... it was amazing. But most of all, I was drawn by Sonic's character. I usually hate cocky and arrogant heroes, but Sonic more than made up for it with his coolness, kindness, bravery and never-give-up additude, and he soon became my number one favorite game character. Since then, I have loved and supported the Sonic series, because it is a testament to the greatness of Sonic.
A particular quirk about me is that no matter what junk the Sonic franchise comes up with, even the most rotten and braindead of them all, even when I get severely disappointed, I never stay mad about it for long and instead find a way to like it on an almost equal level with other Sonic stuff. For many, this has made them leave the fandom, but for some reason I am still here. On some level, it makes me feel alienated from others, but on another level, it makes me feel special.
My Artwork
My Important Pictures
My Sandbox
Quotes
If I don't do it, who will? - Ultrasonic9000 about certain article edits.
My only wish as an editor is to make this the best wikia about Sonic the Hedgehog. - Ultrasonic9000's reason for joining SNN.
It has never been about recognition, acknowledgement, a sense of duty or respect that I work here. It has always been about my passion for the blue blur and the satisfaction of people around the world enjoying first-class knowledge about him. Sound kinda cheesy, huh? - Ultrasonic9000 explaining why he continues to work at SNN.
Another one down. - Ultrasonic9000 when finished with an article
Well, I got my work cut out for me. - Ultrasonic9000 seeing that he has lots of articles that he can work on.
No way that I'm giving up. - Ultrasonic9000 when having a hard time with article.
I have never been so satisfied about any work that I have done before. This feels like... it really makes a difference... - Ultrasonic9000 noticing people accept his work on SNN.
If I can say I have learned anything about growing as an editor, I would say it is not the amount of edits you make or the quality of your work that define your current status; it is being able accept others viewpoint, learning from not only your own experiences but also others, and come together with your co-workers to work out compromises, and not be too proud or and worry about what your errors will have on you. All that matters is what you do now and the good it will have for the future. - Ultrasonic9000 learning to live in the present as an editor.
I have been too proud to accept others' work, too concerned about losing what made me special here on SNN, too stuck up on trying to prove myself the better of others, tried to be everywhere and do everything. I love Sonic's universe, but I can't be everywhere. If others take some work I wanted to do, its fine. What I can do, and not what I need to do, is why I started here, and the feeling of satisfaction I get with what I contribute with is all I ever wanted and should ever need. - Ultrasonic9000 remebering why he loved working on SNN after forgetting it.
My favorite pages