I don't generally like to advertise stuff like this, but it's been one year since I joined this wikia and it's a good excuse to say that the comic will be up and running again soon. I apologize for the delay, but when you move halfway across the country you don't generally get internet access until you settle in.
Hey, I just realized! I'm (Almost) an hour ahead of anyone who lives in the central timezone! I'm in the future!
Nevermind, I want to go back to my old timezone, this one is messing with my circadian rhythm.
But until then, how am I going to go back in time with nothing but a Blue Minivan, some wires and rods, and a box of Rice Krispies?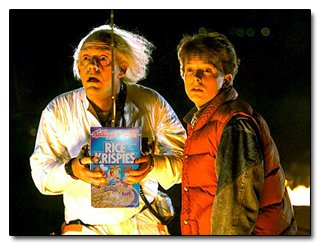 That's mah dad!