Hello People of YouTube, Twitter, SNN, Facebook, etc.! I'd like to make an anouncement for a new Sonic anime. Made by Me. I'll give more info once I get people to help. You can pitch in if you want. I want this to be like Sonic X. Well, the drawings. This has been BlazeChance1 of YouTube, Twitter, and SNN. I wish you a good night.
Cast
BlazeChance1 (creator and director)
SandraThePorcupine (writer)
Mewkat14 (jokes)
SonicTheHedgehogDude (art design)
Voice Cast
Update 2/27/2012
The series' name is officially named Sonic Matrix. Also, we are hiring a drawer. Well, we're not actually "hiring" but you know what I mean.
Update 2/29/2012
Sonic Matrix has officially gotten a logo done by the newest chat mod, SonicTheHedgehogDude! Also, SonicTheHedgehogDude is now the art design. +, no, not that +, STOP THAT!!! Ugh, plus, oh now you work, anyway, Sonic is getting a new shoe design. Here is a taste of Sonic's shoe design: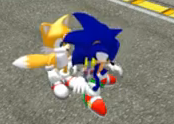 Update 3/2/2012
Sonic Matrix has officially gotten a Teaser Trailer! thumb|left|300px|This is Sonic Matrix's Teaser Trailer. I am also to announce that I will not be able to edit the site for the weekend because I'll be studying for terra novas. (Yes, I am 13 but I am in eighth grade.) No progress will be done on Sonic Matrix.
Update 3/5/2012
First off, I'm back. Second, I'll be leaving the site. Any messages saying they want me to stay will be deleted by an admin. I'm counting on an admin to delete 'em comments. BTW, an admin may delete my Anthony the Hedgehog page. Third, I will not cancel Sonic Matrix. Last, If you want to contact me, do it via YouTube or my email, BlazeChance@hotmail.com. This was BlazeChance1 of the SNN, and I wish you a good night and I hope you guys have a great future. BlazeChance1 00:39, March 6, 2012 (UTC)